Exhibitions
Explore past and present exhibitions curated by Wai-te-ata Press.
The many creative conversations happening at Wai-te-ata Press often lead to fascinating exhibitions. Recent shows have included innovative publications, creator-in-residence artwork, Chinese heritage types, research-in-progress installations, and much more. Exhibitions are located in the foyer outside the Press, level 0, room 006, in the Rankine Brown Building. To view the current exhibition take the open stairs at the south end of the Rankine Brown Building, University Library, Kelburn campus. We hope you will come to see, or hear, the echoes of these creative conversations.
Navigating Borderlands: Creative Translations and Creative Conversations
Navigating Borderlands: Creative Translations and Creative Conversations, Summer 2017.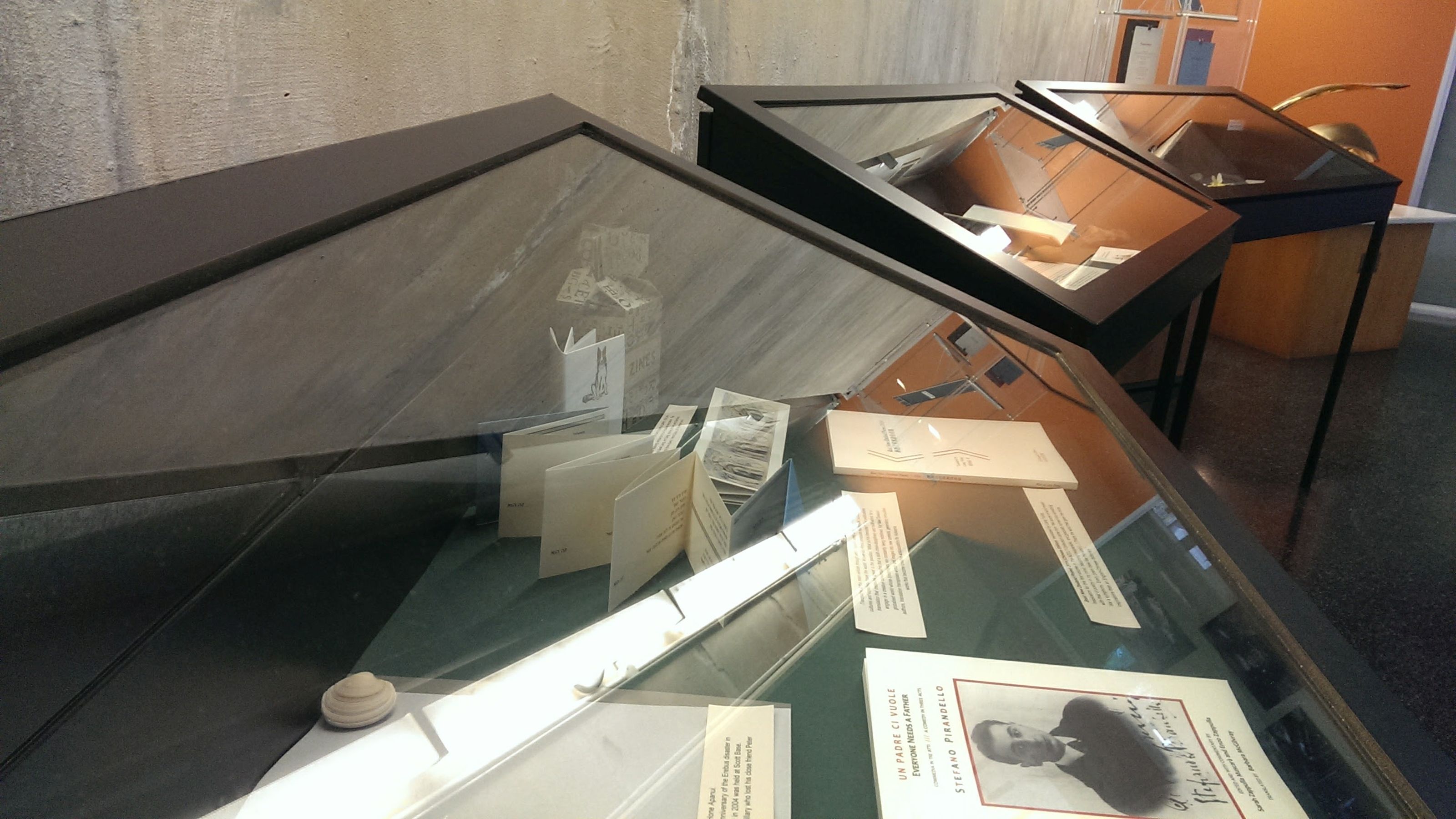 Wai-te-ata Press showcases the breadth of creative translation and the ways in which it can be brought about. Its translators, publications and events engage in creative conversations that are cross-disciplinary and multi-ethnic in a world where cultural borderlands are often indistinct.
'Borderlands' also embodies the nature of translation wherein it is necessary to inhabit spaces of indistinct meaning and cultural difference. Navigating these spaces is an act of diplomacy and poetry.
Wai-te-ata Press also facilitates the translation of New Zealand literature, allowing for authors works to be transposed into new contexts and become creative ambassadors for Aotearoa.
Come view the exhibition and read more about creative translation.
Wai-te-ata Press: In Retrospect
Wai-te-ata Press: In Retrospect, Winter 2017, featured an exciting selection of publications and ephemera from the archive, 1962 - present. The exhibition was an opportunity to reflect on Wai-te-ata Press' long history of student engagement and involvement in the local arts community. Publications from the 1960s and 1970s include fine letterpress poetry editions by Peter Bland, Les Cleveland, Kevin Ireland, Daryl Mclaren (with illustrations by Joanna Paul), and Martyn Sanderson. More recent publications and sculptural book works from the 1990s and 2000s include New Zealand authors Roma Potiki, Alistair Te Ariki Campbell and Paul Thompson. Additionally on view is the Press Guardbook from 1962 - 1967, which reveals an eclectic glimpse of ephemera related to the fun posters also on show.
The exhibition was a physical outlet for the new image galleries on the Press website. View images of the publications and ephemera that were on display and more, and purchase select titles.
Thanks to Sue Hirst and Chrissy Tetley at the JC Beaglehole Room for their assistance in this project.
Unexpected connections
The Turnbull Gallery at the National Library of New Zealand was transformed into a Victorian cabinet of curiosities for an exhibition entitled Unexpected Connections. Co-curated by Wai-te-ata Press Marsden team members Charlotte Thompson Darling, Rhys Owen, and Sydney J Shep, and designed by Neil Pardington, the exhibition took a fresh look at the multi-layered world of 19th century polymath William Colenso and his contemporaries.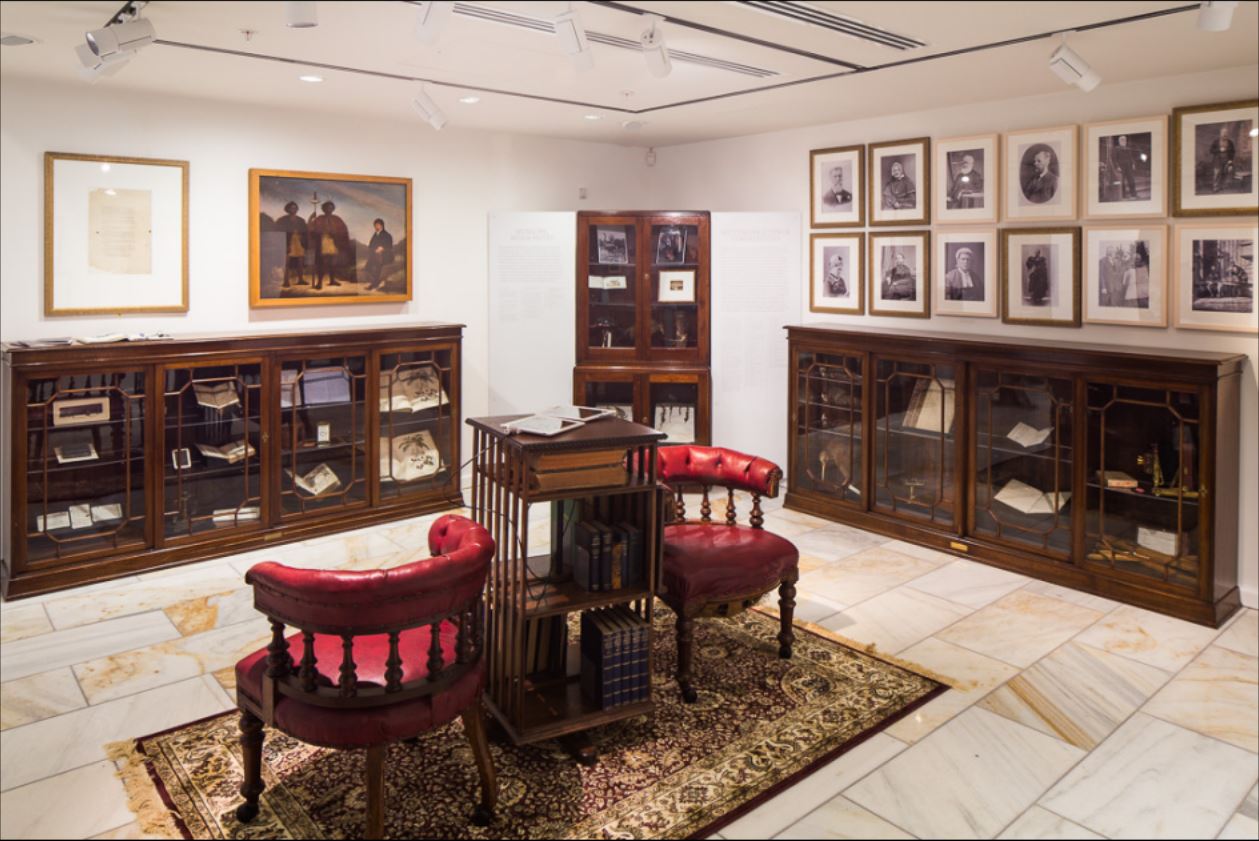 Whether seated in vintage leather chairs or viewing items displayed in period furniture, visitors were encouraged to reassemble objects and generate new stories through chance encounters with over sixty objects from public and private collections from around New Zealand. Colenso's microscope and printer's composing stick join taxidermy and herbarium specimens to suggest new ways of understanding the complexities of the people, places, and things that constitute the Victorian republic of letters.
A highlight of the exhibition was a digital artwork that creates evocative multi-layered images from a range of items from DigitalNZ. Marsden project director and Principal Investigator Dr Sydney J Shep says "the installation probes how serendipity – a key feature of the historian's toolkit – provides opportunities to rethink biography in the digital age as a complex system of meshworks, lifegrids, and palimpsests."