Christopher Bishop
Law school location a bonus for career in politics
Parliament's close proximity to Victoria University of Wellington's Faculty of Law—across the road—makes working in government a natural drawcard for a career post-degree.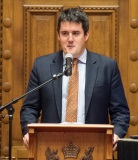 Politics run in Chris Bishop's blood. So it was no great surprise when he ran for Parliament in 2014 and was elected as a Member of Parliament (MP) from the National Party list.
Bishop holds a first class Honours degree in Law and a Bachelor of Arts (History/Politics) from Victoria University of Wellington, and has been admitted to the bar as a Barrister and Solicitor of the High Court of New Zealand.
"My dad (John Bishop) was a political journalist when I was growing up and so I drank in all the stories of the 1980s—nuclear ships, ANZUS, the 'schnapps election', everything," Bishop says.
He is referring to the volatile years of Government when Sir Robert Muldoon (National) and David Lange (Labour) were New Zealand Prime Ministers; an exciting time to be a political journalist. The famous snap election of 1984 was announced by a visibly drunk Prime Minister Muldoon and was subsequently termed the "schnapps election". The Lange Government refused to allow nuclear-armed ships into New Zealand waters, a policy that still holds. Bishop's father travelled with the then Deputy Prime Minister Geoffrey Palmer when he tried to salvage the resulting fallout with the United States and Australia—these countries having regarded the policy as a breach of ANZUS (the Australia, New Zealand, United States Security Treaty).
For someone with his interest in politics, the proximity of the Faculty of Law to the Parliamentary precinct—across the road—was a bonus.
"It's a rare privilege that students have at Vic, being so close to Parliament. I used to go and watch Question Time when the House was sitting. I probably even cut a few law school classes to do so! MPs used to come and attend (and give) lectures at the law school as well, which I really encourage," he says.
And now that he's sitting across the road himself, does having studied law help?
"Absolutely. Parliament is public law in action. When I'm sitting on a select committee, trawling through pieces of legislation line by line making amendments, I'm grateful for my law degree!"
Bishop is Deputy-Chair of the Finance and Expenditure Committee and sits on the Regulations Review Committee.
It wasn't just politics that was a family business; law was too and his mother is environmental lawyer Rosemary Dixon. Bishop said he was all set to become a lawyer as well.
"I summer clerked at both Russell McVeagh and Crown Law when I was at law school but then a dream job came up working as a Researcher for National when they were in opposition. I did that for a year, primarily working on energy policy, before National won the 2008 election when I went into Gerry Brownlee's office as a Ministerial Advisor," Bishop says.
"The job of an advisor is a really varied one—you're 'eyes and ears' for the Minister. You help with media, speech-writing, policy development, parliamentary questions (always exciting), and providing political advice. I also helped the Minister in his Leader of the House role, which I really enjoyed – all of those Laws 213 classes came in useful."
Bishop left Parliament to work in Auckland for Philip Morris as a Corporate Affairs Manager for a couple of years, working on some pretty challenging public policy, legal and media issues.
But the lure of the Beehive was strong and he returned to work for Steven Joyce as a Senior Advisor, before running as the National candidate in Hutt South in the 2014 election.
Other useful skills for his role as an MP that Bishop developed through school and university were public speaking and debating; his public speaking skills were apparent when he gave his maiden speech at Parliament.
He won 10 intervarsity debating tournaments, including at the Cambridge Union and Sydney Union, and a range of awards for legal argument and oratory.
And it wasn't just a love of debating he found—he met his partner Jenna Raeburn through the debating society; she also studied law at Victoria University of Wellington and now works in politics as well.
"Many of my good friends from Law School and the Debating Society have ended up at Parliament at various times. Some have even worked for the Prime Minister," Bishop says.
"It's an incredibly exciting place to work. Exhausting, but the things you're involved in—the decisions you see and sometimes help with—are what shapes the future of the country. There aren't many jobs like that."