Extending diversity
Imagine how it feels when you are put out of your comfort zone and having to create a sense of whānau in your new study environment when just a small group of people identify as Māori or Pasifika amongst close to 1,000 first-year law students? Most Māori or Pasifika students come from tight-knit communities—in contrast to Wellington, a starkly different environment.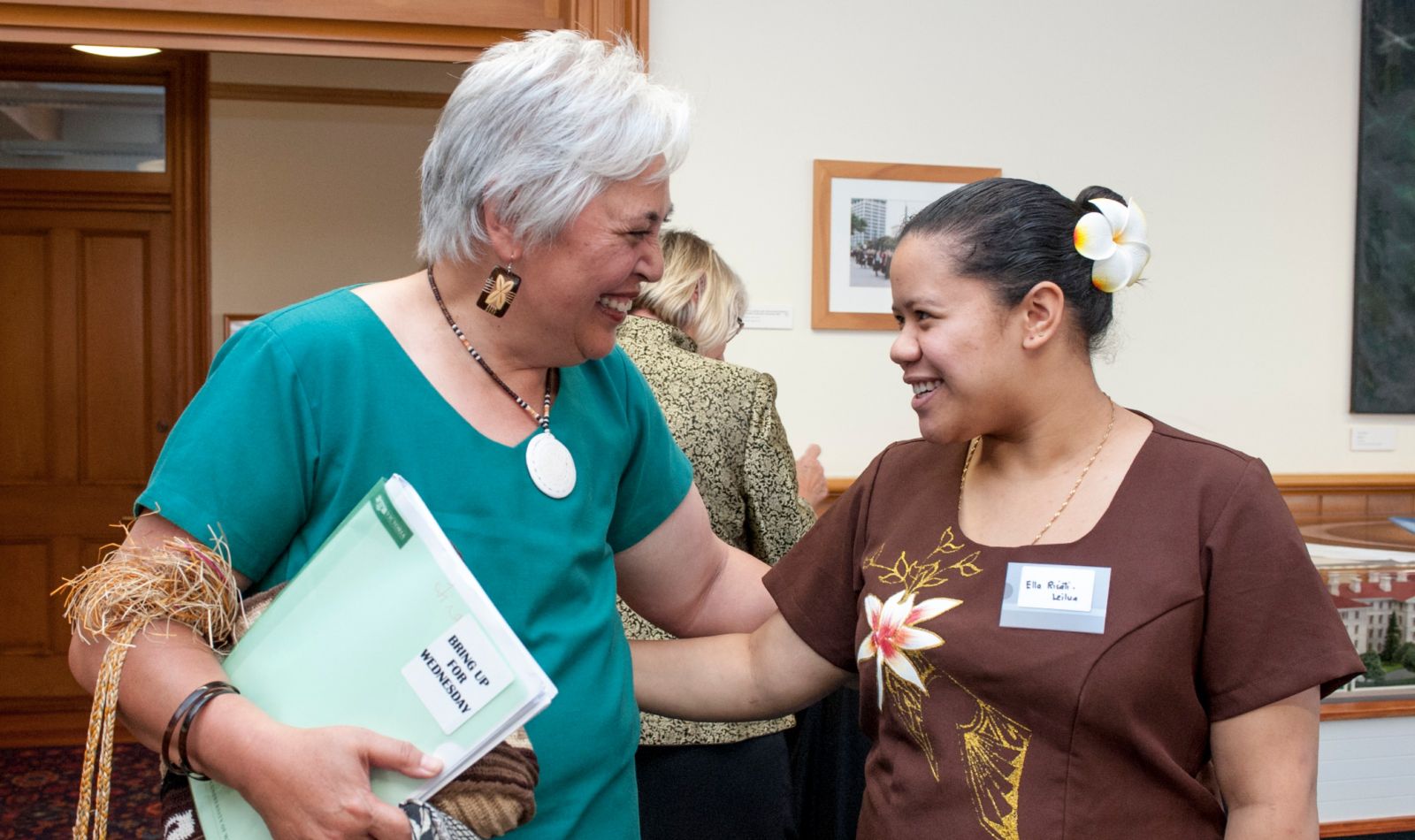 At Te Herenga Waka—Victoria University of Wellington, the Faculty of Law is continuing to take steps to support Māori and Pasifika success in the Law programme. This includes targeted admissions, actively recruiting Māori and Pasifika school-leavers, and providing mentoring and support from senior students and dedicated advisors.
Improving legal education for Māori law students
Support for Māori law students builds on initiatives that have been in place since the late 1980s and early 1990s. Ngā Rangahautira, the Māori Law Students' Society, was established in 1988, and led the submissions and arguments for the introduction of what was then known as the "Māori Quota" that was instituted by the Faculty in 1990, with (now) Chief Judge Hēmi Taumaunu as a member of the very first intake, 30 years ago. The process is now known as the "Māori Admissions Process" or MAP. In this early era new Māori and Pasifika tutorial streams for compulsory courses were also implemented and the Ngā Rangahautira room in the Faculty was established. The tutorials and the MAP reflect the fact that some Māori students may require extra support in their law studies, but such initatives also reflect the Faculty's commitments to its obligations under Te Tiriti o Waitangi and to ensure that legal education at this University reflects the central importance of Treaty partnership.
These initiatives and the Māori engagement advisor position remain the bedrock of support for Māori success. There have been additions to such support in recent years, including the establishment of a Māori and Pacific Island (MPI) tutorial academic coordinator position in late 2018, and of Te Kauwae Parāoa, a study room in the library primarily (but not exclusively) for Māori and Pasifika students in 2012. The whakataukī upheld at the time of the opening of that room neatly encapsulates the connection between Māori and Pasifika initiatives in this Faculty, coming to greater fruition with the establishment of a targetted admissions process for Pasifika students: 'He rei ngā niho, he paraoa ngā kauae'.
This translates as 'To have a whale's tooth, one must also have the whale's jaw'. This illustrates the desire that Māori and Pasifika students have to excel at their studies, and the benefits of working towards the fulfilment of goals. Improving legal education for Pasifika law students.
Improving legal education for Pasifika law students
The University and Law School will also be hosting a ground-breaking nationwide study to improve legal education for Pasifika, in collaboration with other law schools, thanks to the generosity of the Michael and Suzanne Borrin Foundation.
Working with the Pro Vice-Chancellor and Dean of Law Professor Mark Hickford, Assistant Vice-Chancellor (Pasifika), the Honourable Luamanuvao Dame Winnie Laban, will lead the work made possible by this $230,000 grant. The study will explore equality, belonging and authority in law, identify hurdles stopping Pasifika entering and succeeding in New Zealand law schools, and recommend solutions.
The newest Faculty of Law Pasifika Engagement Advisor Leilani Taula, a key port of call for Pasifika students, wants to get the message out that law school is not as scary as it might seem.
"While we may be learning about an adversarial system, our Law School is not an adversarial community."
Leilani, from the village of Taga on the Samoan island of Savai'i, is close to completing her conjoint BA/LLB (Hons), majoring in philosophy, and has been Pasifika Engagement Advisor since August.
In her role she provides a friendly face and good advice for Pasifika struggling with "fitting in" to the Faculty.
"They might not know of, or feel comfortable, going to the other support services, so they can come and talk to me, knowing I've been there—studied law too. If I think there's someone better qualified to help, I'll help put them in touch with the right people."
So what are some of the statistics around Pasifika students' involvement in the Law School and in studying law more generally?
When it comes to second-year law students at the University, on average, just 5% identify as Pasifika. That compares with 81% identifying as European and 13% as Māori.
According to the 2019 "Snapshot of the Profession", produced by the New Zealand Law Society, of all domestic students studying for an LLB in 2017, only 9.2% (855) were Pasifika.
Of those who completed an LLB that year, 6.5% (90) were Pasifika, while of those who finished LLB(Hons) or postgraduate certificates, just 1.9% (5) identified as Pasifika.
Dame Winnie says Pacific people have been "consistently under-represented in law programmes in New Zealand, at undergraduate, honours and postgraduate levels".
"We are also under-represented in the legal profession, making up less than 3% of all lawyers in New Zealand, while we make up 8% of the general population."
The statistics reflect the discrimination and disadvantages experienced by Pacific people in Aotearoa. Yet, at the same time, Pacific people are over-represented at every stage of the criminal justice system, she says.
Increasing diversity
Professor Hickford says increasing diversity, including socio-economic diversity, is a key priority for the Faculty.
"We are committed to improving in this area. The law degree offers strong opportunities for young people on a personal and professional level and it is advantageous to New Zealand to have a talented legal profession that represents the diversity of our society.
"To ensure that law is viewed as a strong option, regardless of background, and that there is support to embark on this study, the Faculty will continue to strengthen its efforts to increase Māori and Pasifika student participation and achievement."
Initiatives to do that include:
introducing a targeted Pasifika admissions process for entry into second-year courses, aimed at ensuring the student body pursuing an LLB better reflects the Pasifika make-up of New Zealand society. From 2021, up to 5% of the second-year class will be selected from Pasifika students who passed first-year courses but would otherwise not have been selected into second-year courses, according to their grade ranking. This will join the existing similar MAP.
supporting the VUW Law Students' Society, which represents the interests of all law students, and related groups such as Ngā Rangahautira (the VUW Māori Law Students' Association) and the VUW Pasifika Law Students' Society.
facilitating mentoring for younger students by senior students; cooperating with student representative groups; organising events throughout the year including the Pasifika Law Students' Society Moot; and offering several scholarships aimed specifically at Māori and Pasifika students such as the Quentin-Baxter Scholarship.
The Law School was also a pioneer of the Māori and Pasifika Engagement Advisor roles which currently offer Māori and Pasifika students additional assistance with course advice, general progress in their academic journey and contribute to the pastoral care offered to Māori and Pasifika students.
"So, how do you ensure law school is seen as a place that is safe and welcoming? That tends to yield a diverse range of answers, depending on who you are talking to. But there is no single set of answers.
The Borrin Foundation project is an "ambitious and positive step towards looking at instances of good practice that yield positive results", he says.
"This is very critical for what we need to do. It is a national project which we will host here."
It will allow for the creation of a collaborative research hub for multi-disciplinary talanoa (conversations) among leaders in different fields.
A series of virtual and in-person fono (meetings) will be held around New Zealand to soak up the experiences of current and former law students and also law graduates, including those who became lawyers and others who chose a different career.
Dame Winnie says it is in New Zealand's best interests that Pasifika "not only successfully complete their degree at law school, but thrive in the legal profession and judiciary".
"Pacific people are a dynamic and talented group with the fastest growing young population in Aotearoa New Zealand.
"We have some wonderful examples of Pacific people who have excelled and reached the top jobs in law, but we have a long way to go to ensure we are systematically removing the barriers to success."
Leilani says she has had interesting experiences as a Law School student.
"I started out like a lot of Pasifika students. I came from high school with straight excellences and was confronted by the startling fact I was no longer a big fish in a small pond, but a very small fish in a very large pond.
"I don't think high school prepared me with the resilience that is required to not win all the time.
"Eventually I found my way a bit more and got involved with the Pasifika Law Students' Society competitions and the Law Revue.
"I wanted to do law when I was very young. But what happens to stop Pacific people going into law in the first place is the self-perpetuating quality of not seeing many Pasifika lawyers, Pasifika academics. And because you don't see yourself represented there, you just don't think intuitively about joining in."
Borrin Foundation Chief Philanthropic Officer Tupe Soloman-Tanoa'i says the foundation believes the law is essential to a flourishing society which is just, inclusive, tolerant and free.
"Our focus is on areas where the law is not serving New Zealanders well. This project addresses the problem of under-representation of Pacific people in law programmes in tertiary education institutions and in the legal profession.
"When we make grants we take into account things like the potential of a proposal to have a significant and enduring practical impact on the lives of New Zealanders, to be a catalyst for change, and address systemic issues.
"We are pleased to support this project, which will bring together academics, students, graduates, legal practitioners and policy makers from across the country to take coordinated action to identify the barriers to Pasifika in law schools and recommend interventions to support Pacific people to succeed in law school and to take up a career in the profession."
---
Maori Admissions Process (MAP)
Introduced in 1990, the supplementary admissions process assesses tangata whenua students for entry into second-year law courses if they would not otherwise be admitted. Ten percent of available places in second-year law courses are reserved for Māori students applying under the Māori Admissions Process.