Sustainable energy production the problem at Vis Moot
The 2020 team going to the Willem C. Vis International Commercial Arbitration Moot in Vienna have high standards to live up to.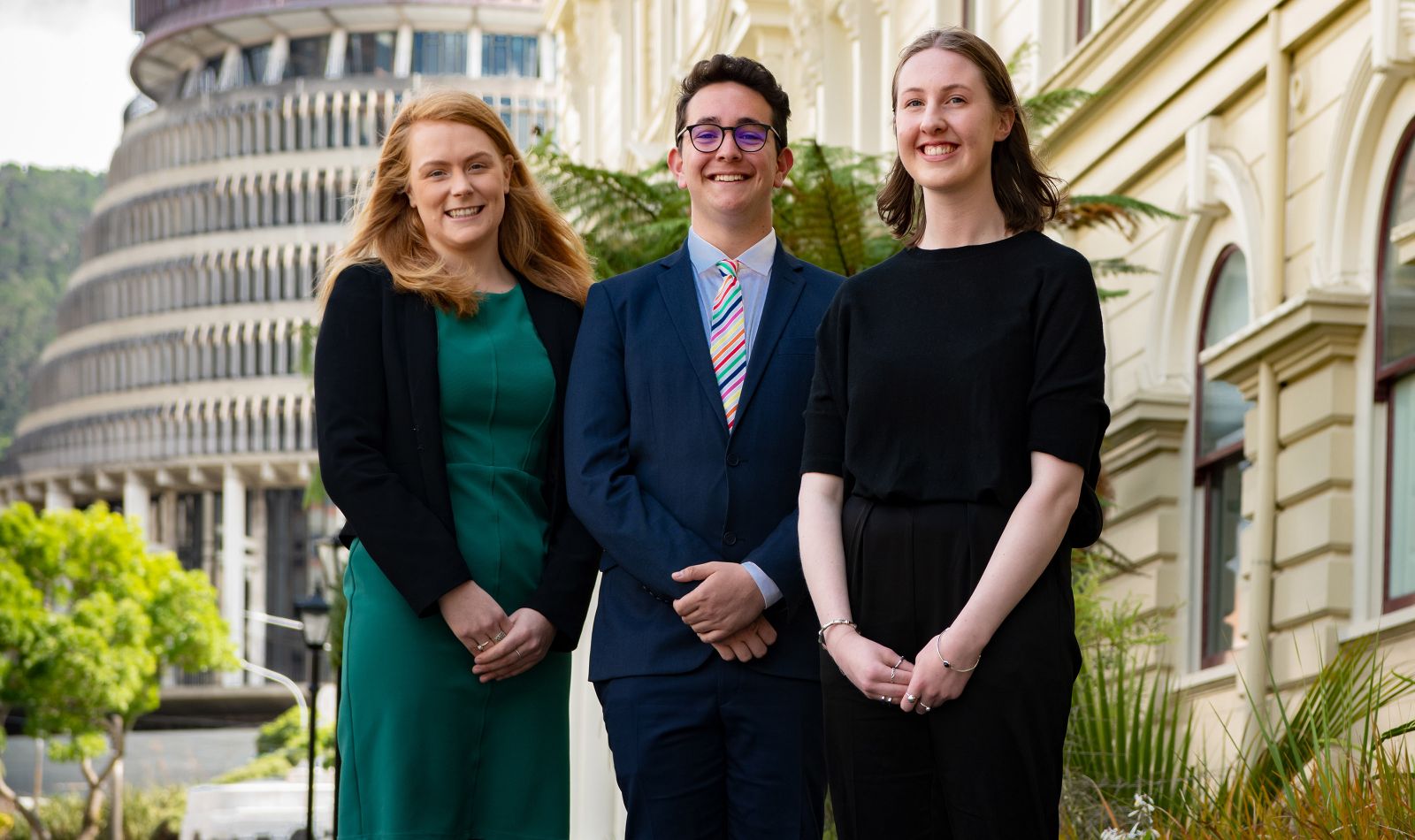 Competing in 14 of the past 17 years of the Moot, Faculty of Law students from Te Herenga Waka—Victoria University of Wellington have only twice failed to reach the top 64 teams.
The team comprises Jonathon Sylvester, Cate Hensen, and coach, alumna Eve Bain from law firm Bell Gully. Each year the teams tackle a realistic problem that may arise in international sale of goods and international commercial arbitration, and next year's problem is very much of its time: sustainable energy production.
Jonathon explains, "We're dealing with a potentially real problem around a town that is trying to source all its energy from renewable and sustainable energy sources. There's an issue, that some of the components of the turbines that are the source of the sustainable energy are potentially damaged and not fit for purpose. We are trying to work out whether they are entitled to get new pieces to achieve their goal."
Once the team has argued for the Claimant, they then need to turn around and argue the other side, the Respondent, making it a rigorous and thorough process. While the Moot is run in early April, the team will need to submit their Memorandum for the Claimant in early December, and for the Respondent, in late January.
"I really enjoy the chance to read a fact problem and be considering the arguments and how you can present them," says Cate. "The Vis feels like a real argument, and it feels very close to what a real arbitration would be like. It's an incredibly valuable opportunity."
Jonathon is interested in arbitration as a legal process outside the justice system. "While it's got this huge potential in international commercial law, it's also got potential to be used in so many other ways. Like we've got this ongoing discussion in New Zealand about how we can incorporate tikanga, and concepts like that, and I think arbitration could be used to create a formalistic mechanism to provide those forums that then have legal consequences. And this has precedent in other communities."
The two students will be arguing against nearly 400 teams from all over the world, and the team sizes vary from a minimum of two, to a maximum of 20; though only two members of the team will be arguing at any one time. Ms Bain thinks their size may just mean they know the problem as specialists, so it may work in their favour.
At the Moot, they will be pitted against civil law schools, as well as other common law schools. Ms Bain explains, "A lot of European countries have more code-based rules, whereas we have a history of looking at cases in development, and it's not as clear—you have to chase these stories and get a sense of what they mean. The judges of the Moot will be from common and civil law backgrounds, and the way each approaches the problem is very different. It is an interesting learning process."
The Moot is taken so seriously that the students will be doing a series of pre-moots arguing the same problem. Some of the pre-moots are by invitation only, and the team has been invited to some rather intimate and exclusive ones. "Stockholm is 12 teams only, and we will go to Prague (which our team won last year), Hamburg, and hopefully The Hague," says Ms Bain.
The team behind the Vis Moot efforts include, inter alia, Matthew Bunting, partner in the firm Quinn Emanuel in London, and Professor Petra Butler from the Faculty of Law. Professor Butler says, "We do have a bit of a Vis Moot family and there is general support, beyond money, through reading draft submissions and judging moots. However, unfortunately the funding is of the trip to Vienna is still the greatest hurdle the students have to overcome."
Professor Butler has helped to set the Moot problem for the last seven years and will be acting as a Judge at the Final of the competition in Vienna in April. Professor Butler's involvement in the drafting of the Vis Moot Problem has meant that the Victoria University of Wellington Vis Moot team had to be coached by a member of the Vis Moot family or coopted family members. This year this has meant that Ms Bain is stepping in as coach. Ms Bain says, "It really is a who's who of the international arbitration world, and people seem to be involved for a long time. There are professors and lawyers who are always there. It is very valuable for networking, as well as good practice."