Rebecca Scheefer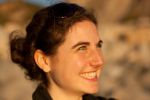 Contact
Category: International Intern 2010
Email: rebecca.scheefer@uni-muenster.de
About
Discussions about societal changes due to increasing migration and questions about integration have raised my interest in the psychological well-being of the affected individuals. My special emphasis is on children and adolescents who grow up in between two (or more) cultures. Personally I value intercultural contact, however, I recognize the challenges migration processes include.
My studies at Victoria University of Wellington and my internship at the CACR were a great opportunity for me to discuss this subject from a scientific point of view. I gained profound knowledge about applied cross-cultural psychology and I am happy that I had the possibility to acquire practical experiences by working on my project on the development of values in children.
I am very grateful that I had the chance to be part of the centre and value the exchange of knowledge and experience in this multi-cultural team.
Areas of interest
Identity, multiculturalism, migration, acculturation and adaptation, development of children, values.