H.N. Werkman at work
Art Historian Dieuwertje Dekkers, from Groningen, the Netherlands, gave a public lecture on the life and work of  Hendrik Nicolaas Werkman (1882-1945).
On Thursday 18 February, Dieuwertje Dekkers, from Groningen, the Netherlands, shared her experience as art historian and curator working with the unique handprinted, rolled, stamped, and stencilled druksels of the Dutch printer-painter Hendrik Nicolaas Werkman (1882-1945).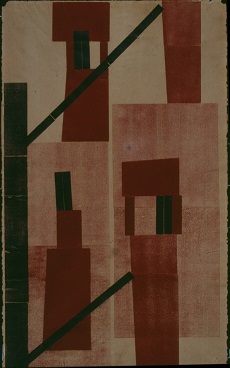 A full room at the Stout Research Centre listened to Dekkers explain how, from the early 1920s, Werkman developed several techniques to produce his unique art works (druksels), which blur the boundary between printing and art. The illustrated talk highlighted his life and work, and focused on the working method and techniques he used to produce his druksels: the hand press, roller, stamping and stenciling.
Afterwards, the audience crossed the lane to Wai-te-ata Press (WTAP), where Dekkers and Sydney Shep, Printer at WTAP, demonstrated Werkman's techniques on a hand press. Working with a palette of red, blue and yellow, Dekkers showed how Werkman used multiple stencils as masks to create colourful and layered figures in his prints. Shep showed how Werkman also used typographical elements, such as punctuation marks and numbers, out of the usual locked grid of a letterpress form and as stamps to create unusual images.
The audience was rapt and asked Dekkers and Shep many questions, inspired to try the techniques themselves. Wai-te-ata Press and the Stout Research Centre were very pleased to welcome Dekkers and were delighted with the event.
Dieuwertje Dekkers worked from 1994 until 2012 as a senior lecturer in art history at the Groningen University in the Netherlands. She specialises in 19th century art and the art market. Her expertise is in the work of the Dutch painters Jozef Israels, and Petrus van der Velden. From 2000 until 2007 she led a project researching the life and work of H.N. Werkman, which resulted in the publication of his complete works and correspondence. Currently she is an independent art historian advising art dealers and auction houses.