Transpositions: Celebrating National Poetry Day
Wai-te-ata Press hosted twin events in celebration of National Poetry Day, 26 August 2016.
Wai-te-ata Press hosted twin events in celebration of National Poetry Day, 26 August 2016. Titled Transpositions, the events were multimodal, cross-cultural and internationally facing gatherings to celebrate New Zealand women poets and their translators: language to language, words to images, and digital to ink in a circular flow of transpositioning elements.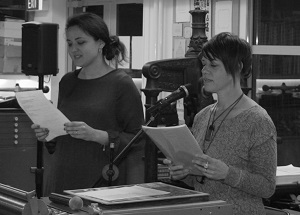 The warm-up event, Transpositions: Celebrating New Zealand Poetry in Translation, was held the evening before National Poetry Day. As guests arrived, a slideshow of comics by Montreal based Julian Peters, previous artist-in-residence at WTAP, played on the big screen. Alessandra Giorgioni kicked off the the event by reading the Italian translation of Hinemoana Baker's "Se dovessi cantare," or 'If I could Sing,' followed by the emotionally stirring video of Hinemoana reading the poem in English.
The video was recorded for the reopening of Christchurch Gallery after the 2011 earthquake, a poignant note considering the recent earthquake in Italy, as event organiser and translator Francesca Benocci noted in her welcoming speech. Francesca thanked everyone who contributed to the event and explained the various transpositions of words and peoples that led to it. Initially planned to celebrate Atelier magazine's 20th birthday, it had expanded into much more, and Francesca dedicated it to her mentor Antonio Melis who recently passed away.
Poet Emma Barnes then read her poem, 'I am in Bed with you,' followed by Tanya Kotze reading the Italian translation. Julian's interpretation of the poem in comic form was displayed on the big screen. In a prerecorded video, Julian discussed his love of Aotearoa NZ, his collaborations with Francesca for Atelier, and his process of translating words to images. Next, Faith Wilson read her poem 'The Unbearable Lightness,' with Eleonora Bello reading the translation. The provocative poem added momentum to the second half of the evening.
MC Meredith Paterson invited the poets Emma, Faith and Anahera Gildea, and translator Francesca to join her in a lively round table discussion, with Hinemoana joining from Berlin via Skype. Questions were based around the experience of being translated, the position of poetry in NZ society and recognition of Te Reo Maori. When asked to describe the relationship between poet and translator in one word, Hinemoana said spring, Faith said care, Anahera said displacement, Emma agreed and Francesca said service. The audience then asked astute questions on whether the translator felt ownership of the poems, the process of writing, and the story behind 'spring.' Finally the event came to a strong finish as Anahera and Francesca read 'Poroporoaki to the Lord my God,' original and translation, simultaneously. 'Poroporoaki' was written in response to 'Walk Series C' by Colin McCahon, which was in turn a response to the death of James K. Baxter.
A very supportive audience of about 30 people attended and left with a small keepsake featuring an extract of 'Dear you,' by Ya-Wen Ho, which sums up the feelings of movement between words, people and place; "I go to Taiwan, I go back to Wellington." Guests also had the opportunity to purchase beautiful poetry books at the pop-up Vic Books Stall.
The next day, Wai-te-ata Press opened it's doors for Making Transpositions Visible, a drop-in typesetting event on National Poetry Day. Most guests came prepared with a line of poetry from their favourite NZ women poet, or used one from the night before, to set in 18pt lead type from WTAP's collection. For most, it was their first experience of the frustrating and rewarding process of finding each individual letter and arranging them into full sentences; reading, of course, everything backwards. Each guest got to have a go printing their line on the Asbern cylinder press. Pulling the first proof was a good reminder to mind your p's and q's! The set and proofed lines were then transferred to a chase. By the end of the day, we had a full 'found' poem to print as a poster. About 20 people of a range of ages tried their hands at typesetting.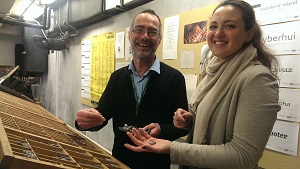 Many to thanks to Phantom Billstickers, NZ Books Awards Trust, Vic Books, Wai-te-ata Press, Victoria University of Wellington and all who participated to make the events meaningful celebrations of poetry, translation and letterpress.