Student profiles
Student and Alumni profiles from the School of Management
Stuart van Voornveld
Bachelor of Tourism Management, Graduated 2014
I started working for Europcar soon after I graduated and progressed towards a Senior role within 2 years. This role allowed me to experience the tourism industry first hand with tourists shortly after arriving in New Zealand and starting their New Zealand tourism journey.
I moved to Orbit World Travel in December 2017 as a Junior Domestic Consultant, arranging domestic travel for a variety of clients (from small to large). Within a year of arriving at Orbit I have progressed into a Senior role within Orbit and feel like an integral part of the team. My future plans are to stay with Orbit to grow my practical experience in Travel Management, then look at a more serious management role.
The tourism degree at Victoria University of Wellington has allowed me to take a chance with career choices, while also giving me a leg up on other people in applying for a job that I want to. When starting to apply for Orbit World Travel, I realised that my Degree allowed me to offer a different view on how to approach the job. The degree has allowed me to put into practice the skills I learned at Victoria University of Wellington and apply them to my current role and my future plans. The Degree has opened a door for me to advance further in the Tourism field and the practical experience I've gained will allow me to grow further.
I'm at the start of an amazing career all because of the support and knowledge that I gained with the Tourism Management degree.
Gabby Dowland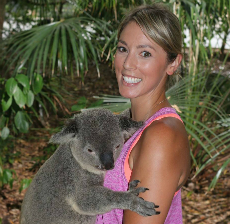 Bachelor of Tourism Management, Graduated 2011
After studying towards a BA (double major in Mandarin Chinese and Asian Cultural Studies) and BTM (Tourism Management) at Victoria University of Wellington, I moved to Florida to take part in the Disney College Programme in 2012. Disney was eye-opening for a number of reasons—you are literally one of 63,000 employees so the scale of the operation was unlike anything I'd ever seen before! Because of this though, the training you receive as a frontline employee is second to none. I completed the Programme then headed further north to Canada for a year on a working holiday visa and gained employment through the Hyatt Hotel Group.
Upon my return to Wellington I job hopped for a few years through HR and Tourism roles in the private and not-for-profit sectors. These roles included HR Coordinator at the James Cook Hotel, Assistant General Manager for Trinity Hotel, HR and Payroll Coordinator for OSPRI and HR Adviser for the Office of the Clerk at Parliament. My current role is HR Advisor for Weta Workshop.
My role here at Weta Workshop is to provide advice to staff and managers across Weta Workshop on any operational or strategic HR-related issues, as well as recommending solutions to achieve desired business outcomes. Within my portfolio I provide HR services for the Tourism, Interactive and Production teams.
Weta Workshop poses some interesting challenges from an HR perspective. The business is always growing and developing, and it can be hard to keep ahead of changes. Working with a highly talented and creative workforce can also be daunting but is it also incredibly exciting and I would not change it for the world! The office dogs, lack of dress code and walls lined with movie memorabilia are just a few of the factors contributing the great office environment that I get to enjoy every day. In addition to this, working for a company that features heavily within New Zealand's tourism sector has provided me with great opportunities to utilize the skill set I gained through studying Tourism Management at Victoria University of Wellington.
Andrew Jackson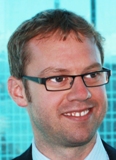 BA German, BCA International Business and Management, BCA Honours First Class in Management, MCA Distinction in Management (2011).
Senior Manager at PwC Consulting Vietnam, 2019.
Prior to completion of my MCA in 2011, I had entered into an entry level role at Deloitte New Zealand as a consultant for Enterprise Risk Services. In this role I work with a range of clients across both the public and private sectors to help them better manage risks to their business, their people, and their property (both intellectual and physical). These engagements see me interact at both the higher strategic level as well as the more granular operational level. My studies have stood me in good stead to be able to deal with the diverse variety of challenges this role throws at me every day.
I first found my passion during my undergraduate studies when I first encountered strategic management. This subject opened my eyes to a whole new way of thought in which seemingly independent 'dots' were actually connected through complex interdependencies. As I progressed through my postgraduate studies, first through Honours then a Masters thesis, my enjoyment and interest in strategy and business management only continued to grow.
My MCA in Management focused on the Resource Based View of the firm, with a particular interest in the competitive advantage of New Zealand based firms. Out of the studies involved in my research I gained a solid understanding and appreciation for the interconnectedness between a business's resources, their competitors and their business environments. The experience and content I gained from this degree has had a number of direct and indirect tie-overs to my work at Deloitte.
My degrees required a lot of hard work and while the School of Management always pushed me to achieve, they were also brilliantly supportive. It was with their support that I believe I was able to achieve as much as I have. I thoroughly enjoyed my time at School of Management. My BCA Honours year was possibly the hardest as well as most rewarding academic year of my life, and my bound Master thesis is probably my most treasured possession. My experiences at the School of Management have left me eager to complete a PhD at some stage in my future, and I would recommend the School of Management's courses and degrees to anyone who is wanting and willing to learn to think.
Sarah Kennerley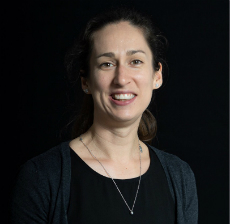 Bachelor of Tourism Management, Graduated 2007
I'm currently the Senior Digital Channels Advisor for the New Zealand Defence Force (NZDF) based in Wellington. Our team is responsible for the websites and social media channels for each of the services (Army, Air Force, Navy) as well as NZDF which include Facebook, Twitter, Instagram and LinkedIn.
Prior to specialising in social media I held a number of broader marketing roles working for large corporate brands such as ANZ and BP.
My Bachelor of Tourism Management has been of great value to my career in that it combined the business papers which employers want to see with an application to the tourism industry which I've always been passionate about.
There are often projects within my role where I think back to papers I took as part of my degree, and it proves a talking point in job interviews because it's different to what most applicants hold. I'm sure my enthusiasm for it shines through.
Outside of work I maintain a personal travel blog, Sarah Sees The World. This has enabled me to work with a number of tourism operators during my travels and I feel my degree gave me a real understanding of how the industry operates.
Andrew Quinlivan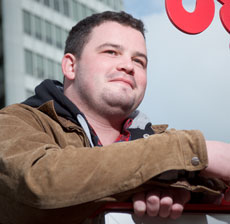 BCom in Management and International Business
I initially came to Victoria University of Wellington on a rugby scholarship through the Wellington Rugby Football Union. The first year was a learning curve. A steep one. Learning to be responsible for my learning was very different to the nurturing given at high school. But I liked it, I enjoyed being independent and taking control. I didn't study business at high school. I became interested as I became more aware of my world. I began a Psychology major but quickly learnt that it wasn't compatable with who I am. My studies mutated into understanding business, more than people. Having fantastic lecturers was incredibly influential on my wanting to pursue this field: they are great people with a contagious passion about an interesting concept. I began working in the area of corporate social responsibility because I wanted to put a communitarianism spin on what I was studying. I felt I would get the strongest sense of satisfaction by working with businesses to improve and solve important global issues. I plan to work in a field with influential companies to make a meaningful impact on our social and ecological environments.
Olivia Mexted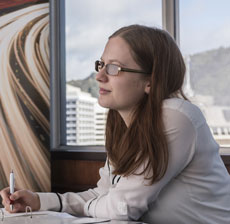 BTM(Hons) 2015
Coming out of high school, I wasn't quite sure what I wanted to do, or even if I wanted to continue studying, so I decided to choose something with variety and flexibility. I liked the idea of the BTM programme as I could take a mixture of BA and Commerce courses as well as the few core Tourism ones. It was great to have some choice in the areas I wished to focus on. I found the undergraduate degree so fascinating and thought provoking that I wanted to continue on and have the opportunity to conduct independent research projects on those topics I found most interesting. The BTM programme has by far exceeded my expectations. When I tell people I study tourism, they automatically think I'm going to be an air hostess or work in a hotel, but over the three years of undergraduate study I quickly discovered that the diversity of careers in tourism is endless. The great thing about studying tourism at Victoria University of Wellington is that you are surrounded by the top tourism organisations in New Zealand. Speakers from Tourism New Zealand and the Tourism Industry Association often come as guest lecturers, which helps give an in-depth idea of what it's like to work in the tourism sector and inside knowledge on what the future of New Zealand tourism looks like.
Amalina Andrade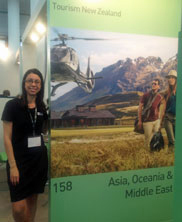 MTM/ Master of Tourism Management, 2013
Kia ora all! I finished the Master of Tourism Management (MTM) and left NZ at the end of June last year. By the end of 2013 I started working for Tourism New Zealand in the newly created office in my home country, Brazil. So I became the Trade Development Executive for Brazil, Chile and Argentina, which included: providing training to travel sellers, meetings with tour operators and travel agencies, participate at trade shows, coordinate the 100% Pure New Zealand Specialist Programme, write the newsletter, take care of Customer Relationship Management, amongst other things. I was able to visit NZ twice this year, and this allowed me to catch up with friends, lectures, receive my degree, and visit places in NZ that I had not visited before (especially the region from Golden Bay to Kaikoura). I was also able to participate in TRENZ, which was such an amazing opportunity to meet NZ suppliers and intermediaries as well as get to know new products and people. I also had the opportunity to visit other South American countries, I visited Santiago de Chile (Chile) to promote NZ for exchange student programmes and it was really exciting to talk to those interested about being a Latin American student living for the first time overseas. Since my job was to promote NZ, it felt like I was talking about home: because NZ will always be my second home!
Another great thing that happened this year was that I was able to present key findings from my Master's thesis at the 10th International Small Island Conference on the Brazilian island of Fernando de Noronha. This amazing opportunity allowed me to provide feedback to the community in which I undertook my research because the island was also the case study of my thesis; plus it also created an opportunity to network with people from different countries and make new friends from around Brazil.
This month I decided to start a new challenge working for MCI Group, which is a company based in Switzerland that focuses on the Meetings, Incentive, Conference and Events (MICE) segment. As I enjoyed my previous experience of meeting new people and spending a lot of time out of the office while working for TNZ, I am now a Sales and Sponsorship Executive responsible for selling some big sponsorship opportunities for a Convention expecting 35,000 people attend the event. But even more adventures are about to happen as I am also planning to undertake a skydive course by the end of 2014. NZ showed that I really do love to take risks and do adventure tourism! So, maybe in the future I might go back to Queenstown as a skydive instructor?! Who would fly with me?
Jessica Wilson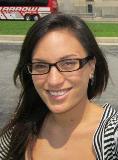 BTM/ Bachelor of Tourism Management
I graduated from Victoria University of Wellington in 2010 with a Bachelor of Tourism Management. Since then I have spent just over two years as Operations Manager for Seal Coast Safari and John's Hop On Hop Off City Tour. I learnt a great deal about the Wellington tourism industry and how a small tourism business operates, as my role was very hands-on and varied.
Recently I began a role with Positively Wellington Tourism as International Marketing Coordinator. Part of my role here will involve hosting international media and trade while they are in Wellington, assisting in the creation of marketing collateral and helping spread the word about 'the coolest little capital in the world'.
Coupled with practical experience gained by working in the industry, the knowledge and skills I built up during my time at Victoria University of Wellington have allowed me to establish a great foundation from which to build my career upon.
Jess Wilson, International Marketing Coordinator, Positively Wellington Tourism.
Parley Reynolds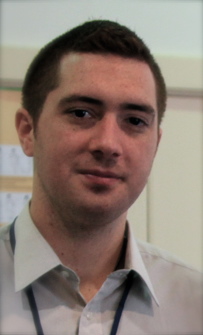 BCA Honours in HRIR (2010), PhD in HRIR
2010 was my first year studying at School of Management (SoM). At first I was quite apprehensive about returning to university studies as it had been over 5 years since I had finished my undergraduate degree at another New Zealand university. I soon found that the courses offered at SoM were very well organized and the academic programmes were structured in a way that made it much easier for me to navigate my way around a new university, and a new city. The BCA (Hons) HRIR program was demanding and extremely challenging programme of study. However, the staff at SoM were all very supportive and inspiring in the way they presented their detailed knowledge of their respective fields of study. At the end of that year, I found that the Honours programme was one of the most rewarding experiences of my life. I enjoyed my time as a post—graduate student at SoM so much that, since then, I have decided to pursue a PhD degree through SoM. My Research interests include democracy in the workplace, rural development, China, and poverty alleviation. The on-going support and encouragement I receive from staff and fellow students has been essential in allowing me to pursue my own interests in post graduate studies. I have really enjoyed my time here at SoM, however, I am still looking forward to graduating with a PhD at the end of next year!
Natasha Kusel
LLB/BCA Management major
In March 2012 I will be graduating with a BCA majoring in management and public policy, and an LLB (Hons). I will be starting work immediately as a graduate Law Clerk at Chapman Tripp in Wellington in the area of resource management law. I have been interested in the areas of law and business ever since secondary school where I was introduced to economics and accounting. I did my first management course in 2006 and enjoyed the challenges it brought. As I have progressed through the elective courses offered by the School of Management, I have been exposed to a variety of inspiring people across a wide range of disciplines. We constantly relate what we learn to current, real-world organisations. Studying at the SoM gives you a foundation for looking at issues critically and creatively which I know will be valuable to employers throughout my career.
Miriama Cribb

Tena koutou katoa.
This year (2011) I will be graduating with a Bachelor of Arts in Education and a Bachelor of Commerce in Māori Business and Management. I have recently returned from the UK, finishing off my BCA at Lancaster University. I chose these subjects based on my long term aspirations to help Māori people, especially my community back home in Whanganui and my extended families around the country.
Because of its location and organisation of degrees, I believe I was always going to attend Victoria University of Wellington. The School of Management has excellent courses and what I value most is that it is not always business specific. Completing a BCA meant that I was able to study Management as a course on its own and marry it with both Māori Business and Education.
Also having studied in the UK, I was given the opportunity to study management from a different perspective. With support from the Faculty of Commerce, I believe my exchange to the UK not only gave a different perspective but also depth to my commerce degree. The most inspiring thing about my exchange, other than the excitement of living in another country, is that I've come to realise that learning about management and the business world doesn't always have to be boring. When you study for four years, you start to think that you have grasped everything there is to know. However, studying at Lancaster opened up a whole different side to management that I would have not otherwise thought about. I would highly recommend to other students that studying overseas is beneficial to their degree and an opportunity far too good to give up.
This year I plan to complete my honours degree in education while slowly integrating into the workforce, analysing the management and organisation of education. I would like to thank the Faculty of Commerce who have supported me during my undergraduate years and my overseas exchange.
Simon Wi Rutene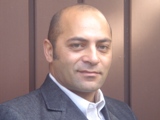 LLB/BCA Māori Business major
In my role as an Alpine Skiing and Snowboard Technical Delegate for the F.I.S (International Ski Federation) I advise National Sporting Organisations about how to apply the statutes governing the Rules of International Competition. The role is very challenging and I am constantly required to update my skills to deal with the many issues that I face in supervising major international events. In 2003 I completed a graduate certificate from Victoria University of Technology (Melbourne) in Career Counselling for Elite Performers (Sport, Music & Dance). I already knew a thing or two about elite sport as I had competed in four Winter Olympic Games between 1984–1994 and was the New Zealand Skiing Champion from 1986–1995. In 2009 I enrolled in Victoria University of Wellington's LLB programme.
Victoria University of Wellington Law School offers the type of subjects that I needed to help me confidently fulfill my international role. In order to gain entry into second year law it is a requirement to have 90 non-law points. Thus I made the decision to enroll in Victoria University of Wellington's BCA programme to obtain my 90 non-law points. I am a Director of a Māori publishing company, which has been trading since 2000 so I had a natural interest in Māori business and the MBUS topics offered were very relevant to the direction my company was heading. In fact I enjoyed the papers so much that I decided to take Māori business as my BCA major. The lecturers were awesome but as well we received the undivided attention of outside experts at the top of their field. I have now finished my major and have only have several core papers to do to complete my BCA. Māori are set to become a major player in the national economy and I believe the experience that I have gained from the Māori Business programme puts me right at the very front of every opportunity I am considering. I would recommend without any hesitation Māori Business to not only those Māori whom have responsibilities to their whanau but also to the most ambitious students who wish to make it at the top in the Asia–Pacific region.