The New Zealand Pocket Oxford Dictionary 2006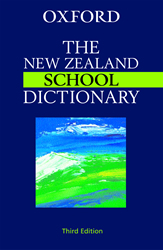 A fully revised and extended fourth edition with a new format, this dictionary for secondary school students contains a middle section of 40 pages, covering a wide range of helpful word lists, study aids, and literary content. Common abbreviations, acronyms, and initialisms are listed, foreign food terms are categorised and defined, and common descriptive music terms are provided in the section.
Also listed together are Roman and Māori numerals, days of the week and weeks of the year in Māori, and common New Zealand birds, fish, and trees in both English and Māori. Terms, such as cowcocky, CPI, cracker, crape fern, crawler, and crib, with a distinctive New Zealand origin or sense, are included in the main headword list. Easily discernible pronunciation guides and usage notes are provided, along with word origins.