The New Zealand Pocket Oxford Dictionary 2005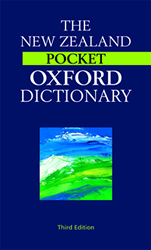 This extensive and versatile dictionary for use in secondary school, home and office provides authoritative information on both New Zealand and global English. This third edition contains over 1,000 new headwords and several hundred new senses and idioms. Its New Zealand coverage includes terms of historical importance together with borrowings from te reo Māori and appendices containing the New Zealand National Anthem and the Treaty of Waitangi in both English and Māori, and Governors-General and Prime Ministers. Guidance on grammar, syntax, punctuation, and style is provided, and pronunciation is given.
In this dictionary, you will find the name of the person after whom Peggy square is named, and you will be shown that pelargonium is pronounced pel-uh-goh-nee-uhm, is often erroneously called 'geranium', and comes from the Greek pelargos, stork.
This dictionary was awarded a Premier New Zealand Bestseller Award.