The New Zealand Oxford Paperback Dictionary 2006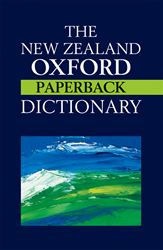 This large, comprehensive encyclopaedic dictionary, in its second edition, provides a clear reflection of the influence of technology, and the social and political realities of the twenty-first century, on English vocabulary, both in its New Zealand and its global entries. Terms of geographical and historical significance are also included, while detailed appendices are provided.
In this dictionary, you will find information about G8, Gabriel's Gully, Gadaffi, gadolinium, galah, the New Zealand Governor-General Galway, the garden city (Christchurch), the significance of Gate Pa, gazpacho, GDP, and Lloyd Geering.