The Dictionary of New Zealand English 1997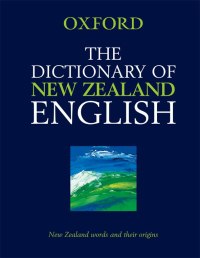 Published in 1997, this unique historical record of New Zealand words and phrases was compiled by the late Harry Orsman, following 40 years of research. The dictionary, the winner of the supreme Montana Book of the Year Award, is based on historical principles, providing written citations (examples) of each headword in context.
Here readers can discover and research the vocabulary of early European colonists, along with records of borrowed terms from te reo Māori and their English spellings, and are able to trace the routes which words have taken and changes that have been made until the end of the twentieth century. This dictionary is the most comprehensive published record of words and usages that are specific to New Zealand, those that originated in New Zealand or those that have a specific historical significance in New Zealand. Upon completion of this work of Orsman's, an electronic database of the terms from this dictionary was established, and this is constantly updated with new entries and new citations of earlier entries.
In here, you will find the eleven various spellings of what is most commonly referred to as pakuru or puckeroo, you will discover its etymology and its applications since 1820.