The New Zealand Oxford Dictionary 2004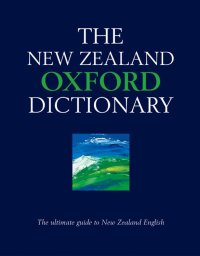 Compiled over a number of years and published in 2004 from the NZ Dictionary Centre, this work was the winner of the 2005 Montana Award for Reference and Anthology. A unique dictionary of its kind, it contains significant New Zealand and international encyclopedic material in addition to local and international lexical entries. To illustrate, you will find under P, not only pakaru/puckeroo, but also Pacific rose, Paddy's lantern, Paganini, Paikea, Palmerston North, Peking, Picasso, pikopiko, Pillars of Hercules, Piltdown man, PJ's, piupiu, plasmodium, Plimmer's Ark, and poozle.
The innovative and extensive appendices include grammar and usage notes, the Treaty of Waitangi in English and te reo, the national anthems of New Zealand, and principal traditional waka and iwi, along with national and conservation parks, principal mountains, rivers, lakes, and urban centres. In addition, there is a host of historical material such as the governors and governors-general of New Zealand, our Premiers and Prime Ministers, members of the Order of New Zealand, and New Zealand and Victoria Cross recipients.
In here, you will find more than 2000 encyclopaedic entries from New Zealand together with a host of different entries, all with pronunciation guides, etymology, and where necessary, usage notes.
558451-1: NZOD