Creativity Campfire
A roundtable conversation on the many faces and facets of translation.
Professor Emerita Luci Tapahonso, first Poet Laureate of the Navajo Nation joined the AVC Pasifika Associate Professor Hon Luamanuvao Winnie Laban and DVC Maori Professor Rawinia Higgins around the campfire in the Hunter Council Chamber last Thursday for a Festival of Creative Translation: The Indigenous Connection, part of Victoria's Creativity Week.
Right: the three sisters: Winnie, Luci, and Rawinia.
A roundtable conversation on the many faces and facets of translation led by Marco Sonzogni and Sydney Shep highlighted the intricacies of negotiating languages and cultures, transforming poetry into print, and capturing the performative worlds of song, dance, and ritual. An inspiring evening punctuated by the realities of global injustice was followed by readings from Luci's work, including her favourite form, the sestina.
As the Wai-te-ata Press inaugural Creator-in-Residence, Luci visited Arohata Women's Prison, Te Papa Tongarewa, and Taita Central School and participated in Creativity Week's multidisciplinary panel 'Languages of Indigeneity.' She also met with local author Patricia Grace in Wellington and with indigenous writers in Auckland.
Luci's visit was made possible by a generous grant from the Embassy of the United States of America, as well as support from the Victoria International Leadership Programme, the VUW Faculty of Law, the New Zealand Academy of Literature, the Book Council, the Publishers' Association of New Zealand, and the University of Auckland.
Right: Winnie reads to the guests in the campfire circle.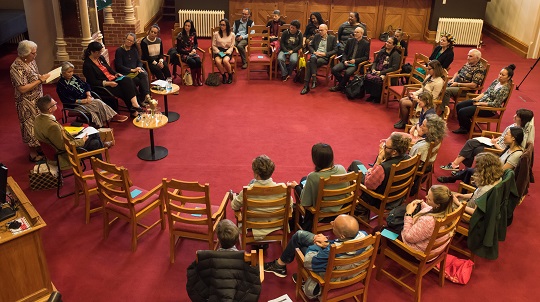 Image credit: photos by Robert Cross.