Chris Kraus
Christoph Kraus chose to study geology at Victoria University of Wellington because he had developed a strong interest in earth sciences during high school, in particular in glaciers and studies of past climates.
"During my undergraduate study at the University my interest in paleoclimatology and the ice was intensified thanks to excellent courses and field trips. When I got the opportunity to study toward a Masters within the Antarctic Research Centre (ARC) and actually conduct paleoclimatological research myself, I knew I had to take it", says Chris.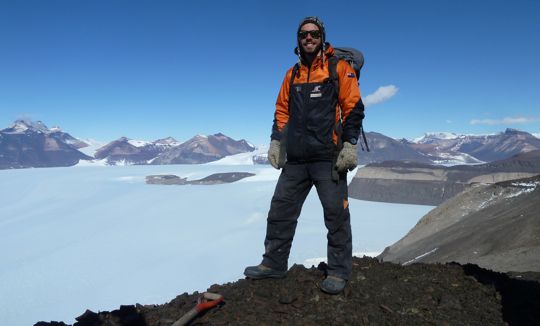 From November to December 2014 Chris joined Tim Naish, Nick Golledge and Warren Dickinson from the ARC, as well as Adam Lewis (North Dakota State University) and Andrew Gorman (University of Otago) on the expedition to the Friis Hills in the Dry Valleys of Antarctica. They spent two weeks in the mountains collecting data including seismic information for a characterisation of the local basin, cosmogenic nuclide exposure ages of granite boulders, and much more.
"The expedition was a dream come true for me. I had wanted to go to the ice as long as I can remember, and to be able to do it as part of a scientific expedition was as good as it could get. I thoroughly enjoyed being part of the team and conducting some very interesting research", Chris enthuses. "I feel very fortunate to have been given the opportunity to go down to Antarctica with the team, and want to thank the team a lot for bringing me along."
Chris's Masters research looked at ~28 to 23 million year old sediment cores recovered from the Ross Sea during the 1970s (ARC's Emeritus Professor Peter Barrett was on the expedition which initially recovered the cores). These cores are of interest because they contain a sequence of sediments recording the transition from a terrestrial to a marine based ice sheet. Chris used multiple modern techniques to constrain this transition and the results were combined to develop a sedimentation model which will be used to track the evolution of the West Antarctic Ice Sheet during this time. This is important because the history of WAIS during past times of atmospheric CO2 exceeding 400 ppm (a value reached in 2013 for the first time since the Pliocene) is critical in the context of understanding past sensitivity of marine-based ice sheet systems to environmental changes.
In conclusion Chris explains "The results of this study further our understanding of marine ice sheet sensitivity and constrain sea level estimates over this time period."