2011 News
Explore the Centre's news stories from 2011.
2011 News
Dr Rob McKay awarded the 2011 Prime Minister's MacDiarmid Emerging Scientist Prize
16 December 2011
Antarctic Research Centre Post-doctoral Fellow, Dr Rob McKay, has been awarded the 2011 Prime Minister's MacDiarmid Emerging Scientist prize, worth $200,000, for his research into past environmental change in Antarctica and its implications for the current phase of global warming.
Rob uses marine sedimentary records and glacial deposits to reconstruct episodes of melting and cooling in Antarctica over the past 13 million years and show how they influenced global sea levels and climate. "Uncertainty about how Antarctic ice sheets will respond to global warming remains one of the most important issues facing climate change scientists," he says. "Better knowledge in this area has particular relevance for New Zealand because we sit at a major gateway where water from Antarctica enters the world's oceans." To study this Antarctic link to New Zealand, he is also developing a five million year ocean-climate history from records collected from offshore eastern New Zealand.
Professor Tim Naish, ARC's Director, says the strong network of international collaborators Rob has developed is bringing exciting new opportunities to the Centre. "He is an articulate communicator and a talented emerging scientist that New Zealand needs to maintain its world class Antarctic and climate research capability."
Rob receives $50,000 of the prize money and is able to use the remaining $150,000 to support his on-going research.
To read more on Rob's award click here.
Professor Peter Barrett - Honorary Fellow of the Royal Society of London
8 October 2011
Professor Peter Barrett has been recognized by the world's oldest geological society for his work on Antarctica's climate history and appreciating its global significance. Honorary Fellows of the Geological Society, currently held by only 71 geoscientists worldwide, have been appointed ever since the society was founded in 1807, and given as recognition for their achievements, not only in science, but in acting as ambassadors for geological science and promoting its aims to the wider public.
"The Fellowship is a truly significant honour" says Peter, who is now one of only two New Zealanders to have received such a distinguished title.
Dr Nancy Bertler awarded prestigious Rutherford Discovery Fellowship
8 September 2011
The Rutherford Discovery Fellowships, administered by the Royal Society of New Zealand, support New Zealand's most talented early-to mid-career researchers providing financial support of up to $200,000 per year over a five-year period to investigate a particular research topic, and help them further their career in New Zealand.
Nancy, who is jointly appointed by Victoria University's Antarctic Research Centre and GNS Science, leads the National Ice Core Programme, manages the New Zealand Ice Core Research Laboratory, and is the Chief Scientist of the international Roosevelt Island Climate Evolution (RICE) project in Antarctica.
Victoria University Vice-Chancellor Professor Pat Walsh says the Fellowship awards were a significant achievement. "These awards, set up by the Government last year, will allow some of our best and brightest researchers achieve their potential to make an enormous contribution to New Zealand.
"We are pleased and proud that three of the ten Fellowships were awarded to Victoria University researchers. I am delighted to see those who have dedicated their career to discovery and world-leading research being supported and recognised in this way."
Tamsin Falconer's farewell
28 April 2011
After more than seven years of service ARC's Centre Manager, Tamsin Falconer, has resigned to take up a new position as Projects Manager at Museums Wellington, which will provide new challenges and opportunities in an area she is passionate about. The present success of ARC is in no small way a reflection of Tamsin's skills, investment and influence, and although she will be missed by all her friends and colleagues at the ARC, we wish her well in her new career.
Climate change and New Zealand's future
28 January 2011
As the conclusion of a three-week summer course, ESC1 201, a panel of experts answered questions at a public panel discussion today. The discussion was complemented by a poster exhibition presented by Victoria University students, prepared as part of the course.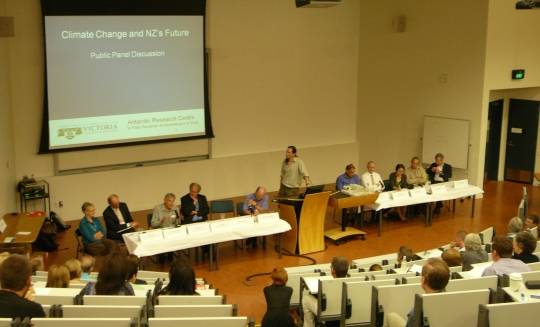 Students' comments about the course included:
"I thought the course was a really good insight into the issue – it filled in the gaps that we don't hear from the media."
"It was good to hear different perspectives from the experts."
"The science was all there, but even my friends who are not doing a BSc understood it."
The panel consisted of Wellington's climate change experts, some of whom lectured on the course, including:
Prof Jonathan Boston (VUW Institute of Policy Studies)
Dr Adrian Macey (Kyoto Protocol Chair, former NZ Climate Change Ambassador)
Prof Martin Manning (VUW Climate Change Research Institute)
Dr David Wratt (NIWA, Chief Scientist, Climate).
David Wratt spoke of the difficulty of making decisions that would affect the world in 50-100 years instead of those that benefit society immediately. The panel also noted the need to collaborate with social scientists to understand the psychology of people's response to the issue, to help find ways forward.
In response to a question regarding the perceived lack of progress on climate change mitigation, Adrian Macey said, "It's a very complex issue and in comparison with other global issues of similar size, such as international disarmament, we are not doing too badly."
Jonathan Boston named significant barriers to change in New Zealand as the lag due to the long lifetime of existing infrastructure (such as power stations), and vested interests in current political and economic systems.
The course, Climate Change and New Zealand's Future (ESCI 201) is aimed at students from all faculties as well as local and central government staff. It provides a broad overview of the subject, ranging from the fundamental science to international negotiations and policy in New Zealand.
New findings on why Antarctic ice sheets melt
17 January 2011
Research from Victoria University has revealed new findings on why Antarctic ice sheets have melted in the past, as well as how future melting may affect sea levels.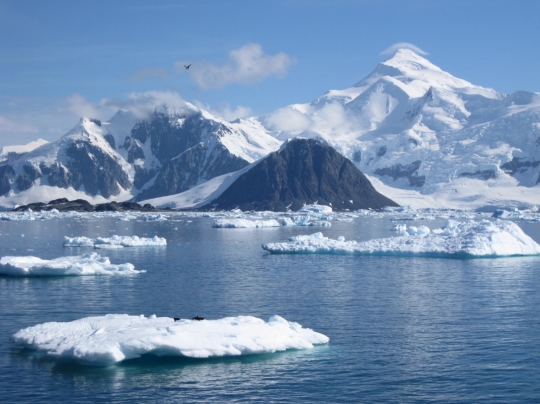 Victoria researcher Dr Andrew Mackintosh is the lead author of the research published today in the prestigious journal Nature Geoscience. Victoria researchers Dr Nick Golledge and Dr Dan Zwartz also contributed.
"Our research looked at how ice sheets behave, in particular the East Antarctic ice sheet. The retreat of this ice sheet at the end of the last glacial period has previously been attributed to both sea level rise and ocean warming," says Dr Mackintosh.
"We found that although the initial stage of retreat may have been forced by sea level rise, the majority of the ice loss resulted from ocean warming. Increasing ocean warmth seems to be the main driver of ice sheet retreat.
"This means that we should be particularly concerned about the present-day warming of the oceans around the Antarctic periphery. Our findings suggest that a substantial contribution from melting ice sheets to global sea level rise in the near future is very likely.
"As a caveat though, we also show that the response of an ice sheet margin can vary significantly between locations, depending on the geometry of the land beneath the ice. This makes it challenging to predict the actual response of the ice sheet without detailed computer modelling."
Dr Mackintosh says that researchers study past records of ice sheet behaviour to help understand current change.
"It's very difficult to tell what might happen with modern observations such as satellite imagery because they cover a very short period of time, so we look at past information, asking questions such as 'What caused the retreat of ice sheets thousands of years ago?'.
In particular, we use computer models, which are tested against geological data, to help answer these questions."
Dr Mackintosh leads a glacier modelling group in the Antarctic Research Centre at Victoria University and he says that this paper represents the most significant publication of the group to date.
Antarctic Research Centre Director Professor Tim Naish, says: "I'm pleased to see the group making such a fundamental and important contribution to our understanding of how the large East Antarctic Ice Sheet may respond as the Southern Ocean heats up in a warming world."
The research was supported with grants from the Foundation for Research, Science and Technology, Victoria's Antarctic Research Centre and substantial donations to the Victoria University Foundation for Antarctic research by the Morgan Family Trust and Alan Eggers.