History
Victoria University of Wellington's scientific community has held a unique relationship with Antarctica since 1957. Learn about our history with Antarctica.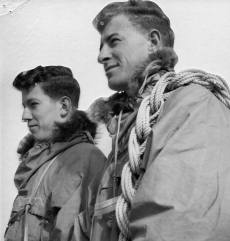 On December 30 1957, two third-year geology students, the late Barrie McKelvey and Peter Webb, stepped off the HMNZS Endeavour equipped with Professor Bob Clark's WWII field gear to keep them warm, and hitched a helicopter ride with biologist Ron Balham to the unexplored McMurdo Dry Valleys. Their fine mapping and reporting from that season formed the basis for the annual Victoria University of Wellington Antarctic Expeditions (VUWAE) that continue to this day.
Since then, VUWAE expeditions have taken over 400 staff and students to the ice, to share the excitement and satisfaction of discovering and understanding this remarkable part of the planet. The nature of exploration has changed as the region has become increasingly well known, but the style and spirit remain – a small group of innovative thinkers tackling some aspect of a big problem.
The Antarctic Research Centre (ARC) was established in 1972 as part of the Department of Geology at the University and was led by Peter Barrett who remained the Director for 35 years until he stepped-down in December 2007.
In April 2008 there was a celebration to honour Peter in recognition of his dedication to the ARC and his tremendous achievements in Antarctic research including the discovery of the first tetrapod remains in the Antarctic Beacon Supergroup, a succession of Devonian to Triassic (420-200 million years old). Peter is also universally recognised for his leadership in Antarctic geological drilling, and has been chief scientist on several drilling projects in McMurdo Sound including the CIROS-1 drill hole (1984-86) and the Cape Roberts Project (1997-2000).
Much of our Antarctic exploration involves sampling otherwise inaccessible records by coring, on ice, on land and offshore. Our success in these endeavours has also been largely through the work of Alex Pyne, who first went to the ice as an Honours student in 1978. He has since combined his geological and engineering skills for a wide range of Antarctic field activities. For over three decades Alex worked as Projects Manager on drilling ventures with the CIROS project (1984-86), Cape Roberts projects (1997-2000), ANDRILL Project (2001-2007), RICE Project (2011-2013), and Ross Ice Shelf Project (2015-2020). Alex retired in June 2019 after 42 years of service to the University.
In 2001, the ARC became a separate unit within the Wellington Faculty of Science and is recognised as a world leader of research into Antarctica's past climate, its influence in global climate change, and polar scientific drilling technology and operations.
In the last few years our research has focused on Antarctic climate history and ice sheet behaviour from sediments over the last 30 million years and more recently from permafrost and coastal ice cores. We are also integrating our geological knowledge with models of glacier, ocean and climate behaviour, seeking to improve our understanding of the global climate system, and continue the spirit of discovery that has been the hallmark of VUWAE for the last 60 years.