Shanggyue (Sarah) Zhang
Meet Sarah, who is taking her accounting skills to the next level through the Master of Professional Accounting programme.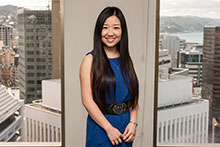 Sarah reached a point in her career where she felt she needed formal education in finance and accounting to progress further.
Although she had received some excellent on-the-job training in this area, she felt unable to improve her skills further without going back to university.
"I had a Bachelor's degree, but hadn't done any accounting papers, and was attracted to the MPA programme because an accounting background wasn't a compulsory entry requirement and I could complete the degree in 16 months."
As an international student from China, Sarah says Wellington was the perfect location in which to study and live.
"People in Wellington are very friendly. And, as the capital city of New Zealand, Wellington has many museums, galleries, theatres and international festivals which make life more colourful."
Next, she aims to study for a global accounting certificate to further enhance her accounting knowledge and skills.