Louis Rich
Find out why Louis loves studying in Wellington, and hear his tips for new students.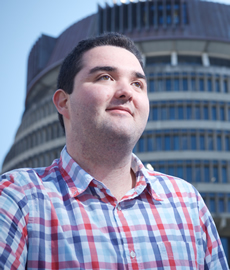 Wellington is a wonderful place for students to live – on a good day there is simply no other place I would rather be. Walking to university each day along the waterfront has been one of my favourite things.
Pipitea campus is in such a good location, right by Parliament, the CBD and the waterfront. The culture around campus is great and everyone, from the staff and students to the business people walking past, is friendly and interested in what you're studying.
First year was definitely a change from high school that took time to get used to. It was a struggle initially, meeting a completely new set of people and focusing on my studies at the same time.
After a while though, I started to understand how the system works and my grades improved dramatically after first year.
My advice would be to make sure you don't give up. There are times when the workload gets hectic, but you need to keep going and utilise the vast array of tools that the University provides.
University is about what you can learn from each course, so don't worry too much about your grades, just keep up the effort and the rewards will come.