Andrew Milne
Discover why joining the School of Accounting and Commercial Law was a natural choice for Andrew.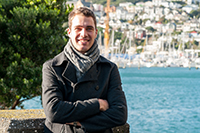 I was drawn to study accounting, finance and commercial law as I have a love of numbers and business. I enjoyed accounting at school so wanted to carry that forward to a higher level.
This programme of study enabled me to gain a richer understanding of how decisions made by accountants, financial advisors and legal experts shape the world we live in.
I have learnt a great deal from a range of competent and experienced lecturers and tutors and have made a range of connections both within and outside university. The first year halls experience was also unforgettable, and I made lifelong friends and had many fun nights out.
I was involved in the Victoria Summer Scholarship programme whereby I carried out a unique research project over the summer months, based at a government agency where I was introduced to a professional work environment and exposed to a range of influential people. The research scholarship enabled me to develop my presentation skills and offered an opportunity to carry out research as an undergrad student.