Huanyu (Thomas) Xiao
For MPA graduate Huanyu, it was the friendly and interactive teaching environment at Victoria University of Wellington that impressed him the most.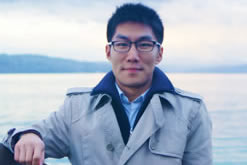 In 2012, Huanyu (Thomas) Xiao graduated from Sun Yat-Sen University in China with a Bachelor of Medicine and Bachelor of Surgery. But soon after, he started to explore opportunities to study commerce abroad.
Four months later he found himself at Wellington School of Business and Government, some 10,000km away.
"I wanted to study in New Zealand, and doing a Master of Professional Accounting suited my interests," he said. Thomas thrived in the Business School's teaching environment.
"I enjoyed the atmosphere and being able to interact with the teachers. In China, there are too many students. There can be up to 200 students in a classroom, but here, my biggest class had about 56 students.
"You can also talk to the teachers and they are very helpful."
During his study, Thomas took up a paid research position through the University's Summer Research scholarship, which he says gave him valuable experience.
"It helped me a lot. It taught me how to do research and allowed me a chance to learn from the working environment in New Zealand."
Thomas currently works as an analyst at a Crown agency in the health sector, saying "it's quite enjoyable work as it combines both my interests – commerce and medicine".