Akreeti Chaliha
Find out how the MPA programme exceeded Akreeti's expectations, and where the qualification has taken her.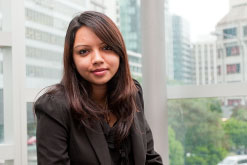 A long held desire to become a chartered accountant propelled Akreeti Chaliha from Sivasagar in Northeast India to Victoria University of Wellington, New Zealand.
"After I had completed my Bachelor's degree in Business Management, I worked as an account executive dealing with inter-company operations. However, I had always aspired to go abroad to pursue my postgraduate education and become a chartered accountant."
A thorough search led Akreeti to the Masters in Professional Accounting (MPA) programme at the University.
"I felt that the programme was tailor made for me. It covered all the courses that are needed to meet the academic requirements of the New Zealand Institute Chartered Accountants (NZICA) and it could be completed in 16 months. I couldn't have asked for more."
Akreeti completed her Bachelor's degree through a distance learning programme, so the first day of lectures was an anxious one. But 'meet and greet' sessions before classes commenced helped to put her at ease.
"All the lecturers were very approachable and empathetic towards our different backgrounds. As we were a small group, they knew all of us. The programme, the staff and University's amenities not only lived up to my expectations, but also often exceeded them."
During her final trimester Akreeti was offered a job with Fairfax Media as an accountant for group operations.
"It was not a graduate position. My work experience and the MPA programme helped me get the offer," she says.
Akreeti is also a few steps closer to her original goal of becoming a chartered accountant. "I am already a provisional member of the NZICA and I intend to become a full member by the end of 2013."