Maria Burns
For Maria the choice to study at Victoria University of Wellington was easy due to the ease of flying to the Capital and the flexibility of its Commerce degree.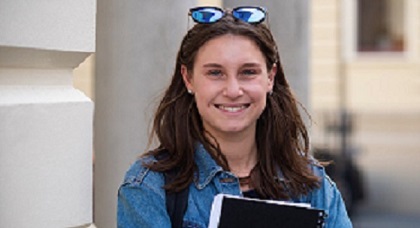 After finishing high school in Auckland, I knew I wanted to leave home and fully experience university life. I chose to study a Bachelor of Commerce in Accounting, Human Resource Management and Industrial Relations, and Taxation.
Back at school, I was always interested in how businesses operated and I knew that was the career path I wanted. The decision to gain a well-rounded view of business was easily the best fit.
I had a blast in my first year, making new friends and getting involved with student life. Being able to try the seven core subjects within the Commerce degree gave me an understanding of what I wanted to focus on.
Getting involved with as many opportunities as possible at university is the best way to expand your perspective, meet new people, and have fun whilst completing your degree. I have been lucky enough to be a PASS (peer-assisted study support) leader and an accounting tutor. Teaching and sharing knowledge with other students is extremely rewarding. My involvement with Beta Alpha Psi has also been amazing. From being a candidate member to being on the executive, I have met and worked alongside students and professionals at career-relevant events.
My favourite thing about Wellington is how easy it is to get out and experience the city. You can walk everywhere and there is always something going on. Studying at Wellington School of Business and Government, right next to the Beehive, in the heart of the city is unique and gives the opportunity to easily interact with different industry professionals.