Resources
The Confucius Institute Resource Centre has an extensive collection of print, audio-visual, film, sheet music and Chinese literature resources available.
The Confucius Institute Resource Centre, located at 18 Kelburn Parade, maintains a collection of China-related print and audiovisual materials.
The Resource Centre features 3,000 volumes of books, CDs and DVDs donated by the Confucius Institute Headquarters (Hanban).
Highlights of the collection include:
Multi-media Chinese textbooks for all levels and age groups
Books and DVDs on Chinese history and culture.
Besides language learning materials, the Resource Centre will focus on developing special collections on the following subject areas:
Chinese music, including CDs, books, and sheet music
Chinese film, including features and documentaries
Chinese literature, in Chinese and in English translation
The Resource Centre operates primarily as a reference library, but we loan our materials to teachers and educators for school or community projects. We also welcome suggestions and donations from the community.
The Resource Centre is open during normal university office hours. Ask one of our staff members if you would like to browse the shelves or borrow books.
Book of the month
Available from the Confucius Institute Library.
November - China Encyclopdia (China Encyclopedia Compilation Group)
(China Intercontinental Press)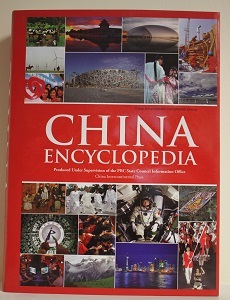 China Encyclopedia is a comprehensive 877 page book that contains all the statistics and data that you ever wished to know about China. This book is divided into 20 chapters, discussing key subject matters ranging from Geography and Religion to State System and Economy. Whether it be used as a reference book for high school teachers or as an everyday coffee table book, China Encyclopedia is undoubtedly a fascinating piece of reading material. This book is also a must-have for quiz organisers who are looking to challenge their contestants brains with specialised questions such as "What is the name of a cloned goat created using the somatic cells of a genetically modified goat?". The attention to detail cannot be denied!
October - Discover China (Confucius Institute Headquarters)
(China Intercontinental Press, 2009)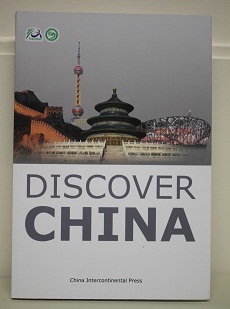 Have you ever wanted to learn more about Chinese culture, history and geography but struggled to find a book that is easy to read and yet containing all the basic information you need? Discover China is the ideal introduction to China, containing 100 subjects such as 'Chinese families', 'Chinese coins', 'Chinese Ethnic Groups', 'Education in China' and the 'Chinese Lunar Calendar'. The essentials of each topic are explained in no more than two pages and illustrated with intriguing images.
Not only is this book ideal for high school students who wish to take a first step in learning more about China, but also for adults who are interested in China's basic and essential topics that can easily be read on a relaxing Sunday.
September - Chinese Philosophy on Life by Wang Keping
(Beijing: Foreign Language Press, 2008)
Chinese Philosophy on life is an introduction to Chinese philosophy and philosophers by using examples of classic Chinese tales and everyday life Chinese customs. These include the ancient tale of General Tian Ji and his annual horse race with the Lord of Qi and the Chinese classic of an old man losing his horse, setting off a chain reaction of events.
This book delves deeper into the importance of the pursuit of fu (? happiness) and the Chinese fear of huo (? misfortune). Further to these concepts, the role of 'harmony' in Chinese society is explained, as well as the interaction between happiness and misfortune.
Easy to read, this book is ideal for beginners with no or little background knowledge of Chinese philosophy.
Dr Wang Keping is a University Professor at Beijing International Studies University, Research Fellow at the Chinese Academy of Social Sciences and a Visiting Fellow at Oxford University.
August - Chinese Festivals by Qi Xin
(Beijing: Foreign Language Press, 2008)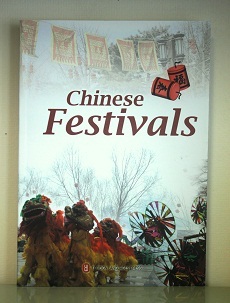 The way Chinese celebrate a holiday or festival is an endless source of cultural and historical information. The different traditions shape each Chinese festival to a unique artwork, fascinating to witness for outsiders and a source of great happiness for insiders.
Chinese Festivals by Qi Xin covers the twelve most important Chinese festivals as well as festivals celebrated by China's minority ethnic groups including the Tibetan New Year and the Mongolian Nadam Fair. Illustrated with ancient paintings and intriguing photos, this book goes deeper down the surface of the meaning of festivals.
For example, did you know that originally bamboo, not firecrackers was burnt as a way to celebrate the Chinese New Year? These and other interesting facts explain the origins of Chinese festivals without overwhelming the reader with a complex encyclopaedia of facts and figures. Easy to read yet extremely interesting, a must for everybody who wishes to learn the story behind the saying ???? and how traditional gifts at the right time and right place can help you improve your guanxi's.
July - Selected plays of Guan Hanqing
(Bejing: Foreign Language Press, 2008)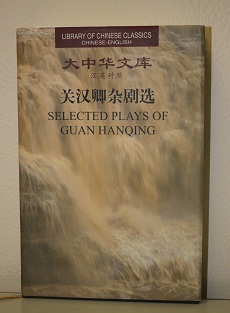 Referred to as one of the "Four Great Yuan Playwrights", Guan Hanqing is considered to be one of China's greatest playwrights and poets during the Yuan Dynasty (13th-14th century). Born in Dadu, the capital city of the Yuan Dynasty, he wrote more than 60 plays. His work focuses on social injustice, history, corruption and how women face these social dynamics in feudal China.
This book is a bilingual collection of eight of Guan Hanqing's most well-known plays and includes Snow in Midsummer, Rescued by a Coquette, Lord Guan Goes to the Feast, The Jade Mirror-Stand, Death of the winged-Tiger General, The Wife-Snatcher, The Riverside Pavilion and The Butterfly Dream.
Guan Hanqing's work has been translated into numerous foreign languages. The English version of this book was executed by Yang Xianyi (1915-2009) and his spouse Gladys Yang (1919-1999), both highly regarded translators of Chinese classics into English language.
June - Selected Stories of Lu Xun
(Bejing: Foreign Language Press, 2008)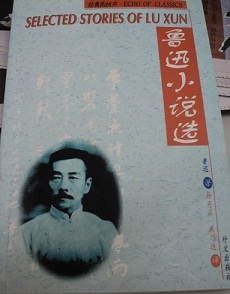 Lu Xun (pen name of Zhou Shuren, 1881-1936) is widely regarded as the greatest writer of modern China. He abandoned the study of medicine and took up literature because he thought he could change society more effectively through writing. He was considered a major figure that emerged from the May Fourth Movement, but was ambivalent about May Fourth elitism. He supported the Communist Party but never became a member. A writer, translator and literary scholar, Lu Xun is best known for his fiction drawing from childhood memory and satirical essays exposing the social ills of his time.
Selected Stories of Lu Xun is a bilingual collection of thirteen of Lu Xun's most memorable stories, including A Madman's Diary, Kong Yiji, Medicine, and My Old Home. With English translations by the inimitable translator duo, Yang Xianyi and Gladys Yang.