Resources
The Confucius Institute Resource Centre has an extensive collection of print, audio-visual, film, sheet music and Chinese literature resources available.
The Confucius Institute Resource Centre, located at Room 204, 18 Kelburn Parade, maintains a collection of China-related print and audiovisual materials. The Resource Centre features 3,000 volumes of books, CDs and DVDs donated by the Confucius Institute Headquarters (Hanban).
Language learning materials
Highlights include:
HSK 1-6 Standard Course Books, Test Books, and Teacher Books
HSK 1-6 past papers
Multi-media Chinese textbooks for all levels and age groups
Books and DVDs on Chinese history and culture
Cultural teaching materials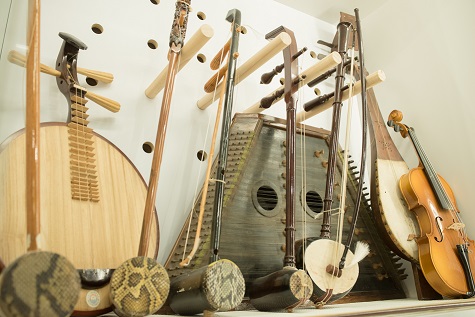 Besides language learning materials, the Resource Centre includes:
Chinese music, including CDs, books, sheet music, and traditional Chinese instruments. The loanable Chinese instrument collection is hosted at The Asia-Pacific Music Studio, New Zealand School of Music.
Chinese film, including features and documentaries
Chinese literature, in Chinese and in English translation
Chinese culture, including hanfu outfits and dance costumes
Confucius Institute Career Stories
Where can learning Mandarin take you? Hear from diplomats, social entrepreneurs, recent graduates and other colourful characters in this Confucius Institute Career Stories video series.
Email confucius-institute@vuw.ac.nz to request download links.
Accessing the Resource Centre
The Resource Centre operates primarily as a reference library, but we loan our materials to teachers and educators for school or community projects.
The Resource Centre is open during normal university office hours. Ask one of our staff members if you would like to browse the shelves or borrow books.
Contact Us
Email queries to confucius-institute@vuw.ac.nz. We also welcome suggestions and donations from the community.