Cultural programmes
The University's Confucius Institute organises and supports music, performance, literature, painting, calligraphy, photography, film, and new media events.
Arts and culture, and music in particular, are a unique feature of the Confucius Institute at Victoria University of Wellington. We are located in Wellington, one of most culturally dynamic, diverse and accessible capital cities in the world.
We aim to raise the profile of Chinese arts and culture within the Wellington region. These events will enable people to experience China's finest music, performance, literature, painting, calligraphy, photography, film, and new media. View upcoming events for updates on our arts and cultural programme.
Our regular programmes include Discover China! workshops in school and the community and our China Crossing music event in partnership with The New Zealand School of Music—Te Kōkī. Recent highlights of the cultural events organised and supported by the Confucius Institute at the University include:
China Crossing
Music is a special focus and our partnership with The New Zealand School of Music—Te Kōkī has been instrumental in developing world-class exchanges and joint projects with Chinese musicians and conservatories.
China Crossing IV overcame travel restrictions with an innovative programme and audio technology. The programme featured a new work, Cloud Drama, by Gao Ping for pipa and piano. Te Kōkī and the NZ String Quartet played music by Chinese composers Bao Yuankai and Zhou Long.
China Crossing III featured virtuoso performances from Zhejiang Conservatory of Music. Li Luo on pipa and Jia Zhenzhen on zhongruan under the music direction of Professor Shen Nalin.
CI Art Gallery
The CI Art Gallery Project includes artwork on display in the University Library and exhibitions of artworks by Chinese artists or New Zealand artists of Chinese background. Interested schools, arts and community centres are welcome to request a temporary exhibition.
Concerts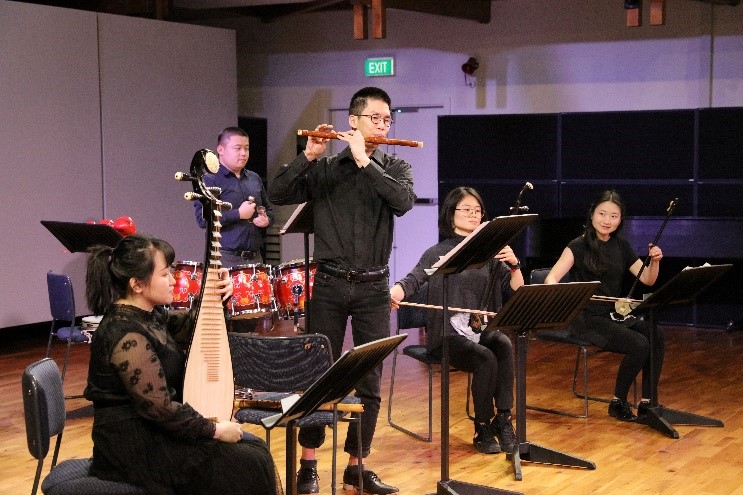 A further suite of traditional Chinese musical instruments was welcomed to the Asia-Pacific Music Studio at a lunchtime concert performed by NZSM students from China and New Zealand in July 2020.
Chinese Opera in the Park presented The Peony Pavilion at the Wellington Botanical Gardens with Beijing opera star,Dong Fei and Kunqu opera specialists Lu Zhijie and Wang Yu.
Pipa virtuoso Wu Man and the New Zealand String Quartet gave a dazzling concert at St Mary of the Angels in September 2017.
Literature
90/30 Poems from Chinese Millennials translated by Luo Hui was launched in November 2019. Chinese millennial poet, Dai Weina, attended and participated in a panel at the NZASIA conference.
CI co-sponsored Best New Zealand Poems 2014 translated into Chinese by Liang Yujing.
Films
The Confucius Institute has partnered with the NZ International Film Festival and NZ Film Society to bring Chinese films to New Zealand audiences.
In 2021 and 2022, the panoramic Dwelling in the Fuchun Mountains screened in Palmerston North, Hamilton, Wellington and Auckland.