A Tale of Two Cities: The Unlikely Symbiosis of Shanghai and Yiwu
Date: Tuesday, 26 August
Venue: CO119, Cotton Building, Kelburn Campus
Speaker: Dr Alison Hulme
Abstract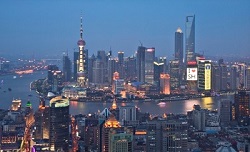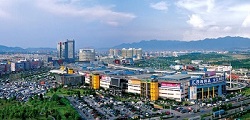 Shanghai's iconic skyline and vibrant atmosphere has sealed its historic reputation as 'the Paris of the Orient'. It is a pleasure city – fun, confident, decadent – with all the ingredients that have enabled it to carve out its position as 21st century 'world city'. It attracts high levels of Foreign Direct Investment and huge numbers of Western tourists.
A three-hour train-ride inland, the manufacturing city of Yiwu, contains the highest density of small commodities on earth.Its revenue is crucial for the Yangtze River Delta region and for the whole of China. In contrast to Shanghai, its huge economic success is based on an economic paradigm long-subjugated, but now celebrated – the distinctly Chinese 'Wenzhou model'. It is built around six immense commodity markets and attracts international wholesale buyers in their droves, but is not 'visitable' in the touristic sense.
While Shanghai is busy proving China's place on the world stage, Yiwu is busy keeping its economy afloat. Glamourous new developments in Shanghai are 'image spaces' for an aspirational new middle class and Western corporate eyes, whereas spaces in Yiwu remain productive and, on the whole, functional. In many ways these two cities could not be further removed from one another in their rationale, style, and goals, yet their relationship is perhaps more symbiotic than it may seem, as consumption (and the waste it creates) becomes increasingly crucial for China's manufacturing revolution.
About the speaker
Alison Hulme is a Ron Lister Visiting Fellow at University of Otago. She also holds posts as an Associate Lecturer at Goldsmiths College, University of London, where she teaches on politics and everyday life in China, and as a part-time Lecturer at University College Dublin, where she teaches on politics and media in China. Prior to these roles she taught courses on contemporary China at the University of Iceland and Beijing Foreign Studies University. She holds a PhD in Cultural Studies from Goldsmiths College, an MA in Anthropology, also from Goldsmiths, and a BA in Media Studies from the University of Sussex. Alongside various articles and chapters, Alison is the editor of The Changing Landscape of China's Consumerism, and her monograph On the Commodity Trail will be published by Bloomsbury Academic late this year. She is currently working on another edited volume – Consumerism on TV – for Ashgate, and her second monograph –The Dynasty of Things – a comparative exploration of the development of consumerism in China in relation to notions of 'duty' and 'rights'. Prior to entering academia, Alison was a radio and TV presenter for many years.