Glacier monitoring
The Antarctic Research Centre closely monitors two New Zealand glaciers.
The glaciers in the Kā Tiritiri o te Moana/Southern Alps are among the most sensitive and responsive on Earth, and occupy a part of the world which has relatively few terrestrial records of climatic variations. The Southern Hemisphere has a limited number of glacier monitoring programmes, and glacier length and mass balance records from here are an important part of the global picture.
To monitor the rapid change of glaciers in the Southern Alps, we have installed timelapse cameras at four glaciers. These cameras take images every hour and, when these images are put together into short movie clips, you can see the rapid flow of the ice and the rapid retreat of the glacier terminus. Below are examples of the types of information we have obtained from two of our glacier cameras.
Kā Roimata o Hine Hukatere/Franz Josef Glacier
Kā Roimata o Hine Hukatere or Franz Josef Glacier, on the West Coast of the South Island is a well-known and spectacular glacier, but difficult to measure. Using images from our timelapse camera you can see:
A record of glacier change
These photos show a year of change at Franz Josef Glacier. In November 2012 (the first photo) the glacier had already thinned markedly from its 2008 position, shown by the 'trimline' where the green vegetation was scraped off the rock (seen best at lower left) then during 2013 the glacier thinned over the whole length (visible in the second photo). This occurred most at the front but also see how the upper parts have lowered, and the 'black hole' (a piece of bedrock poking through the glacier in the centre) has grown.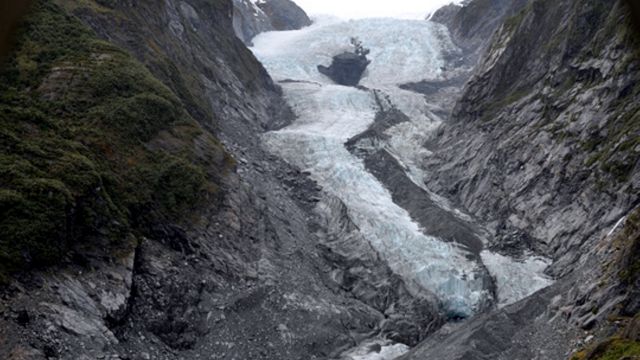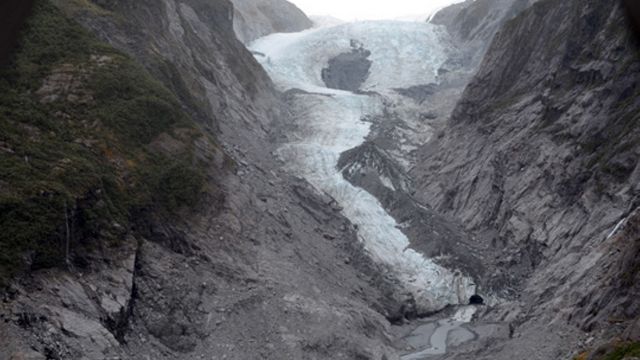 A timelapse movie
Haupapa/Tasman Glacier
Haupapa/Tasman Glacier is the largest glacier in Aotearoa by a long shot. It contains approximately one-third of all our ice and, until the 1980s, was 29 km long. Ice loss at this glacier happened mostly through downwasting – that is ice thinning without significant retreat – until the 1980s when the lowering surface elevation reached the same level as the river that flows from the glacier, and a lake formed at the terminus. Once this lake became sufficiently deep, fast buoyancy-driven calving resulted in rapid retreat. Using images from our timelapse camera you can see:
The calving event in February 2013
These three photos show a calving event that occurred early in the morning of 23 February 2013. In the first photo on 21st February, the glacier had not had a major calving for about 10 months. Over the course of the next day, the front of the glacier lifted by about 10 m as it started to detach. This triangular block of ice, about 700 m long, 70 m wide and 300 m deep then broke off completely, releasing about 7 million tonnes of ice into the lake.