Matthew Tankersley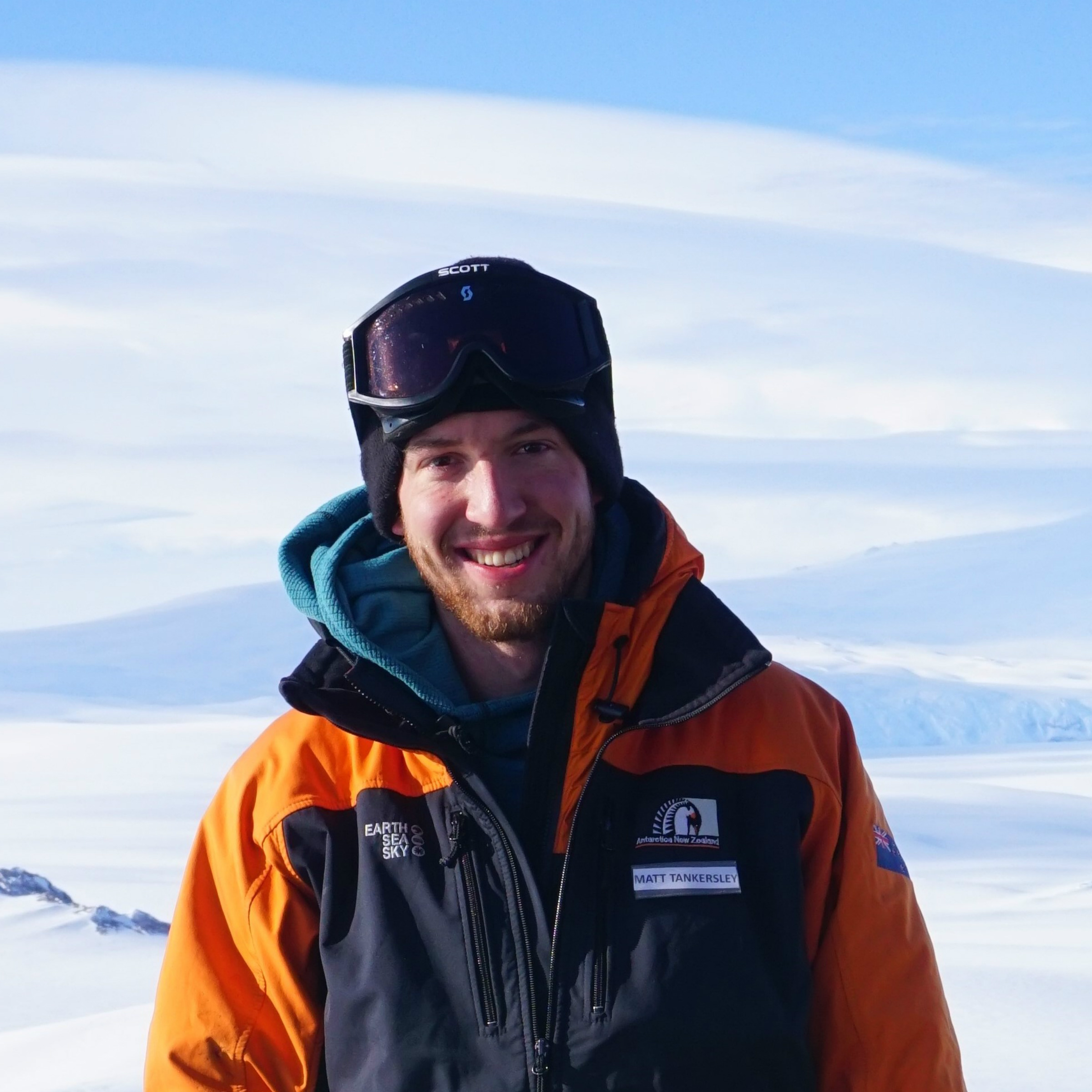 Contact
Phone: 04 463 5233 x 8619
Email: Matthew.Tankersley@vuw.ac.nz
Office: CO523
Qualifications
BA Colorado College (2018)
PhD Candidate in Geophysics
PhD thesis
Title
Constrained geopotential modelling of the ocean cavity and geology beneath the Ross Ice Shelf.
Supervisors
Dr Fabio Caratori Tontini (GNS Science)
Supporting academics:
Dr Christine Siddoway (Colorado College)
Dr Kirsty Tinto (Lamont Doherty Earth Observatory)
Project objectives and description
The Ross Ice Shelf controls the flow of ice into the Ross Sea from both the West and East Antarctic Ice Sheets and buttresses a catchment of ice with the potential of 11.6 meters of global sea-level rise. Constraining the stability of the Ross Ice Shelf is fundamental for understanding how future sea-level rise will occur. Two influential factors for ice shelf stability are:
bathymetry, controlling ocean circulations under the ice shelf
geothermal heat flux, adding to basal melting and meltwater production
This project aims to help constrain these parameters with the use of an aerogeophysical dataset from the ROSETTA-Ice Project.
I will be improving the current bathymetry model of the region through an inversion of gravity data. This inversion will be constrained by a geologic model of the region that I produce. The geologic model will consist of:
a sediment-basement interface, found through the deconvolution of aeromagnetic data
a crust-mantle boundary, either compiled from previous studies, or modelled from gravity data
geologic structures in the crust, found through geophysical analysis
To aid in understanding the effects of geothermal heat flux on ice shelf stability I will do the following tasks:
use depth to the bottom of magnetic sources as a proxy for geothermal heat flux distribution
identify locations, geometries, and orientations of crustal structures associated with heat flux, such as radiogenic granitoids and faults controlling hydrothermal circulation
The results of this research will be valuable to ice and ocean modellers through the geometries provided by bathymetry, melt water production from geothermal heat flux analysis, and insights into geologic and tectonic history, which will have implications for past glaciological reconstructions.
Publications
Tankersley, M. D., Horgan, H. J., Siddoway, C. S., Caratori Tontini, F., and Tinto, K. J. (2022). Basement topography and sediment thickness beneath Antarctica's Ross Ice Shelf. Geophysical Research Letters, 49, e2021GL097371. doi:10.1029/2021GL097371
Tinto, K.J., Padman, L., Siddoway, C.S., Springer, S.R., Fricker, H.A., Das, I., Caratoni, F., Porter, D.F., Freaeson, N.P., Howard, S.L., Siegfried, M.R., Mosbeux, C., Becker, M.K., Bertinato, C., Boghosian, A., Brady, N., Burton, B.L., Chu, W., Cordero, S.I., Dhakal, T., Dong, L., Gustafson, C.D., Keeshin, S., Locke, C., Lockett, A., O'Brien, G., Spergel, J.J., Starke, S.E., Tankersley, M., Wearing, M.G., Bell, R.E. (2019). Ross Ice Shelf response to climate driven by the tectonic imprint on seafloor bathymetry. Nature Geoscience 12(6), 441–449. doi:10.1038/s41561-019-0370-2