Daemon Kennett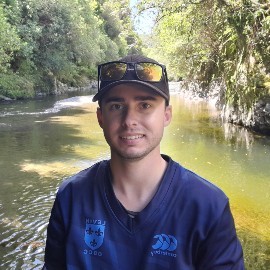 Contact
Phone: 027 277 9356
Email: Daemon.Kennett@niwa.co.nz
Office: n/a
Qualifications
BSc VUW (2018); MSc VUW (2021)
PhD Candidate in Atmospheric Modelling
PhD thesis
Title
Atmospheric Inverse Modelling of New Zealand's Terrestrial Carbon Exchange in Forests and Pastures.
Supervisors
Dr Sara Mikaloff-Fletcher (NIWA)
Project objectives and description
My PhD forms part of the wider CarbonWatch-NZ research project, which aims to provide national scale CO2 uptake and emissions estimates using an inverse modelling approach. My project will continue the development of an existing inverse modelling framework, incorporating new data into the model, and interpreting these results.
Publications
Clem, K.R., MacFerrin, M., Kennett, D., Bozkurt, D., Scambos, T. (2021). Record warmth and surface melt on the Antarctic Peninsula in February 2020 [in "State of the Climate in 2020"]. Bulletin American Meteorological Society 102 (8), S328–S329, doi:10.1175/BAMS-D-21-0081.1