Italy and New Zealand in Antarctica
Victoria's Antarctic Research Centre and the Embassy of Italy held a series of short presentations last week, to celebrate the long history of collaboration between Italy and New Zealand in Antarctica.
The event was the first formal celebration of this relationship, and apart from a wide range of interested public, Victoria faculty and government officials, it was attended by a number of dignitaries including the Italian Ambassador His Excellency Carmelo Barbarello.
Attendees were treated to talks from three Italians who had just arrived in New Zealand from Antarctic fieldwork, and five New Zealanders, of which three were also in Antarctica this season, as well as a panel discussion moderated by our Director, Tim Naish. The list of speakers and their talk titles can be found below.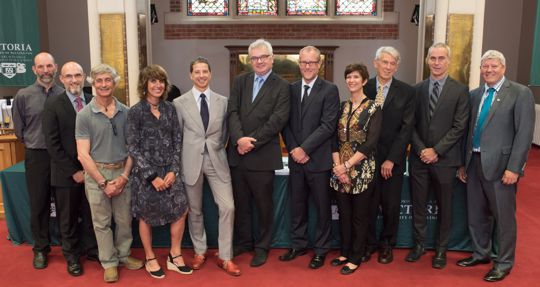 Left to right: Dr Steve Parker (NIWA), Dr Neil Gilbert (Constantia Consulting), Dr Riccardo Bono (Unita' tecnica Antartide), Associate Professor Laura Crispini (Università di Genova), Ambassador Barbarello, Pro Vice-Chancellor Professor Mike Wilson, Professor Tim Naish, Associate Professor Paola Rivaro (Università di Genova), Professor Peter Barrett, Richard Levy (GNS Science), Professor Gary Wilson (New Zealand Antarctic Research Institute).
The event was held to highlight the important research both countries undertake to protect the continent, says Tim.
"Antarctica has significant scientific value and is very unique, but it is also a challenging environment to work in. The collaboration with Italy lets us carry out more scientific research because we can work together to share resources and expertise."
Professor Mike Wilson, Pro Vice-Chancellor of Science, Engineering, Architecture and Design, says the relationship between Italy and New Zealand is something to be celebrated.
"New Zealand and Italy are close neighbours in the Ross Sea. Italy's Mario Zuchelli Station lies an hour's flight north of New Zealand's Scott Base and there has been a strong history of collaboration between the Italian and New Zealand scientists for more than 30 years.
"Both countries have collaborated on international geological drilling projects that have helped us better understand the Antarctic ice sheet and climate history and the Ross Sea oceanography and ecosystem."
At the event Peter Barrett also announced the DVD launch of Thin Ice—the Inside Story of Climate Science with subtitles in ten languages, including Italian. The first copy was presented to the Italian Ambassador.
Talks given at Italy and New Zealand in Antarctica. Latest achievements and challenges in a common endeavour. 4 - 7 pm, 25 February 2016, Hunter Council Chamber.
Professor Gary Wilson, New Zealand Antarctic Research Institute
An overview of New Zealand's Antarctic Science Programme
Dr Riccardo Bono, Unita' technica Antartide
The role of logisitics in Antarctic Science
Dr Neil Gilbert, Constantia Consulting
Antarctic environmental management
Associate Professor Paola Rivera, Università di Genova
Italian oceanographic activities in the last decade
Dr Steve Parker, National Institute of Water and Atmospheric Research
Progress towards protection of the Ross Sea Ecosystem
Dr Richard Levy, Institute of Geological and Nuclear Sciences
Multinational geological drilling to understand climate change in the Ross Sea
Associate Professor Laura Crispini, Università di Genova
Investigations of the solid Earth under the ice in Antarctica: past and future perspectives
Professor Tim Naish, Antarctic Research Centre, Victoria University of Wellington
Antarctic climate change policy-relevant outcomes