Cameron Vannisselroy
For Cameron, studying policy with Victoria University of Wellington set him up for a smooth transition into government employment.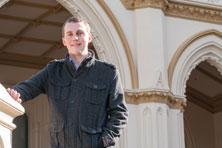 I've always been interested in politics and economics, and public policy turned out to be the perfect bridge between the two. It provided a really good mix between theory and the practical policy issues that government has to deal with day to day.
I got the chance to study real areas of interest, such as health, education, welfare and economic policy. Honours was definitely the highlight—classes were small and interactive, and I really got to know my lecturers and classmates.
Studying public policy at Honours level has been a great stepping stone into full-time employment.
Because what we studied was so closely aligned to what government looks for, my cohort found it really easy to find jobs, many of us before we had even finished studying.
If you're interested in policy and politics, Wellington's a great place to study. In various courses I got to hear from close to a dozen MPs, as well as guest lecturers from the Treasury, the Reserve Bank and countless other government departments. You wouldn't have the same opportunities elsewhere.
I've recently started working as a policy adviser at the Ministry of Business, Innovation and Employment. It's amazing how closely what I studied at Victoria University of Wellington has linked up with what I'm working on now, which made the transition to full-time work way easier than it could have been.