Master of Commerce in Information Systems
Description of Victoria's Master of Commerce in Information Systems either by 120-point thesis or 180-point taught coursework
This page is no longer used. If you are not redirected automatically, follow the
link to the new page
The Master of Commerce (MCom) offered by the School of Information Management is an outstanding programme that provides a research-based, specialised conceptual foundation in Information Systems.
With a Victoria MCom in Information Systems, you are ready to embark on a global consulting career or enter a first-class PhD programme in one of the world's leading universities.
The MCom degree enjoys worldwide recognition, and will maintain its currency in any country your career leads you.
Get ready for a career in Information Systems
The Master of Commerce in Information Systems is for students holding an undergraduate degree in information systems, commerce, computer science, statistics, or engineering, and who wish to become digital business specialists.
The MCom in Information Systems prepares you to launch your career as:
Business Analyst
Specialised Technology Consultant
Applications Development Analyst
Data Modeler
Data Warehousing Analyst
IS Operations Specialist
IT Outsourcing Analyst
IT Quality Assurance Analyst
IT Test Analyst
Procurement Analyst
Systems Integrator
Technology Risk Analyst
Technology Research Analyst
Software Product Administrator
Vendor Management Analyst
The MCom in Information Systems will provide you with an understanding of how information systems and technology can be used effectively by organisations.
You will develop a grounding in research methods, in the management, and in the effects of information systems, based on a solid foundation in information systems combined with strong analytical, problem solving, and communication skills.
Join a strong and supportive research community
Students undertaking the MCom in Information Systems join a world-class learning environment – in the latest national PBRF research assessment, Victoria University of Wellington was ranked at #1 for IS research among New Zealand universities.
You will work with academic staff who have published in the world's top academic journals in IS, and the majority of our research is industry-based, relevant for practice, and directly informs managerial decision making.
Victoria Business School is among just 76 business schools worldwide that hold the 'Triple Crown' of international accreditations: our programmes are accredited by AACSB, EFMD's Equis, and the AMBA.
Degree structure
Two pathways lead to the obtention of the MCom in IS:
The 180-point MCom in IS is offered for candidates holding a Bachelor of Commerce (BCom) in Information Systems, or similar degree.
The 120-point MCom in IS is offered for candidates holding a Bachelor of Commerce with Honours (BCom(Hons))in Information Systems, or similar degree.
Download the MCom pathways for 2017 pdf165KB
For entry in March (Trimester 1), the proposed course of study for the 180-point pathway is: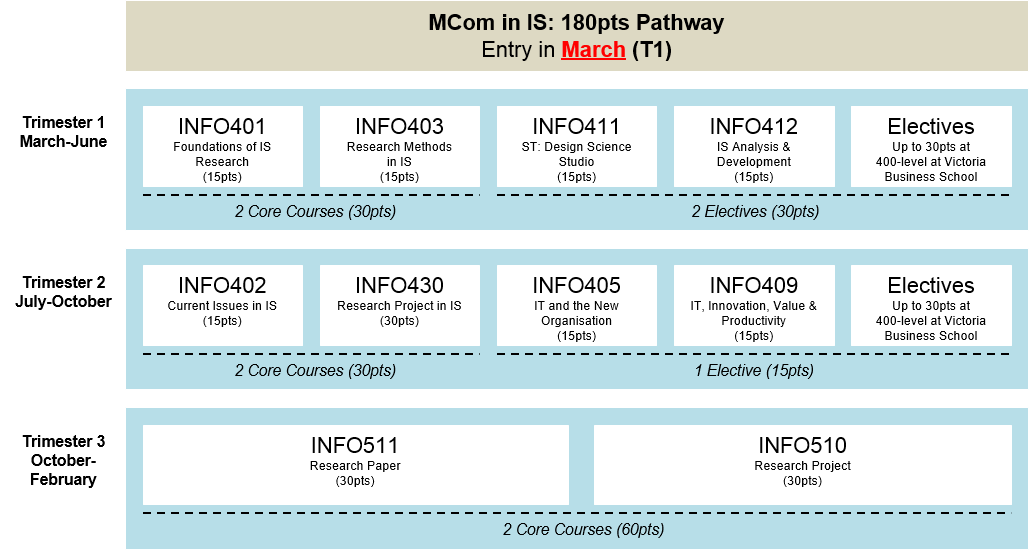 For entry in July (Trimester 2), the proposed course of study for the 180-point pathway is: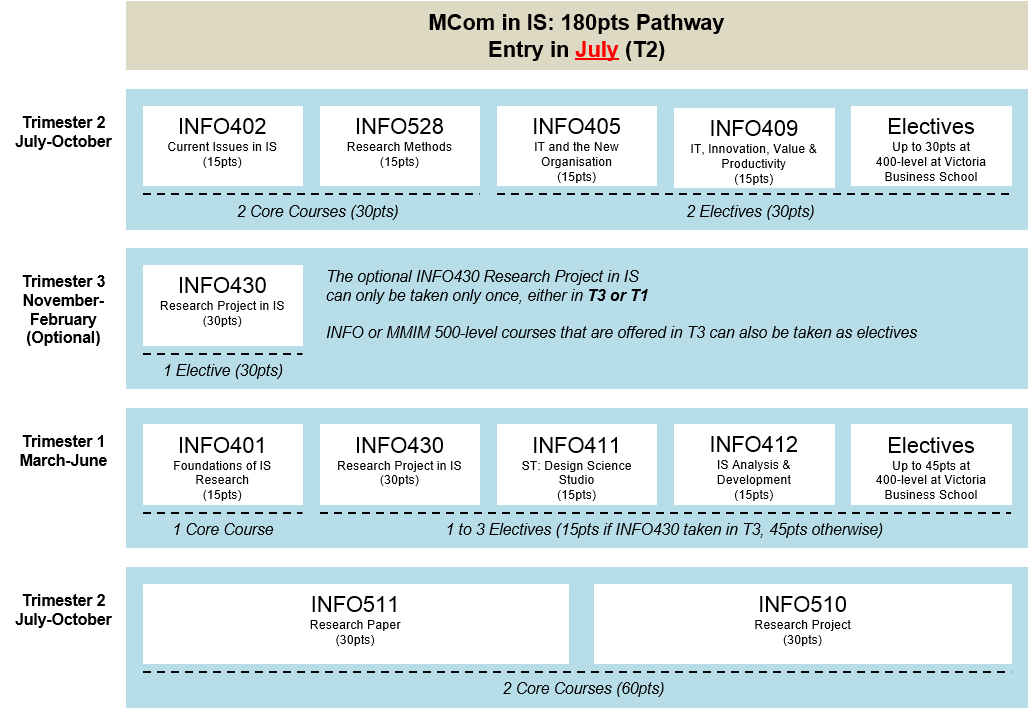 The 120-point pathway can be started in any trimester. Two possible pathways are:

---

Course descriptions
INFO401: Foundations of IS Research
INFO402: Current Issues in IS
INFO403: Research Methods in IS
INFO405: IT and the New Organisation
INFO407: Virtual Workplace: Issues and Strategies
INFO409: IT, Innovation, Value & Productivity
INFO411: Special Topic: IS Analysis & Development
INFO430: Research Project in IS
INFO510: Research Project in IS
INFO511: Research Paper in IS
Living in Wellington
Wellington is New Zealand's capital and the country's cultural hub. Wellington was named "Coolest Little Capital" by the Lonely Planet and was ranked the world's #12 most liveable city in Mercer's 2015 Quality of Living Survey. It is a safe, multicultural, and lively city that offers an exceptional quality of life.
Learn more about living in Wellington
Admission
Work experience is not required. To enrol in the MCom in Information Systems you need to have completed either:
a BCom degree including 45 points of 300-level courses in Information Systems or e-Commerce with a grade average of B+ or better; or
a BCom(Hons) in Information Systems with Second Class Honours (Division 1) or better; or
a suitable alternative degree (or the equivalent in extensive and appropriate practical, professional or scholarly experience).
Applying for the MCom
Applications for the 180-point MCom, commencing in either trimester, open from 1 October via the Online Enrolment System.
International students are required to submit applications to Victoria International along with their Application to Study as an International Student.
To apply for the 120-point MCom, commencing at any time, please contact the SIM Administration Office for application forms and a guide to the enrolment process.
How to find out more
MCom in Information Systems

Jean-gregoire Bernard
No result found for: jean-gregoire.bernard@vuw.ac.nz