2010 news archive
Student and Staff Success in 2010
INFO 301 Students awarded ISACA Prize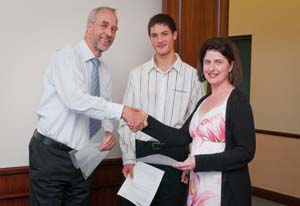 Congratulations to Michael Canty and Philippa Lorimer, our two top performing INFO 301 students in 2010. Michael and Philippa, pictured with Wellington branch president Frank van der Zwaag, were awarded the Information Systems Audit Control Association, Wellington (ISACA) Prize, which has been established to assist students studying in courses relevant to careers in Information Systems Audit, Control, Security and Governance. More information about the organisation can be found at ISACA International or ISACA Wellington Chapter.
Teaching Excellence Award for Pak Yoong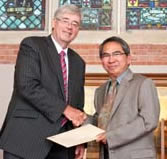 Congratulations to Professor Pak Yoong, who is one of six teachers in the university to receive a 2010 Victoria Teaching Excellence Award. These awards recognise outstanding contributions to teaching and learning in the University, and Pak is a thoroughly deserving recipient.
In the words of the website: "Not only are they a tangible way of recognising contributions to teaching and learning, they also add to the reputation of the Programme of which the recipient is a member and identify potential applicants for the National Tertiary Teaching Excellence Awards."
SIM PhD Student Wins Victorias Award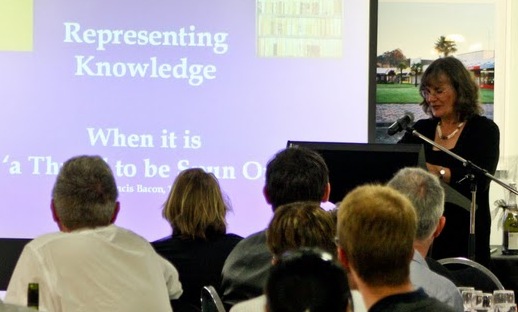 Kay Sanderson giving her presentation at the PGSA Victorias Awards evening
Congratulations to our PhD student, Kay Sanderson, on winning one of the sought after PGSA Victorias Awards for an essay describing her research and findings to date.
Kay's research addresses the question of interoperability between the systems libraries, archives and museums use to describe their collections. There are significant differences in the ways these heritage organisations "think about" the nature and purposes of the materials they collect. This makes the development of interoperable systems complicated and also makes communication across domain boundaries difficult. She is focusing on the effect of metadata in enabling evidence (defined as a justified understanding of a past reality) to be "read" in digital environments.
Kay was presented with her award at an annual event held to recognise and celebrate excellence at VUW, and it was a proud moment for both the Faculty and SIM. You can read more about her research here.
Events at the School in 2010
SIM's Move to Rutherford House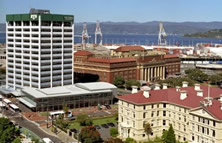 SIM moved downtown to the Pipitea campus in October 2010 and now occupies the fourth and fifth floors of Rutherford House, with a new postgrad computer lab in RH504.
The School reception area is on the fifth floor, with Administration staff available in RH 521 to deal with undergraduate, postgraduate, and general inquiries.
Congratulations to all our May Graduates
SIM had an excellent turnout for the May Graduation ceremony in 2010. Posing with supervisor Professor Pak Yoong are three new PhDs, Dr Maria Molina Barrantes, Dr Silke Retzer, and Dr Jocelyn Cranefield, along with recent graduate Dr Kate Thornton.
Congratulations also to our Masters and Honours graduates, including:
Honours - Regan Robinson, Elaiza Benitez, Dennis Lim, Imran Umraz
MIM - Steven Eades, Lee Wilson, Koushik Neogy, Sarah Morse
MLIS - Pamela Browne, Corrina Gordon, Sarah Dwyer, Anna Boyer, James Revell, Anna Burgess, Wendy Tong, Shirley Devi, Paul Nielsen, Philippa Robinson
Professor Sid Huff Steps Down as Head of School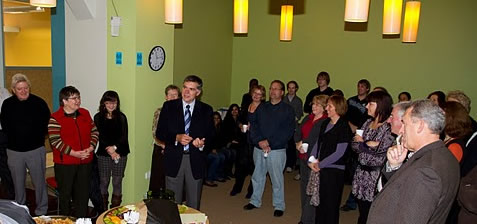 Professor Huff responding to the many speakers at his farewell function
A function to honour long-serving Head of School Professor Sid Huff was held at SIM in May 2010. Sid moved to Wellington from Canada in 1999 to be the Professor of Information Systems, and was appointed Head of School in 2001. Since that time, he has overseen the introduction of e-Commerce as a major in the BCA programme, as well as the design and establishment of the Bachelor of Information Technology (BIT) and the Bachelor of Business Information Systems (BBIS). Other changes under his watch have been the sponsorship and recruitment of the inaugural candidate into the Chair in Digital Government; the establishment of the post-experience Master of Information Management (MIM); and the evolution of the Master of Information Studies with a choice of subject endorsements.
Sid, who continues in his role as Professor in Information Systems, was also homoured with an AIS Fellowship in 2010. The Association for Information Systems (AIS) is the premier global organisation for academics specialising in information systems, and this award recognises his outstanding contributions to the Information Systems discipline in terms of research, teaching, and service. Read more about the AIS here.
Dr Val Hooper Appointed Head of School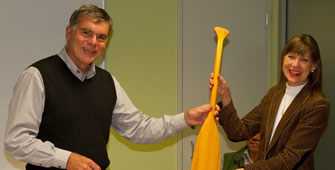 It was the end of a nine year era for the School of Information Management in May, with Professor Sid Huff stepping down as Head of School and handing over the role - and the HoS "paddle" -- to Dr Val Hooper.
Dr Hooper has been the SIM Director of Undergraduate Programmes and more recently had the role of Director of Research within the School. She joined the School in 2001 from a background of lecturing, business consultancy in information systems, management, and marketing, and in librarianship. Dr Hooper has an MBA from the University of Pretoria, South Africa and a PhD in Information Systems from VUW. In 2008 she was awarded a Vice Chancellors Strategic Research Scholarship with Judy Brown of SACL and in 2004 received a Teaching Excellence award.
Previous Awards and Events
PhD Student Rewarded
PhD student Hartmut Hoehle was awarded one of nine Victorias awards for Post-Graduate Research Excellence in December 2009. These awards are made by the Post-Graduate Student Association. Hartmut was also awarded a J. L. Stewart scholarship last year, to support travel related to his PhD research.
Igniting the Potential of Tutors, Enhancing the Experience for Students
Congratulations to SIM's Undergraduate Programme Manager Simon Park for his project Ignite Potential: Motivating tutors to light up the learning environment. Simon and Undergrad Programme Director Janet Toland won a $5000 award from Ako Aotearoa for the development of a multimedia presentation to share SIM's good teaching and learning practice with other tertiary institutions.
This presentation explains the School's system for building a team of approachable tutors that first year students find easy to talk to. Developing motivated and happy tutoring staff has enhanced the learning experience of our first year students, and also had spin-off benefits for the tutors' own studies.
SIM staff feature in 2008 VUW Excellence Awards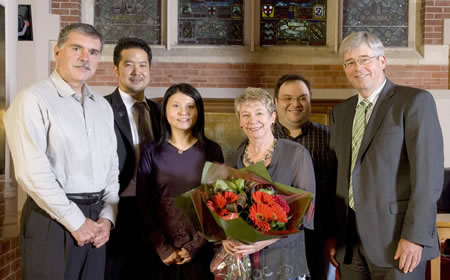 In the 2008 VUW staff excellence award competition, four SIM staff won awards. Shown (L to R) are: Sid Huff -- Head of School; Simon Park (Undergraduate Programme Manager -- award for administrative excellence); Chern Li Liew (Senior Lecturer in Library Information Management -- award for research excellence as a new researcher); Rowena Cullen (Associate Professor, Library Information Management -- award for research excellence); Eusebio Scornavacca (Senior Lecturer, Information Systems -- award for teaching excellence); Pat Walsh -- Vice Chancellor.
Associate Professor Rowena Cullen awarded 2007 LIANZA Fellowship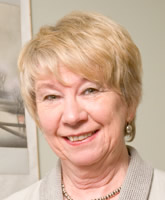 LIANZA has awarded Associate Professor Rowena Cullen a 2007 Fellowship, which is the highest professional award within the NZ library and information professions. Since Rowena's appointment to the academic staff of the Library School at Victoria University of Wellington in 1990, she has been committed to teaching new generations of librarians and to producing high quality research, most recently with the publication of the book she co-authored Comparative Perspectives on e-Government.