Dr Isabelle Sin
Dr Isabelle Sin – Adjunct Senior Lecturer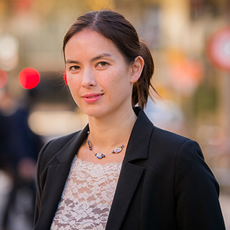 Contact details
Other positions
Qualifications
PhD in Economics, Stanford University, CA; BSc (Hons), First Class in Economics, Canterbury, NZ
Introduction
Dr Isabelle Sin joined Motu as a Fellow in January 2012 after completing her PhD in Economics at Stanford University, California. She had previously worked at the Reserve Bank of New Zealand and Motu after graduating from the University of Canterbury in 2002 with an Honours degree in economics.
Her research areas are applied microeconomics and economic history, particularly the fields of labour economics, and the economics of knowledge and its diffusion. In her doctoral dissertation, she studied flows of books translations between countries to gain insight into the international flow of ideas codified in books.
In the 2015, Dr Sin was awarded a three-year Marsden grant to study the migration of skilled New Zealand graduates, including how financial incentives affect brain drain and the role of wealth in tertiary graduates' ability to relocate to domestic and international job opportunities.
Supervision
Dr Isabelle Sin will be available to supervise Honours, Master's, and PhD students, and welcomes contact from students interested in her areas of research.
Selected publications
"Firm Competitiveness and Discrimination: Evidence from Longitudinal Linked Employer-Employee Data," with Steven Stillman, John Gibson, and Richard Fabling (2015).
"The effect of student allowances on postgraduate study," with Eyal Apatov and David C. Maré (2015).
"Immigrant Integration Revisited: The roles of human capital and a migrant's socioeconomic and cultural background," with Jacques Poot and Steven Stillman, (2015).
"The Effect of Social Networks on Economic Outcomes: Evidence from Māori ties to their rohe," with Steven Stillman, (2015).
"Economic Liberalisation and the Mobility of Minority Groups: Evidence from Māori in New Zealand," with Steven Stillman, IZA Journal of Migration, (2016), 5:4.
"Book Translations as Idea Flows: The effects of the collapse of Communism on the diffusion of knowledge," with Ran Abramitzky, Journal of the European Economic Association, (2014), 12(6): 1453-1520.
"Diffusion of Green Technology: A Survey," with Corey Allan and Adam B. Jaffe, International Review of Environmental and Resource Economics, (2014), 7: 1-33.
"The Gravity of Ideas: How distances affect translations," (2014).
"The Dynamics of Adverse Selection in the Market for Slaves," (2008).
Working papers
"The effect of trial periods in employment on firm hiring behaviour," with Nathan Chappell (2015). Treasury Working Paper.
"Exporting, innovation and the role of immigrants," with Richard Fabling, Adam Jaffe, David C. Maré, and Lynda Sanderson, Ministry of Business, Innovation and Employment Working Paper (2014).
"The Likely Regional Impacts of an Agricultural Emissions Policy in New Zealand: Preliminary Analysis," with Emma Brunton, Joanna Hendy and Suzi Kerr, Motu Working Paper 05-08 (2005).
"The Geographical Mobility of Maori in New Zealand," with Steven Stillman, Motu Working Paper 05-05 (2005).
"Taxes vs Permits: Options for Price-Based Climate Change Regulation," with Suzi Kerr and Joanna Hendy, New Zealand Treasury Working Paper 05/02 (2005).
"Maori Incomes: Investigating Differences Between Iwi," with David C. Maré, Motu Working Paper 04-06 (2004).
Other writing
"The Adoption of Environmentally Friendly Technologies in Agriculture," Motu Research Note 12 (2012).
Review of How Many Languages Do We Need? The Economics of Linguistic Diversity, by Victor Ginsburgh and Shlomo Weber, in The Journal of Economic History, vol 72(1), March 2012, pp 282-283.
"Insights from Book Translations on the International Diffusion of Knowledge," doctoral dissertation, Department of Economics, Stanford University (2011).
"Bartercard?" University of Canterbury Honours Thesis (2002).