Research
Research is a key part of our work at the School of Engineering and Computer Science, and a diverse range of projects are underway at any one time.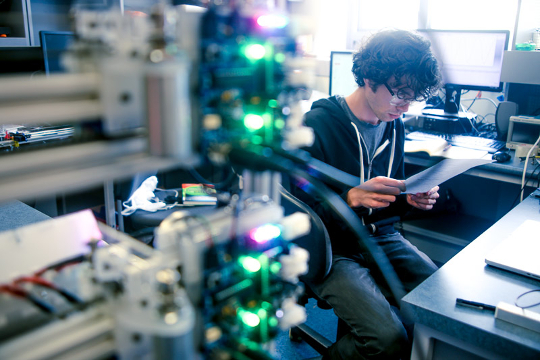 Our world-leading research is undertaken in a dozen research groups, broadly covering artificial intelligence; computer graphics; mechatronics; networking; programming languages; and wireless communications.
Over 90 students are engaged in postgraduate studies, with around 70 at PhD level. Students come from around the world and contribute to the School's vibrant atmosphere.
Research collaborations with other Schools at Victoria University of Wellington, in particular Bioinformatics, Applied Lingustics, Physics, and Mathematics and Statistics, form important links and allow students to access a wide range of facilities.
Wellington is at the heart of science and technology in New Zealand and we have strong collaborative links with many of the industry and research organisations based here. These include Industrial Research Limited, New Zealand Registry Services and Magritek. These links provide students with an enriched study experience and many work with potential employers during their research placements.
We have a depth of knowledge that makes us able to address a wide range of modern engineering problems. If you are interested in doing research with us, or have an idea for a project of common interest, please contact us.