About us
The University's School of Engineering and Computer Science prepares students for successful careers at the forefront of new and exciting global technology.
Related links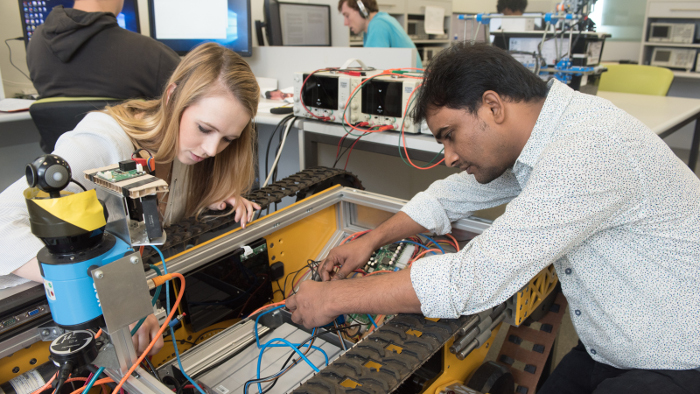 A great opportunity
Do you want to make the next major breakthrough in technology, help save a life, produce the next big game or start the next Facebook? Now you can. Victoria University of Wellington's School of Engineering and Computer Science (ECS) was established in response to a growing need for fully-qualified graduates in the digital technologies. We bring together the best from a well-established group of Engineering, Computer Science and Mathematics academic staff—and we are excited to be on the cutting edge of developing technologies with our majors in Cybersecurity and Renewable Energy.
Choose your path
Are you someone who likes problem-solving, creativity, building things and understanding how they really work? At ECS, you can choose the course of study that best suits your interests. Our BE (Hons) programme is a four-year professional degree with majors in Electrical and Electronic Engineering, Software Engineering and Cybersecurity. Majors in Renewable Energy, Computer Science, and Computer Graphics are also offered within the three-year Bachelor of Science (BSc) degree. We focus on digital technology to provide you with all the skills and experience you will need in the modern workplace. We also offer a range of competitive postgraduate qualifications in Engineering and Computer Science.
Learn from the best
Our experienced, international staff have wide networks in research and in industry, and expertise in lecturing and in leading laboratory sessions. They are actively engaged in ground-breaking research here at the University, New Zealand's number one ranked research university. Our staff are constantly extending the boundaries of modern Engineering knowledge and are passionate about supporting students to follow their natural curiosity into new areas of study and research.

Whether you require assistance, or just have a general enquiry, feel free to get in touch with our ECS staff.
Cutting-edge facilities
ECS houses state-of-the-art equipment and laboratories, situated in both the Alan MacDiarmid and Cotton Buildings on Kelburn campus. These facilities enable our students to develop the practical skills that are an important part of their studies. Casual areas provide places for students to study and exchange ideas.
A bright future
Engineers and computer scientists are some of the most sought-after professionals in today's society with interesting and well-paid careers. You could be planning new communication networks, building autonomous robots, designing new computer games or developing medical technologies. Does this sound like you?
If you are looking for a future where you can make a real difference—and one which is rewarding and enjoyable—come and join us at ECS.
Take a Virtual Tour of the School of Engineering and Computer Science.
Commitment to non-discrimination
The Wellington Faculty of Engineering welcomes students, staff and visitors regardless of national origin, gender, religion, race, ethnicity, or sexual orientation. The Faculty is committed to teaching and research that is free from all such discrimination.