Postgraduate study
The School of Engineering and Computer Science offers a range of postgraduate study options, ranging from diplomas and certificates to PhD programmes.
Engineering and Computer Science are complex and fast moving disciplines, and Te Herenga Waka—Victoria University of Wellington is committed to staying at the forefront of teaching and research. Our undergraduate degrees provide an excellent platform for careers in engineering and computer science, but postgraduate study will enable you to explore the full breadth and depth of these dynamic disciplines.
Professional engineers also benefit from studying the latest trends in their fields. Our postgraduate programmes support new graduates, experienced professionals, and those who are looking for a change of career.
Postgraduate programmes
We offer the postgraduate programmes listed below.
Doctor of Philosophy (PhD)

in Artificial Intelligence, Computer Graphics, Computer Science, Electronic and Computer System Engineering, Engineering, Network Engineering, Software Engineering
Postgraduate qualifications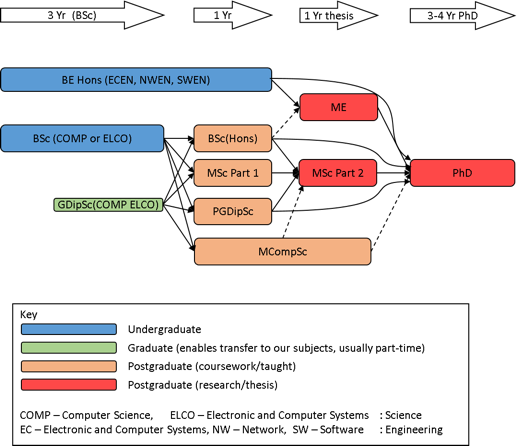 More information
There are more details about all our postgraduate programs in our postgraduate prospectus.
If you have further questions that are not answered in the prospectus, please contact the following people:
You can also email academic-enquiries@ecs.vuw.ac.nz for more information.
How to apply
Applicants for PhD thesis and Master thesis programmes are advised to discuss their proposed enrolment with a member of the Engineering and Computer Science staff, either in person or by email. Applicants with qualifications not from Te Herenga Waka—Victoria University of Wellington should bring/include a copy of their transcript and details of courses they have taken. International students for whom English is not their first language should also bring/send a copy of their IELTS or TOEFL scores.
Applications for postgraduate programmes with coursework (BSc (Hons), MSc with part 1, MCompSci, postgraduate diplomas) can be made prior to each trimester using the same application process as for undergraduate programmes: see the university enrolment page. International students must apply through Wellington University International.