Past news
The Future of Technology
At the OECD tourism committee workshop on mega trends in Paris on the 22nd June 2017, Dr. Ian Yeoman spoke about the drivers of technological change and the future consequences in an audience of key policy makers and stakeholders.
Drivers of Change
Three drivers of change will dominate the future, Automation has the potential to replace systems and people by artificially intelligent brains thus bringing about continuous singularity. Interconnectiveness means billions of people, and a growing number of things, are connected now. Access to information, and the sharing of it, has become exponentially easier. Big Data delivers digital interaction, whether instigated by human or object, feeds big data. Its analysis as a method to expose patterns and trends, particularly within human behaviour, is becoming more sophisticated and action-driven, driving changes in how we work and live.
Changing Behaviours
Nielsen research found that travelers spent an average of 53 days visiting 28 different websites over a period of 76 online sessions, with more than 50% of travellers checking social media for travel tips thus rendering a range of changing behaviours amongst tourists. Thus, ten transformations of tourism behaviour are occurring including Smart Boredom and Performative Leisure.
Technology Futures
Drawing upon a range of examples from Hollywood and science fiction films, Dr. Ian Yeoman identified a series of possible implications that are occurring now. For example, in the film What Women Want Mel Gibson plays a marketing guru who after an accident in the bathtub gets telepathy powers resulting in the ability to read girlfriends and colleagues minds. Could such a thing happen? Citing the example of Realeyes which is London-based company that use so-called "emotional analytics" to measure subconscious responses to video content. Dr Yeoman highlighting how this is happening now.
See a video of his presentation here - https://vimeo.com/221838593/90e5388505
What is the future of the regional tourism in New Zealand?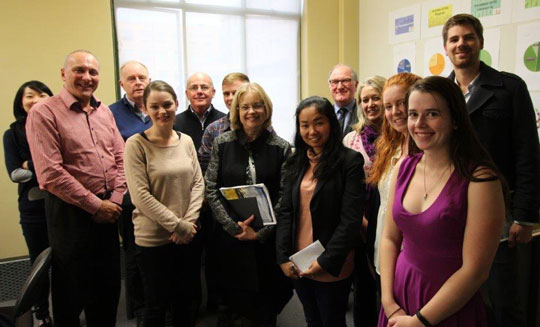 TOUR413 simulates a real work environment, a problem which is not straight forward where students have to negotiate, interview stakeholders, presents findings, undertake analysis and use creative mediums to communicate their research.
Regional tourism organisations (RTO's) represent the regions, cities, places of New Zealand. From the smallest at Kaikoura to the largest in Auckland. All with the same objective to grow visitor numbers in their region. Most of the RTO's are funded by local councils but some operate a membership model. There is no rule about which regions can or cannot be at RTO. The structure of these RTO's are fluid subject to political change, funding, economic success, fiscal policies, stakeholders or council boundaries. Given these range of uncertainties, the students set out portray a series of scenarios about the future set in 2030 considering the elements of funding, role, value and size of the network.
After many project iterations, workshop activities, literature research, interviewing key stakeholders and analysis. The students Alex Gadd, Laura Petersen, Cameron Macduff, Jessica Collins and Bouavanh Soukhathammavong presented four scenarios about the future.
Scenario 1:
The Celebrated Hero is about RTO and Economic Development Agencies (EDA's) working in harmony. This represents a perfect future for the RTO's, where the tourism industry realises that collaboration, information sharing and accessibility are key to being a world class destination in every region. RTO's have formed a collective vision of support and unity for New Zealand tourism. Tourism New Zealand's 100% Pure brand has now become immersed and visible throughout the regions. This unity has drawn the attention from the private sector, which now invests heavily in their local regions as they see the benefits of collaboration.
Scenario 2:
Rumble of the Regions depicts a future where there is rivalry between Regional Tourism Organisations (RTO) and Economic Development Agencies. Competition between regions creates a rivalrous behaviour in which profit and short term decisions come first, harming our long term sustainable credentials.
Scenario 3:
Voiceless Unity portrays a future in which tourism is growing but not well as other industries. Thus, tourism is not seen as a priority by governments preferring an economic strategy focused in High Value Manufacturing, Science and Mining. So, however unified tourism is, it cannot convince government of its economic and political importance to the country.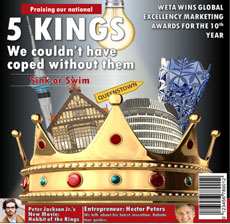 Scenario 4:
The final scenario is named 'The Five Kings' representing a future dominated by the five top tourism regions of New Zealand; Auckland, Wellington, Queenstown, Christchurch and Rotorua. Tourism doesn't really matter outside these regions as these RTO's are the concentration of power and tourism activity.
Local government tax models for tourism infrastructure and management.
The degree of collaboration and partnership between stakeholders in each scenario.
The role of private sector funding in RTO's.
The level of RTO involvement in destinations, from key intervention's to a handoff approach.
Leadership roles.
The size and shape of the RTO network varied with each scenario.
Charlie Ives, Executive Officer of the RTO network said:
"In the dynamic world of regional tourism RTOs often work in the "now" to capitalize on fast appearing opportunities. What the students produced in the scenario project was thought provoking, and realistic, stimulating lively discussion in the RTO community around future forms and functions. Well done".
A copy of the student's research is available here:
Life after BTM Honours in the hotel industry - Jess Taylor
Jess Taylor is the Alumni representative for the Tourism Management Advisory Group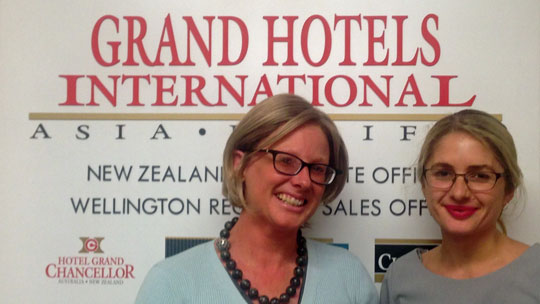 My first full time position after university was in the VIP Lounge at the Intercontinental Wellington. Through this experience I gained a firm grasp of operations and discovered that the Hotel industry was a reputable and exciting place to work.
In mid-2014 I gained employment at the Hotel Grand Chancellor Corporate Head Office as a Loyalty and Marketing Assistant. In the fast-past environment new experiences and skills continuously presented themselves and after 9 months I was promoted to a co-ordinator position. Within the coming month I will move roles to focus on the two New Zealand Hotels as Marketing and Communications Executive. My predecessor was Lynaire McBrydie, a fellow BTM graduate, and my new manager will be Judy Chen (MTM), the Director of Sales and Inbound for New Zealand.
Reflecting on my experience since completing the BTM(Hons) at the end of 2013, I have found that the qualification is well recognised, practically applicable to the tourism industry and has aided with career progression. The initial recruitment process from 2014 was intense and a large amount of applicants applied; my tourism qualification and genuine passion for the industry stood out.
In my current role there are ten Hotels with multiple internal departments. Graduate study provided the critical and systematic thinking to view the flow on affect of even the smallest decisions and to problem solve when issues arise. The time management skills developed at university can be transferred to prioritise tasks in the workplace and all of those assignments helped develop effective communication. I have also found that building positive relationships and confidence is important and I am excited to commence my new role and continue my Tourism Marketing career at Grand Chancellor Hotels.
May Graduation 2016
The Tourism Group (Karen, Ian, Mondher, Christian, Adam and Luisa) would like to take this opportunity to recognise and congratulate all our 2016 tourism graduands on their achievement, and wish them all the best for the future.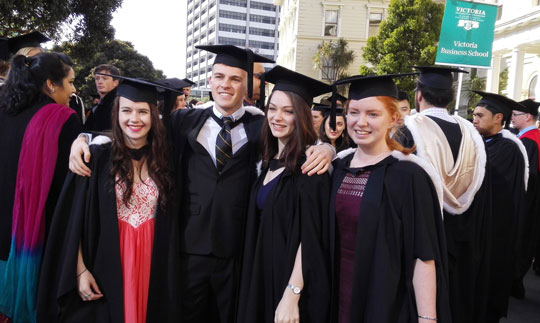 Farewell to our New Zealand Aid Scholarship students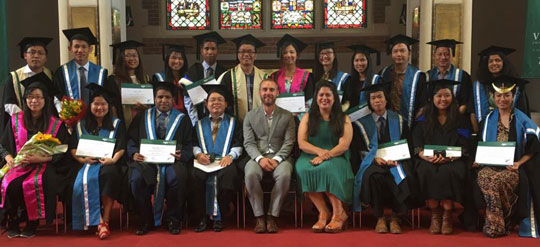 At a ceremony during February 2016, we said goodbye and acknowledged the contribution our New Zealand Aid Scholarship students have made to the university and community.
Sophea Tieng and Sochea Nhem arrived at the School of Management in 2014 to embark on our two-year Master of Tourism Management programme.
After completing eight papers and the submission of a 40,000 word thesis, they are heading back to Cambodia to put theory into practice.
Sochea's thesis, under the supervision of Dr Christian Schott, examined distribution channel while Sophea, under the supervision of Dr Ian Yeoman, examined success factors. Both theses used community-based tourism as the context.
Experiences include support and friendship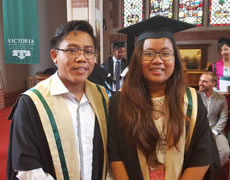 Sophea and Sochea graduated along with another seventeen scholarship holders, and shared their experiences citing the support and friendship over the last two years.
"Having the opportunity to attend Victoria University is a life changing experience. It is very challenging, but rewarding," said Sochea Nhem.
He also considered his time with the Tourism Management programme as a real adventure journey.
"I have great chance to exercise my academic freedom. I am fortunate to learn from world-class tourism professors and lecturers who are so supportive and enthusiastic. Overall, I am honoured to be part of this programme."
Sophea Tieng also valued her experiences at Victoria University.
"Victoria has been a great place to me. It provided me unaccountable knowledge, numerous supports and several chances to explore more about tourism studies and research skills."
Tourism, tents and tuatara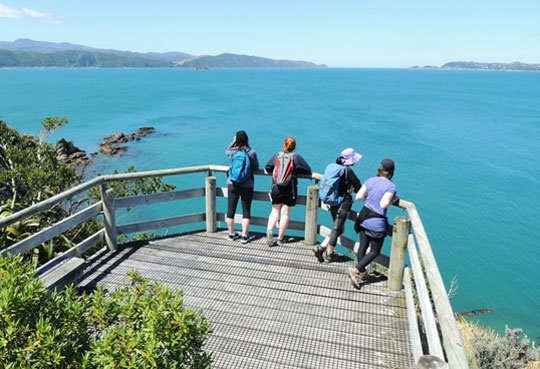 BTM (Hons) student Alexandra Gadd has spent the 2015/16 summer working with the Department of Conservation investigating the drivers of dissatisfaction at DOC campgrounds. Part of Victoria University's Summer Scholarship programme, this partnership with DOC has led to recommendations on how to increase campers' satisfaction and encourage more visitors to engage in recreation
The scholarship fits with Alex's love for sustainable developments and tramping. Being based at the DOC Head office Alex got involved in a range of other experiences as well as the research project. A highlight was a two-day camping trip to Matui/Somes Island in Wellington Harbour. "We got to hold baby Blue Penguins, see Tuatara and Giant Weta up close and get a firsthand experience of the conservation work DOC does." Alex also worked with DOC interns on a sustainability project identifying how DOC employees can reduce waste when purchasing lunch. Alex said she thoroughly enjoyed the experience and she already plans to conduct more research for DOC for her Honours dissertation later in the year.
DOC's Science Advisor Social Science (Visitors) Michael Harbrow said "Alex has made a valuable contribution to the Department's work. She was enthusiastic and hard working and we really enjoyed hosting her within our team. We gained a lot from the fresh thinking and different approaches she was able bring to the project."
Alex was supervised by Professor Karen Smith and Dr Adam Weaver. Karen commented, "This project with DOC was a great opportunity for one of our top students to develop her research skills and gain insights into how DOC works to bring conservation and tourism together." Tourism organisations interested in partnering with Victoria University on future summer scholarship projects can contact Karen Smith to learn more.
May Graduation 2015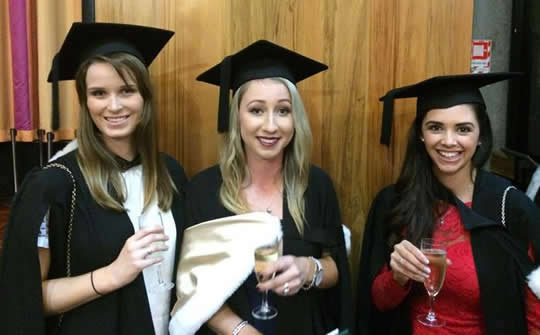 Despite the cancellation of the traditional graduation parade on May 14 due to bad weather the spirits of the graduands, their proud family and friends, and the many staff were not dampened.
The Tourism Group (Karen, Ian, Mondher, Christian, Adam and Luisa) would like to take this opportunity to recognise and congratulate all our 2015 tourism graduands on their achievement, and wish them all the best for the future.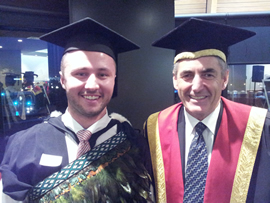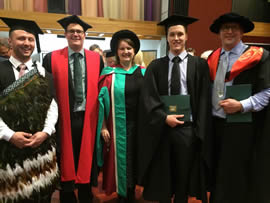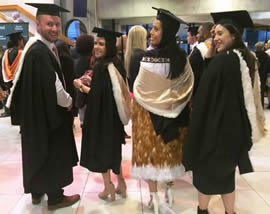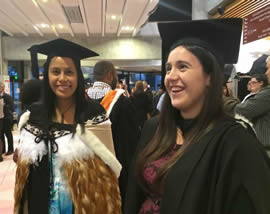 BTM graduate centre stage at capping ceremony
Graduates from the Tourism programme joined together on 14 May for the capping ceremony, which we are proud to say included BTM graduate Jackson Smith as the Graduate Speaker.
Jackson affiliates to Wairiki Ngati Apa (Whanganui), Tainui (Hamilton), Tangahoe (Hawera), and Te Atiawa (New Plymouth). His excellent speech can be watched below
TOUR 101 students win essay prizes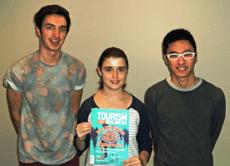 Annie Grey the editor of the magazine Tourism Business presented three students with a free one-year subscription to the magazine.They wrote the best essays during the first half of the TOUR 101 course.
While a number of essays were reviewed by a panel of four judges, the course tutors in TOUR 101, the three winning essays were noteworthy for their clarity of expression, use of evidence, and insight.
Christopher Joyce wrote an essay about the need for tourism managers and marketers to understand tourism demand, addressing issues such as seasonality, demography, and emerging markets.
Victoria Black submitted an essay that addressed factors that have shaped the development of tourism in the United Kingdom. Particular noteworthy factors, for Victoria, were the emergence of low-cost air carriers and the decline of seaside resorts.
Ryo Suzuki wrote an essay about tourism development in India. The way in which he addressed medical tourism received particular praise from the judges.
Well done to all three prize winners!
Tourism graduate stories
Amalina Andrade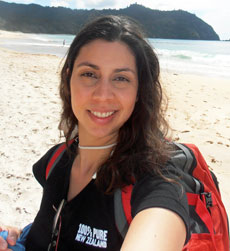 MTM - Master of Tourism Management, 2013
Kia ora all! I finished the Master of Tourism Management (MTM) and left NZ at the end of June last year. By the end of 2013 I started working for Tourism New Zealand in the newly created office in my home country, Brazil. So I became the Trade Development Executive for Brazil, Chile and Argentina, which included: providing training to travel sellers, meetings with tour operators and travel agencies, participate at trade shows, coordinate the 100% Pure New Zealand Specialist Programme, write the newsletter, take care of Customer Relationship Management, amongst other things. I was able to visit NZ twice this year, and this allowed me to catch up with friends, lectures, receive my degree, and visit places in NZ that I had not visited before (especially the region from Golden Bay to Kaikoura). I was also able to participate in TRENZ, which was such an amazing opportunity to meet NZ suppliers and intermediaries as well as get to know new products and people. I also had the opportunity to visit other South American countries, I visited Santiago de Chile (Chile) to promote NZ for exchange student programmes and it was really exciting to talk to those interested about being a Latin American student living for the first time overseas. Since my job was to promote NZ, it felt like I was talking about home: because NZ will always be my second home!
Another great thing that happened this year was that I was able to present key findings from my Master's thesis at the 10th International Small Island Conference on the Brazilian island of Fernando de Noronha. This amazing opportunity allowed me to provide feedback to the community in which I undertook my research because the island was also the case study of my thesis; plus it also created an opportunity to network with people from different countries and make new friends from around Brazil.
This month I decided to start a new challenge working for MCI Group, which is a company based in Switzerland that focuses on the Meetings, Incentive, Conference and Events (MICE) segment. As I enjoyed my previous experience of meeting new people and spending a lot of time out of the office while working for TNZ, I am now a Sales and Sponsorship Executive responsible for selling some big sponsorship opportunities for a Convention expecting 35,000 people attend the event. But even more adventures are about to happen as I am also planning to undertake a skydive course by the end of 2014. NZ showed that I really do love to take risks and do adventure tourism! So, maybe in the future I might go back to Queenstown as a skydive instructor?! Who would fly with me?
Andrew Murtagh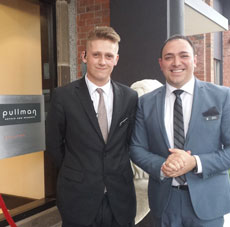 BTM - Bachelor of Tourism Management 2013 After graduating with a Bachelor of Tourism Management (BTM) last year I made the decision to move up to Auckland. Making a move to a city I had not a lot of knowledge about was daunting, but the confidence in my ability and knowledge that I received from my time at Victoria provided me with plenty of industry knowledge and theory that I have been able to apply to the workforce. Within two days of arriving I had received three job offers and began work with the five-star Pullman Hotel in central Auckland. I have been working in the Front Office department over the last eight months involved with a team that consistently rates as one of the best for customer service in Auckland. My role has been varied as I have been working as a Concierge and at the Reception with plenty of opportunities to progress in Front Office and beyond within the hotel itself or the Accor chain.

I believe that as a result of my Bachelor of Tourism Management my ideas have been taken very seriously at the Pullman, and as I start to progress upwards in the industry more management techniques and ideas I have learnt over the years will be vital to my success. My goal of becoming a Human Resource Co-ordinator or even a Front Office Manager in the next few years is possible due to the knowledge I have from the BTM and skills I have developed. I often think back to the learning objectives for most of the courses in the BTM and think about how these can be applied to my job now and in some way, each one has relevance and provided me with a strong platform to grow from. I love my job at Pullman Auckland, and look forward to developing a long term career in the industry where many opportunities are available for Tourism Management graduates, who are held in high regard for their industry knowledge and problem solving capabilities.
Ella Zhang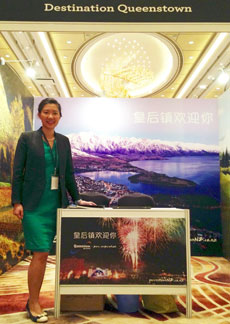 BTM (Hons) - Bachelor of Tourism Management, Honours 2007I completed a Bachelor of Tourism Management Honours (BTM Hons) degree at Victoria in 2007. I have since been working in a management role for the past five years at two top five-star hotels in New Zealand (InterContinental Hotel Wellington and Sofitel Queenstown Hotel & Spa)
To widen my experience and build my skills, I have also been involved in a Queenstown-based company Pure Boutique which specialises in the high-end Chinese tourism market. I have personally had opportunities to communicate with government officials, celebrities, business elites, media from Asia and I design personalised itineraries for them. I also attended the International Luxury Travel Market Asia 2013 in Shanghai to promote the company to more than 500 high-end buyers. The company was exclusively selected as one of only five businesses from more than 300 exhibitors around the world to attend an international press conference. Being the only exhibitor from NZ, my passion and solid knowledge of New Zealand and Queenstown has certainly made it a very successful event for the company.
After an intensive interview process, I joined Destination Queenstown a few months ago as the International Markets Manager – Asia. Destination Queenstown (DQ) is the regional tourism organisation responsible for the marketing of Queenstown as the Southern Hemisphere's premier four season lake and alpine resort. I have truly enjoyed the great opportunities to travel domestically and internationally with the job. I wouldn't have been able to get the job without the skills and knowledge I gained from my BTM Hons. I think it is very important to have a clear goal and an idea of what you want to get out of your honour's degree.
A typical working week involves keeping DQ members updated on our latest strategies, campaigns and promotions in Asia. Having regular meetings with DQ members to better understand their products and experience. Offering suggestions and advice to tourism operators on how to meet the needs of the Asian visitor sector. Conducting workshops and trainings for local operators. Working closely with TNZ, Southern Lakes New Zealand and the airlines on further developing long-haul markets. Preparing for and attending conferences, tradeshows, and frontline training in Asia. Collecting and analysing feedback so as to improve visitors' experiences in Queenstown.
I really appreciate the experience I gained as part of my BTM Hons it will help me to further develop my career. Postgraduate study develops a new form of maturity. You are no longer the student to the teacher. Rather, you and your peers are fellow researchers working in the field. This creates a whole new dynamic and mode of conversation, and confidence, which enables you to walk into a workplace as a professional, rather than a graduate or intern."