MOU Signed Between Victoria and Keimyung Universities
A new MOU signed with Keimyung University in South Korea will see business students cross the Pacific to complete a BCA from Victoria Business School.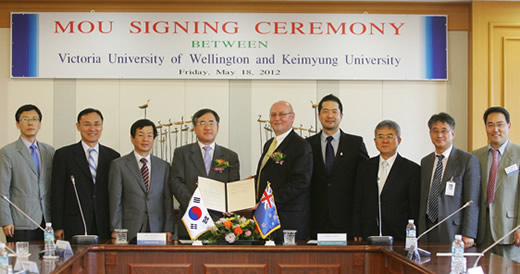 A new Memorandum of Understanding (MOU) signed with Keimyung University (KMU) in South Korea will see business students cross the Pacific to complete a Bachelor of Commerce and Administration from Victoria Business School.
Signed in May by Pro Vice-Chancellor Professor Rob Rabel and Vice President of KMU Professor Shango Choi, the MOU comes as a result of building relations between the two institutions over the past three years.
Much of this work was led by SIM's undergraduate programme manager Simon Park, and initially arose from discussions he had with Visiting Scholar to the School of Information Management in 2008-2009, Professor Dalho Son.
Students will complete 18 months study in Korea and, after meeting Victoria's English requirements, continue their tuition in Wellington. Certain courses will be cross-credited in order to obtain a Victoria Business School degree.
Dean of Victoria Business School Professor Bob Buckle says interest is already high among students eager to study in New Zealand.
"I understand KMU is considering offering scholarships to the best five students from each department with many school leavers and current students keen to take up the opportunity. VBS is a truly diverse campus, and we look forward to welcoming more Korean students to our programmes.
"This development is also good news for our local students. South Korea is the world's 14th largest economy and an important trading partner for New Zealand. Studying alongside people from around the globe introduces students to different cultural customs, develops their communication skills and prepares them to enter a global workforce."
The first students from KMU will arrive at Victoria in 2014.