Teresia Teaiwa legacy continues to nurture Pacific students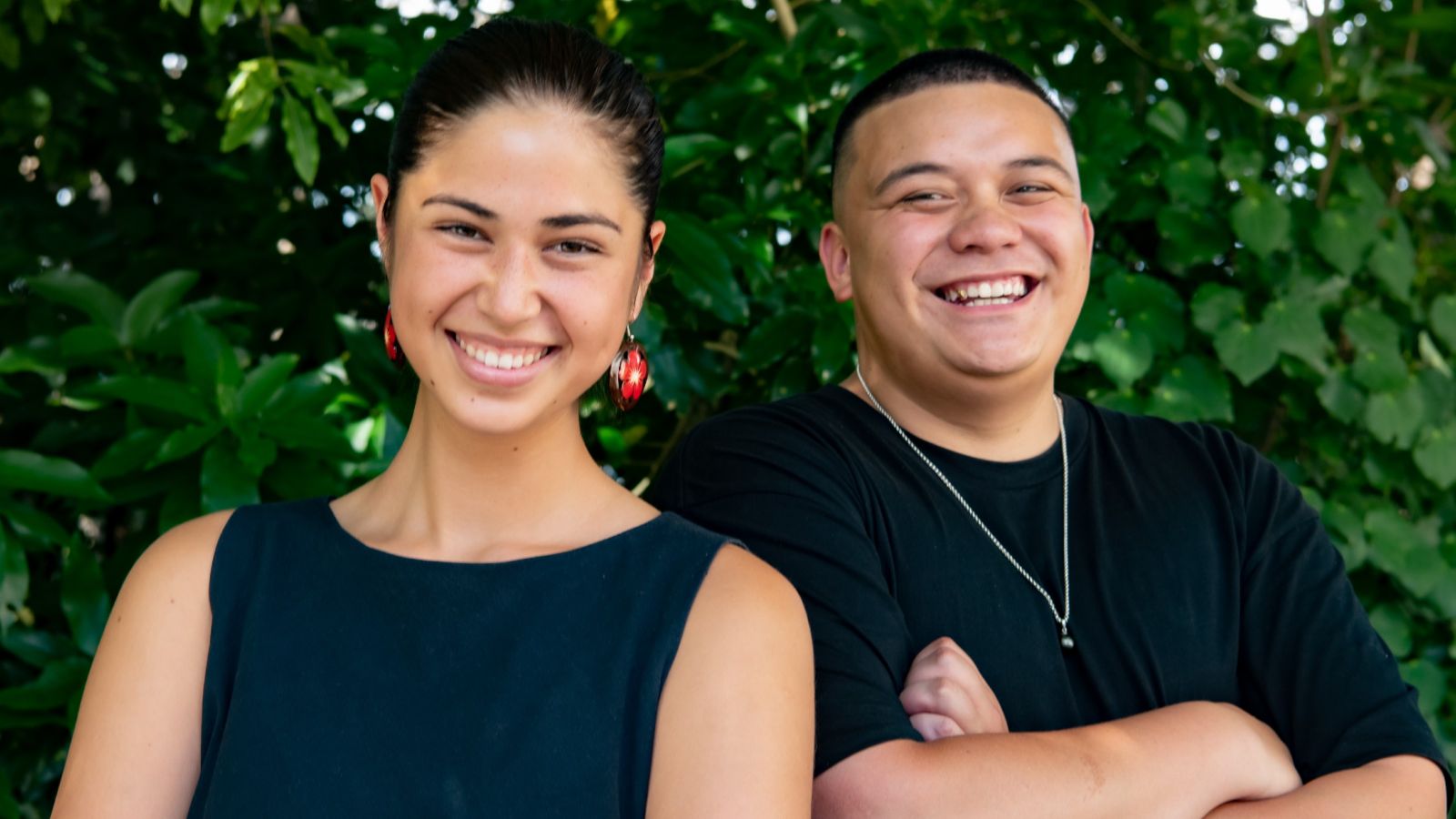 "This scholarship is a huge honour. It relieves a lot of stress financially so that I can achieve to the best of my ability, and it's a memorial to a beautiful woman whose writings have influenced me to continue my studies in Pacific Studies."
- Dom Kafatolu, Teresia Teaiwa Scholarship recipient 2021.
Two remarkable Pacific Studies students are the latest recipients of the Teresia Teaiwa Memorial Scholarships: undergraduate student Litara Allan and postgraduate student Dominique (Dom) Kafatolu. For both students, these scholarships will not only help relieve their financial burden and allow them more time to focus on their studies, but also represent belief in their abilities to succeed.
During their time at Te Herenga Waka—Victoria University of Wellington, Litara and Dom have demonstrated outstanding academic ability and leadership that has garnered them the respect of the Pasifika student body.
Litara is currently studying for a double major in Pacific Studies and Samoan Studies, and has embraced her role within the University's Pasifika community. As well as proving herself to be an excellent student, Litara has taken on various extracurricular activities including as a Student Ambassador, representing the University in recruitment campaigns and at events. She has also undertaken various volunteering and mentoring roles. During an internship at the University's Adam Art Gallery, Litara demonstrated innovation and creativity through the development of a 'student response night' as part of the public programming for the Gallery's Edith Amituana'i exhibition. She also received praise for her beautifully choreographed group siva (traditional Samoan dance), which she presented at the 2019 AKAMAI evening (an event showcasing first year Pacific Studies students' work).
She told us: "Fa'afetai tele lava mo lou alofa, lou galuega ma lou tatalo. Whilst I never had the chance to meet Teresia, I have come to know her through the many leaders, stories, videos, resources, and programmes she nurtured, challenged, and grew, which has taught me a lot about the kind of legacy I endeavour to leave. Thank you to Teresia's aiga, friends, and colleagues for believing in me/us with gifting this measina, this scholarship to our university whanau."
Dom graduated in December 2020 with a BA triple major in Development Studies, Cultural Anthropology, and Pacific Studies. Dom has big dreams for his future, which are already starting to bear fruit. As part of his current BA Honours year, he will complete an internship with the Council for International Development, where he will work on the Donate Responsibly project. This initiative aims to ensure that New Zealand community philanthropic support in the wake of natural disasters in the Pacific meets the actual needs of those on the ground.
"In the future I hope to pursue a Master's qualification in Pacific Studies before going on to serve the Pacific people in my community in any way, shape, or form. My passion is to be a positive influence on the next generation of Pasifika youth, just as my mentors were to me. This scholarship will help me to attain my honours degree and give me the tools to put my passion into practice," said Dom.
Like Litara, Dom has been an integral part of the Pasifika student body at the University. As well as being selected as graduate speaker representing all graduates at the December ceremony, he received an Academic Excellence Award at the Pasifika Graduation ceremony, and served in an executive role for the Cook Islands Students Association during his undergraduate years.
Dom is especially grateful to all of those whose financial support are helping him to achieve his dreams:
"Meitaki ma'ata and Malo 'aupito. When I represent myself, I also represent my family, my friends, the places I come from, and all of the people who donated to this fund. Thank you for assisting me along my journey."
The Teresia Teaiwa Memorial Fund was established in 2018 by the friends, family, and colleagues of the late Associate Professor Teresia Teaiwa, who led the teaching of Pacific Studies at Te Herenga Waka—Victoria University of Wellington.
Find out more about the Teresia Teaiwa Memorial Scholarships.