Our partnerships with Wellington
The University's partnerships in Wellington help drive economic growth, health and wellbeing, and make the city a better place to live.
Partnerships
Our location in Wellington brings many opportunities for partnerships and close working relationships with government departments and agencies, business, iwi, the judiciary, research institutions, cultural and environmental organisations and the diplomatic community. Emphasising the 'Wellington' in our name reinforces the connection between the capital city and its university and creates a common and enduring destiny.
Victoria University of Wellington contributes to the capital city in myriad ways, ranging from the provision of future employees, employers and leaders to the specialist advice and commentary we provide on important topics—to our creative and cultural contributions—to the innovation and entrepreneurship partnerships we undertake to help drive a high value economy.
In addition, our students add to the vibrancy and diversity of Wellington. As well as significantly increasing the pool of talented labour, they contribute through volunteering, internships and involvement with the creative industries.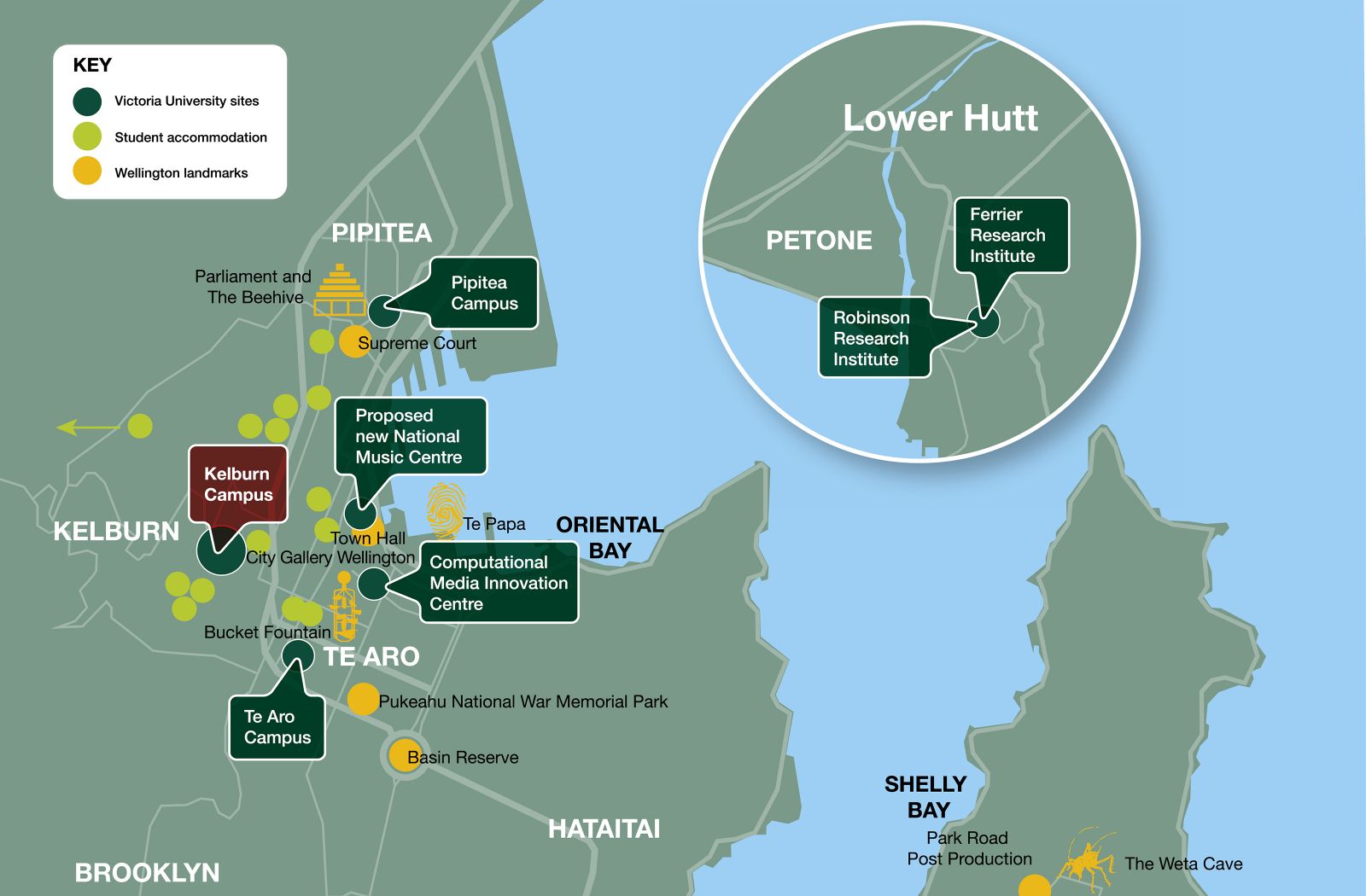 View gallery
Flourishing collaborations
The University has flourishing research collaborations and diverse partnerships in Wellington with organisations spanning business, education, environment, the arts, Māori, community activities and the city's social and cultural life.
Research
As New Zealand's number one university for research quality, we are committed to research excellence and to work that will have a positive impact. Throughout Wellington and beyond, our researchers partner with companies, NGOs, government agencies and communities to support cutting-edge research that has an impact nationally and internationally.
The partnership between the University's commercialisation arm Viclink and New Zealand financial services company Booster, is a game-changer, facilitating the investment of millions of dollars by Booster in businesses spun out of the University's world-leading research.
You can read about our research collaborations here.
Government
The location of our business school, at the centre of policy-making in New Zealand, allows the University to contribute its expertise to support the development of new business, build skills in the workplace, guide innovations in Government and build capability in civil society.
We host two of New Zealand's Centres of Asia Pacific Excellence, the Southeast Asia CAPE and the Latin America CAPE.
We also partner with industry, government and philanthropists to host a wide range of research institutes, centres and professorial chairs that conduct research and lead informed discussion of important and relevant issues.
Creative
We have a deep and diverse range of partnerships that support the creative life of the city.
One example is the Miramar Creative Centre where arts and design students are taught by people from the city's world renowned film industry in state-of-the-art facilities. In the heart of Wellington city, the University has forged a unique partnership with the Wellington City Council and the New Zealand Symphony Orchestra to create a national centre of musical excellence and make Wellington the music capital of the country.
You can read about the University's creative legacy here.
Māori
Our partnerships with Māori are vitally important to the University. We have a range of relationship agreements with iwi and other Māori organisations that support academic success of current and future Māori students, including Taihonoa Scholarships and research collaborations that assist iwi to reach their goals.
You can read more about partnerships with Māori here.
Community
Our partnerships with the community range from working with alumni and donors to support students, holding exhibitions and events with organisations such as the Museum of New Zealand Te Papa Tongarewa and the National Library of New Zealand and placing our brightest students with businesses during the summer months.
We also work closely with organisations focused on environmental sustainability, such as Zealandia. You can read more about our community connections here.