Love, loss, and protest: Researchers collect Renaissance women's complaint poetry
Poetry research comes to life in an award-winning online index.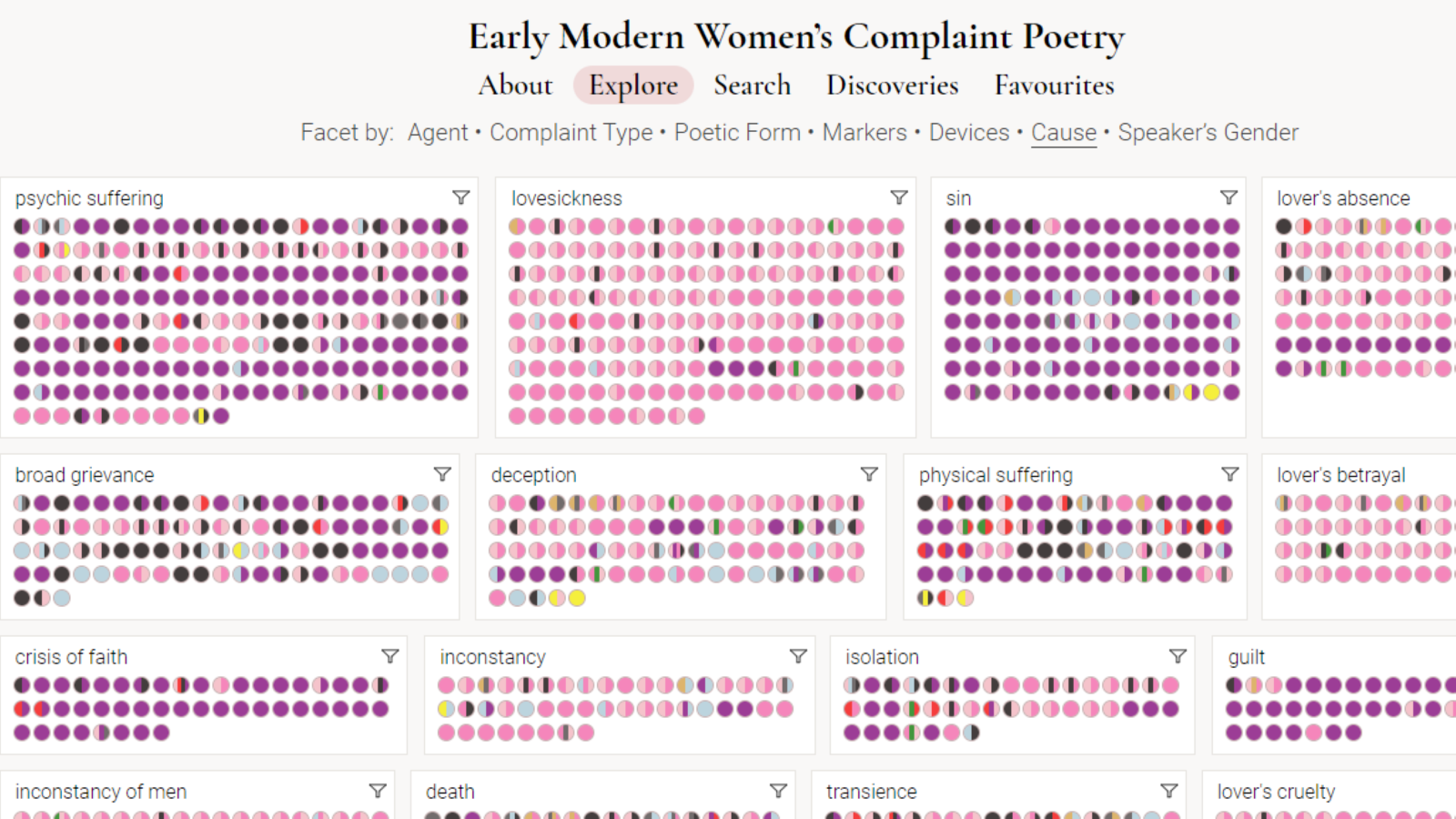 The award-winning Early Modern Women's Complaint Poetry Index brings together poetry about love, loss, and protest, written by women living from 1530 to 1680.
Associate Professor Sarah Ross, from Te Herenga Waka—Victoria University of Wellington, co-led the poetry project alongside Professor Rosalind Smith from Australian National University (ANU).
"The index allows people to explore a body of writing by women that haven't been brought together until now," Professor Ross says.
"It was assumed that women didn't contribute to complaint poetry as authors—this research proves this wasn't the case."
The index features poetry on lovesickness and the inconstancy of men, religious and existential woe, and political injustice. Authors include Lady Mary Wroth and Lady Hester Pulter, along with royalty such as Elizabeth Tudor, Queen of England and Ireland, and her cousin Mary Stuart, Queen of Scots.
Readers can explore poems by author and poetic device, as well as by complaint cause and type, which range from betrayal to economic injustice. The site also lets readers use combinations of search terms to generate lists of poetry to explore.
The index has recently been awarded the Renaissance Society of America's Digital Innovation Award.
"We're over the moon about the award," says Associate Professor Ross. "The Renaissance Society of America is the largest academic association in the world for Renaissance cultural and historical studies, so it's a fantastic showcase for the work we've been doing."
The project was an international collaboration with Associate Professor Ross in New Zealand, Professor Rosalind Smith at ANU, and University of Reading's Professor Michelle O'Callaghan in the United Kingdom. The team also included Oxford University PhD candidate Jake Arthur and ANU's Professor in Digital Design Mitchell Whitelaw.
"The index is a great way to get a sense of just how much women were writing in English at this time in history. There is so much untapped and unknown literature by women in this period that deserves our interest, and our hope is that the index will make this more accessible," says Mr Arthur, who is also a Te Herenga Waka Master of Arts alumnus.
Work on the index received Marsden Fund support in New Zealand and an Australian Research Council Grant. Associate Professor Ross is also co-editor of Early Modern Women's Complaint: Gender, Form, and Politics (Palgrave Macmillan). The project team is now completing a monograph on Renaissance women's complaint poetry.
Check out the index here: https://cems.anu.edu.au/complaintindex/
A poem from Lady Mary Wroth, Sonnet 1, Urania:
Unseen, unknown, I here alone complain
To rocks, to hills, to meadows, and to springs,
Which can no help return to ease my pain,
But back my sorrows the sad Echo brings.
Thus still increasing are my woes to me,
Doubly resounded by that moanfull voice,
Which seems to second me in misery,
And answer gives like friend of mine own choice.
Thus only she doth my companion prove,
The others silently do offer ease:
But those that grieve, a grieving note do love;
Pleasures to dying eyes bring but disease:
And such am I, who daily ending live,
Wailing a state which can no comfort give.