Capacity Building for Maritime Security Cooperation in the Asia-Pacific
Edited by Peter Cozens and Joanna Mossop - NZ$20.00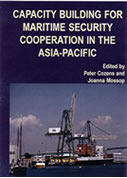 This volume contains revised versions of a selection of papers presented at the Council for Security Corporation in the Asia-Pacific (CSCAP) Study Group Meetings on Maritime Security Cooperation held in Kunming, China in December 2004 and in New Delhi, India in April 2005. The views expressed in this book are remarkable for their consistency of common purpose even though their authors come from an eclectic and diverse mix of backgrounds and nationalities.
It is a curious phenomenon that these academics, officials, mariners, lawyers and policymakers expressing their own views, and not necessarily reflecting their own government's policies, from countries throughout the Indo-Pacific have similar ambitions to build capacity and maritime awareness and thus enhance good order at sea. there is recognition, expressly stated in some cases but implied in others, of the good that can flow from cooperative approaches. Policymakers should thus take comfort and be reassured that there is a wide body of supportive and informed opinion to build capacity and awareness of the maritime domain throughout the region.
First Published 2005.
ISBN 0-475-20110-8
Paperback, 180p.