Awhina Tamarapa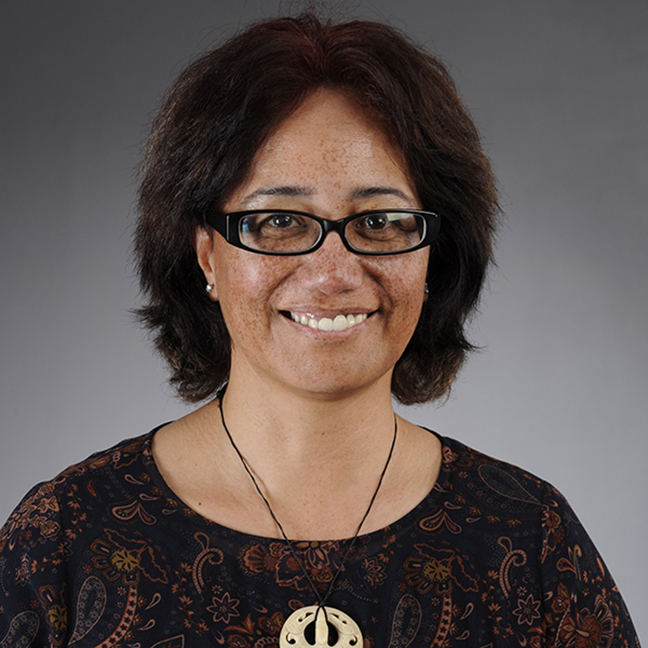 Visiting Scholar/Researcher · Postdoctoral Fellow
Stout Research Centre

WR12 205, 12 Waiteata Road
Teaching
as Coordinator and Lecturer

as Coordinator and Lecturer
Qualifications
MA (Massey), BML (Te Wānanga o Raukawa), BA (Victoria)
Career Summary
Awhina Tamarapa has tribal affiliations to Ngāti Kahungunu, Ngāti Ruanui and Ngāti Pikiao. She is a former Curator, Māori at Te Papa. She has a Master of Philosophy in Museum Studies, from Massey University, a Bachelor of Māori Laws and Philosophy from Te Wānanga o Raukawa, Otaki (2003) and a Bachelor of Arts from Victoria University of Wellington, majoring in Anthropology (1993).
Awhina has worked in museums for more than 25 years, as a Collection Manager, Concept developer and Curator at Te Papa. She has curated many Māori exhibitions for Te Papa, most recently Kahu Ora/Living Cloaks (2012) and the Ngāti Toa Rangatira iwi exhibition, Whiti Te Ra! The Story of Ngāti Toa Rangatira (now on at Te Papa).
She is the Deputy Chair of the National Māori Weavers of New Zealand, Te Roopu Raranga Whatu o Aotearoa (TRRWOA) committee, one of ten Māori art-forms supported by Toi Māori New Zealand, and co-editor for the TRRWOA weavers' newsletter. Awhina is a Cultural Consultant on behalf of the Te Taitoa Māori o Te Awahou Trust, for the Te Awahou Nieuwe Stroom multi-purpose community complex developed for the Foxton region.
Awhina has been involved in the Museum Heritage Studies post-graduate programme, Victoria University of Wellington, mentoring students and giving talks/presentations for over 6 years. Awhina has a deep interest in tribal mōteatea. Awhina has organised Māori arts wānanga and supports the revival of customary art-forms such as taonga puoro (Māori musical instruments) and stone tool technology.
Her publications include Te Papa Press books Icons Ngā Taonga (2003), Taiawhio: Conversations with Contemporary Māori Artists (2002), Taiawhio II: Contemporary Māori Artists; 18 New Conversations (2007), and Looking Flash: Histories of Clothing In New Zealand, which was published by Auckland University Press in 2007. Awhina edited Whatu Kākahu/Māori Cloaks (2011), a finalist in the N.Z Post Book Awards 2012 and winner of the arts category, Kupu Ora Māori Book Awards, 2012.
Selected publications
Forthcoming publications
Rangi Te Kanawa, Awhina Tamarapa, Anne Peranteau. 'Kahu Ora -Living Cloaks, Living Culture', in Brooks, Mary M. and Eastop, Dinah D. (Eds.), 'Refashioning and Redress: Conserving and Displaying Dress (pp. 65-78). Los Angeles: Getty Conservation Institute
Publications
Tamarapa. A. (2004). Selected texts. In Icons/Ngā Taonga-Treasures of Te Papa Collections. Wellington: Te Papa Press.
Tamarapa, A. (2007). Five essays in Smith, Huhana. Editor (Ed.), Taiaawhio II: 18 New Conversations with Contemporary Māori Artists. Wellington: Te Papa Press.
Tamarapa, A. (2007). Weaving a Journey. In Labrum, B., McKergow, F., & Gibson, S. (Eds.), Looking Flash: Clothing of Aotearoa New Zealand (pp.94-111 ). Auckland: Auckland University Press.
Tamarapa, A. Muka taonga (treasures) in the collections of the Museum of New Zealand Te Papa Tongarewa (2009). Combined ( NZ and Aus) Conference of the Textile Institute. Conference Proceedings, CD.
Tamarapa, A. (2011). Mere Ngareta's Kahu Kiwi. In McKergow, Fiona and Taylor, Kerry. (Eds.), Te Hao Nui The Great Catch: Object Stories from Te Manawa (pp.158-165). Auckland: Random House.
Tamarapa, A. (Ed.).(2011). Whatu Kākahu / Māori Cloaks . Wellington: Te Papa Press.
http://www.maoriart.org.nz/latest_news.php?news_id=52
Awhina Tamarapa and Patricia Wallace. 'Māori clothing and adornment – kakahu Māori', Te Ara – the Encyclopedia of New Zealand, updated 27-Aug-2013