Abby McRoberts
Abby is choosing the Bachelor of Health as a gateway into health promotion, where she can work on initiatives to enhance people's wellbeing.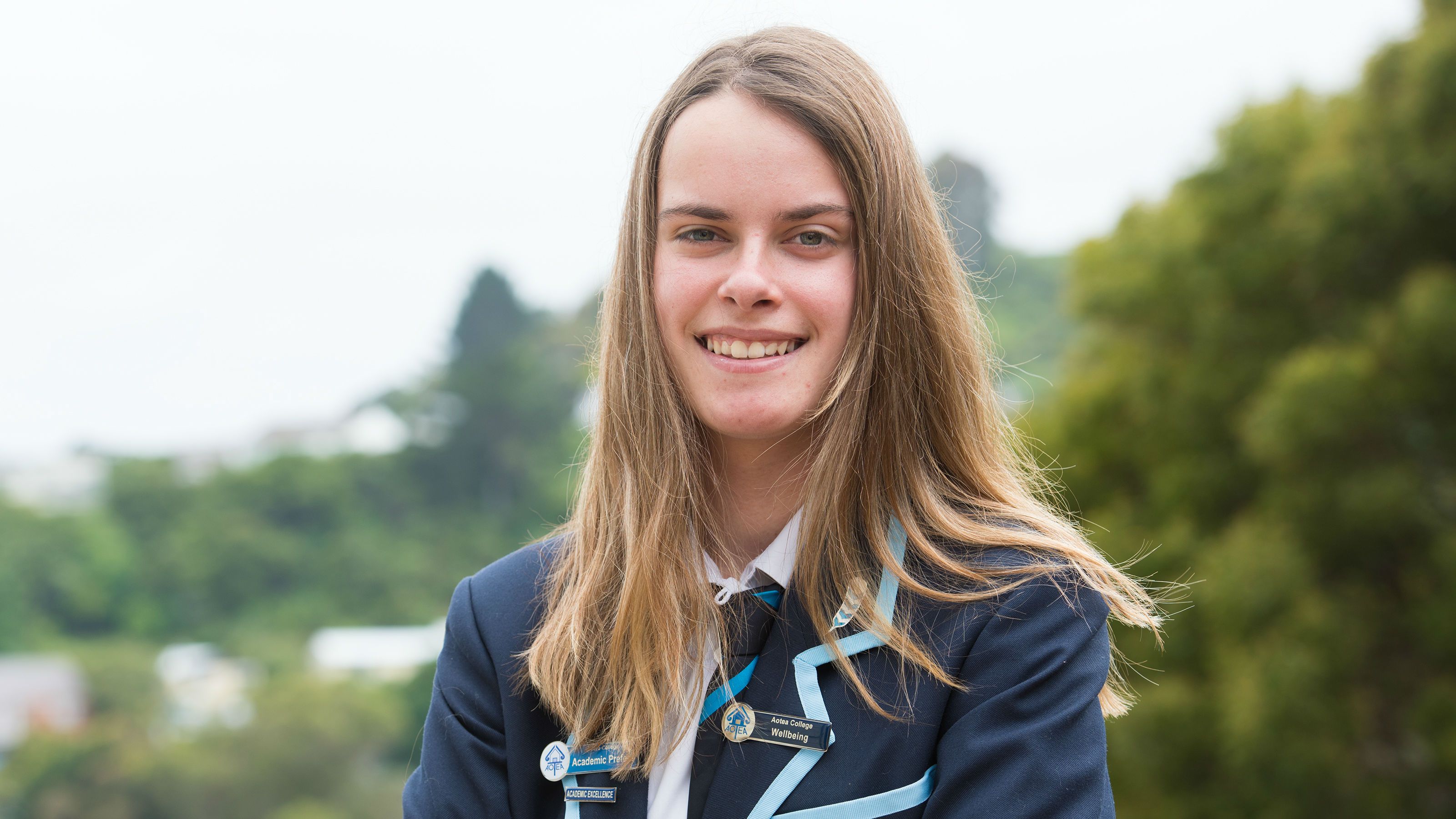 A focus on healthcare
"A high-achieving Porirua teenager is looking forward to the challenge of studying at Victoria University of Wellington's Faculty of Health with the help of a scholarship scheme.
Year 13 Aotea College student Abby McRoberts says she was elated when she found out she'd received a Victoria University of Wellington Ngā Hoe a Kupe Pathfinder Scholarship, worth $7,000 per annum over three years and funded by proceeds from the divestment of the University's Karori campus.
"It took a while for it to sink in. I remember going back to class after finding out and I couldn't concentrate. The rest of the class were trying to write essays and I just sat there grinning. It was a big moment for sure," says Abby.
Recipient of a Ngā Hoe a Kupe Pathfinder Scholarship
The seven Ngā Hoe a Kupe Pathfinder Scholarships were given to students from Wainuiomata High School, Naenae College and Taita College in the Hutt Valley and Porirua College, Bishop Viard College, Mana College and Aotea College in Porirua—all schools that draw students from disadvantaged communities."
17-year-old Abby excelled in her Year 13 studies—not only was she an Academic Prefect, she was also named Year 13 Top Scholar at her school. She also received a 'Commended in Education' award at the 2017 Porirua Youth Awards and was recently selected as one of 12 young New Zealanders to become a member of Education Minister Chris Hipkins' 2018 Ministerial Youth Advisory Group.
Choosing Victoria University of Wellington
Next year Abby plans to build on her keen interest in biology as she embarks on a Bachelor of Health majoring in Health Psychology.
She says she chose the University for a variety of reasons. "It offers a course that really interests me, it's close to home and after visiting the campus, it seemed like a great place to study."
While Abby is naturally nervous about finding her feet in a new environment and meeting new people, her overwhelming feeling is excitement.
"I'm looking forward to the independence in what I get to study and the opportunity to choose how I study it. Being surrounded by people who are keen to learn also excites me.
Growing in confidence
"The scholarship will definitely take pressure off my first year. It's also given me confidence in my ability to do well next year, so I think the scholarship will help me beyond just the monetary support."
Looking ahead to the future, Abby hopes to give back to her community after she graduates.
Passionate about wellbeing
"I like the idea of going into health promotion and working on initiatives to enhance people's wellbeing. My goal at the moment is to gain a strong understanding of health and psychology, something I'm sure the University can offer me."