Nuclear Developments In South Asia and the Future of Global Arms Control: International, Regional and New Zealand Perspectives
Edited by Rouben Azizian - NZ$25.00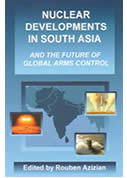 This volume contains revised versions of selected papers presented at the Conference on Nuclear Proliferation and Conflict Escalation in South Asia held at the University of Auckland on 24-25 March 2000. The book also includes chapters especially written for this publication. The purpose of this book is to offer a mutidimentional analysis of the nuclear developments in South Asia and their current and likely future impact on global arms control and regional security. The volume is divided into two parts. Part One deals primarily with South Asian affairs before and after India and Pakistan's nuclear tests in May 1998, including the responses of major outside powers such as the US and China.
Part Two looks at the broader issues of nuclear non-proliferation and arms control, both as a result of developments in South Asia, as well as other arms control challenges. These include the controversial Theatre Missile Defence (TMD) and National Missile Defence (NMD) projects, Russia's decision to lower its nuclear threshold, China's dynamic arms build up, North Korea's nuclear programme, Japan's precarious blancing between its security alliance with the US and a more independent regional role, and other issues. Due attention is paid to Australia and New Zealand's adjustment to the evolving arms control process, identifying the areas where their views coincide and where they differ. Finally, the shifts in New Zealand's domestic anti-nuclear environment are discussed.
First Published 2001.
ISBN 0-475-20111-6
Paperback, 331p.