Peace on Bougainville: Truce Monitoring Group Gudpela Nius Bilong Peace
Edited by Rebecca Adams - NZ$29.95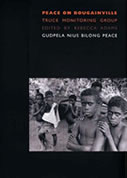 On 20 November 1997 unarmed monitors from New Zealand, Australia, Vanuatu and Fiji arrived in Bougainville. They came with the agreement of the Papua New Guinea government and most (though not all) of the political factions on Bougainville. Their task was to establish a secure atmosphere in which Bougainvilleans could forge their own peaceful solution to the conflict. Peace on Bougainville traces the background to the conflict. Bougainvilleans (from within and outside the peace process) and members of the monitoring group give their individual perspective on how the fragile road towards a peaceful outcome was constructed. Together, these stories provide a unique picture of the country, its people, their history and their move towards reconciliation.
Published by Victoria University Press in association with the Centre for Strategic Studies and the support of the Peace and Disarmament Education Trust.
Distributed by Random House and available through all good bookshops.
First published 2001.
ISBN 0-86473-408-5.
Paperback, 192p.