Jim Rolfe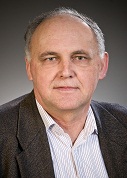 James (Jim) Rolfe has had a career in both the public and university sector. He started his working life in the New Zealand Army, moved to the Department of Prime Minister and Cabinet as a policy adviser dealing with a range of security issues and completed his PhD while there.
He was Director for the Centre for Strategic Studies from 2013 to November 2015, having previously served as Deputy Director of the Centre and Associate Director of the Master of International Relations Programme at VUW in the period 1991-2001.
Following his time as Director of CSS, Dr Rolfe was contracted to work with the UAE Ministry of Defence with a team building policy on a range of local defence issues.
Dr Rolfe then moved to the United States as an Associate Professor of International Relations at the Asia-Pacific Center for Security Studies for six years. He returned to New Zealand in 2017 and joined the Ministry of Defence as Principal Adviser, Strategic Policy for several years. From there he was seconded to the Australian Civil-Military Centre as Deputy Director.
Dr Rolfe's research interests have focused on issues of national and regional security and on the relationships between actors within security complexes. He has a range of books and journal articles on these issues.
Contact
jim.rolfe@vuw.ac.nz
Phone: (64) 21 906 841
Selection of publications
'Pragmatic Optimisation: Australia - New Zealand Relations in the 21st Century', in Anne-Marie Brady ed., The World of Small States, vol. 6: Small States and the Changing Global Order (Singapore: World Scientific, 2019).
'Why NZ need not follow Australia on defence policy', Politik, 9 September 2019.
'The Costs and Benefits of Frigates', Incline, 30 August 2019.
'Strategic Defence Policy Statement', Politik, 9 July 2018.
'Intelligence, Accountability and New Zealand's National Security', Robert Patman et al, eds., New Zealand and the World: Past Present and Future, (Singapore: World Scientific, 2018).