Victoria research leads to new drug for hard-to-treat lymphomas
Japan has become the first country to approve an anti-lymphoma drug developed following initial research from Victoria University of Wellington.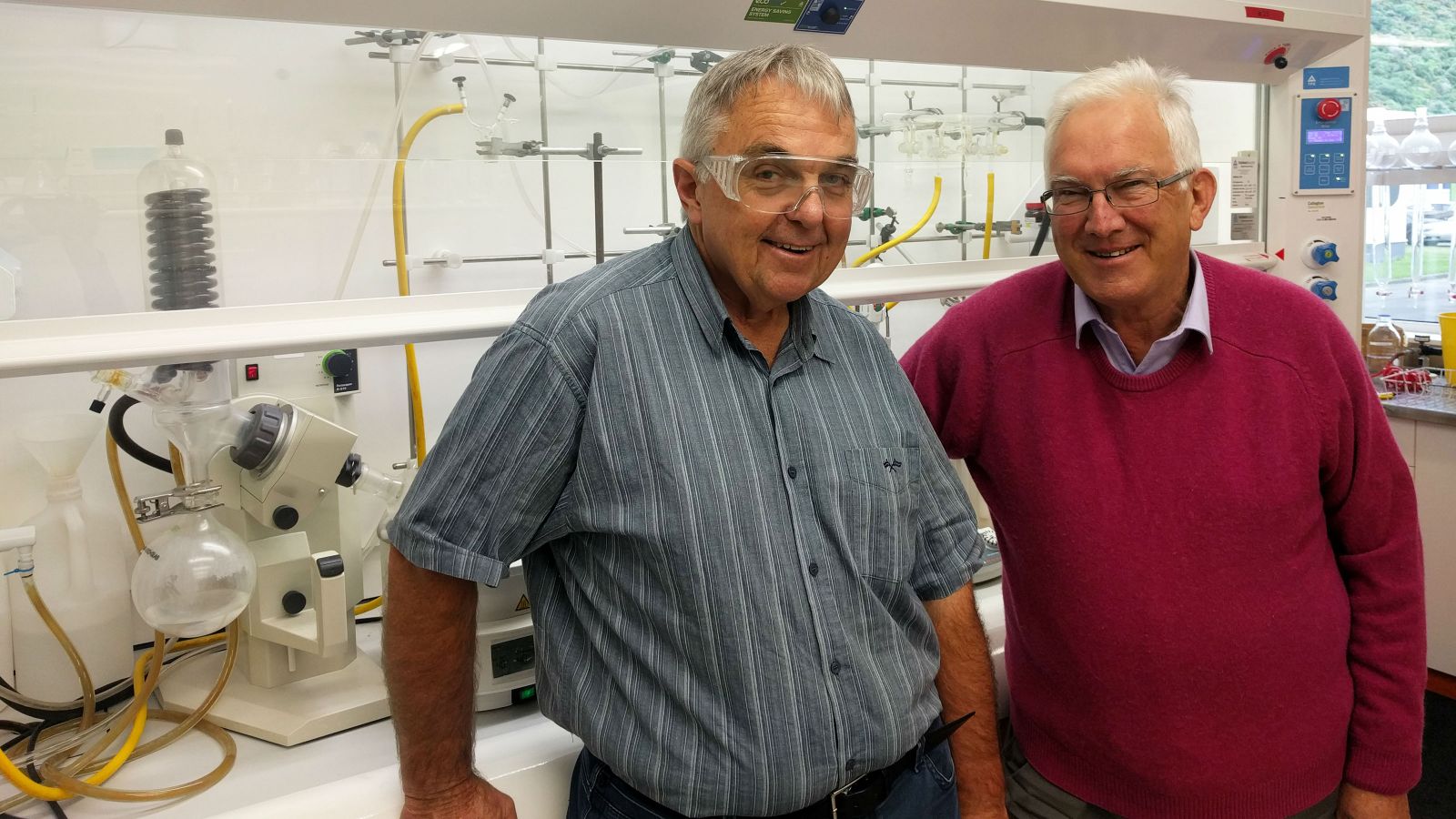 Professors Peter Tyler and Richard Furneaux from the Ferrier Research Institute
The new oral drug, called Mundesine®, treats patients with a type of lymphoma called peripheral T-cell lymphoma (PTCL) — a group of aggressive diseases that accounts for 10 to 15 percent of all cases of non-Hodgkin lymphomas.
The active ingredient in the drug Mundesine®, forodesine hydrochloride, was first synthesised by Professors Peter Tyler and Richard Furneaux at Victoria's Ferrier Research Institute, and first conceived by long-time collaborator Professor Vern Schramm from the Albert Einstein College of Medicine in New York.
The drug has been approved by Japan's Ministry of Health, Labour and Welfare following 19 clinical trials.
"I'm very proud," says Professor Tyler. "We've been working on this science for 20 years, and used a rational approach to design this drug. We resolved some complex chemistry and it's great that, following this approval, the drug is now a step closer to being available.
"In some cancers, like lymphoma, T-cells, a type of white blood cell, replicate uncontrollably. This drug inhibits the enzyme PNP (purine nucleoside phosphorylase), causing a metabolic imbalance in the T-cells that triggers cell death. The approval of Mundesine® provides further treatment options for patients with PTCL."
Mundesine® was licensed by BioCryst Pharmaceuticals Inc., under an exclusive licence with Albert Einstein College of Medicine and Viclink, Victoria University's commercialisation office. BioCryst subsequently entered into an exclusive sub-licensing agreement with Mundipharma to develop and commercialise forodesine in the field of oncology.
The drug has been specifically approved for patients whose PTCL has relapsed (recurred) or is refractory (resistant to treatment). Few effective treatments have been available for these conditions. Those PTCL patients who relapse following chemotherapy currently live an average of only six more months.
The research to identify the active ingredient (forodesine hydrochloride) of the Mundesine® drug product was carried out with funding support for the Ferrier Research Institute from New Zealand government agencies, and for the Albert Einstein College of Medicine from the United States General Medical Institute of the National Institutes of Health.
® MUNDESINE is a registered trade mark (in Japan) of Mundipharma AG.