Rhodes scholars are leaders for the world's future
Chemistry student Kimberley Savill has been awarded a Rhodes scholarship to carry out postgraduate study at the prestigious University of Oxford.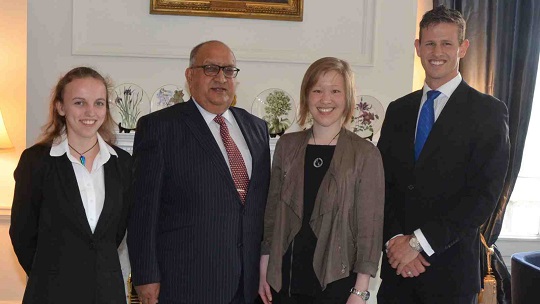 Kimberley is one of three 2016 Rhodes scholars elect. The other two are Jade Leung and Oscar Lyons from the University of Auckland. Rhodes scholarships are awarded to young graduates with outstanding intellect, character, leadership and commitment to service.
The announcement follows a selection meeting chaired by former Governor-General The Rt Hon Sir Anand Satyanand at Government House in Wellington.
Sir Anand said, "The Rhodes Scholarship will be a transformative opportunity for these outstanding young people who all share a passion to contribute to the world.
"Rhodes's vision over one hundred years ago was to develop outstanding leaders with the commitment to make a positive difference, the potential to become leaders for the world's future, and the desire to promote international peace and understanding and peace. In fact all those shortlisted very ably met his criteria."
Kimberley, aged 22, was Dux at Nelson's Nayland College and awarded the NZQA Outstanding Scholar award in 2011.
Kimberley is studying at Victoria University of Wellington where she has completed a Bachelor of Science in Chemistry and Mathematics and is currently studying towards an Honours degree in Chemistry. She has been awarded the Victoria Excellence Scholarship and received New Zealand Institute of Chemistry prizes at each level of her study.
At Oxford Kimberley will study for a Doctorate (DPhil) in Physical and Theoretical Chemistry. She says the urge to contribute and give something back shapes what she does. Kimberley wants to make a difference through science research and in particular chemistry, to address immediate and important challenges especially concerning renewable energy and storage technologies.
She is skilled at debating, and was a member of the VUW debating team which participated in the World Universities Debating Championships in Malaysia earlier this year. She is President of the University Debating Society and convenes an annual competition for secondary students across the Kahurangi-Marlborough region.
At Victoria she is a volunteer Campus Coach to help new students settle into life on campus and volunteers at open days as an ambassador for Victoria.
Rhodes is an international scholarship with a global view. Each year 89 scholars are selected from 32 different countries who become part of the wider Rhodes scholarship community while at university and throughout their lives.
The Scholarship covers the students' fees, accommodation and living costs for up to three years at Oxford, which is one of the oldest and top-ranked universities in the world.
In New Zealand the application and selection process for the Rhodes Scholarships is managed by Universities New Zealand (formerly called the New Zealand Vice-Chancellors' Committee). Universities New Zealand - Te Pōkai Tara manages over 40 scholarships worth over $2 million.